This year's summer fashion trends are taking us back to the popular medium shirt styling. All the latest fashion catalogs are literally flooded with the infinite masterpieces designed in medium length. Admit it, shirts of medium lengths not only brings us comfort and ease but also has an elegant appeal. Moreover, there are never-ending possibilities of cuts and designs, plus it can go with the bottom of your choice. So whether it is formal wardrobe you are looking for or the casual one, the medium shirt style will give a world full of options to try this year. Summer of 2023 will introduce you to the charms of high low, front open, asymmetric or peplum shirts in length. The trend is real bliss for girls of all ages as it can be modified almost into any desirable shape and designs. So why wait now, let scroll more to find the latest ideas regarding the Latest Ladies Medium Shirts Frocks Designs & Styles Collection 2023-24 having Casual Formal Trends.
Latest Ladies Medium Shirts Frocks Designs & Styles Collection 2023 Trends
Here we are going to share the hottest variety of stylish medium shirt designs. We have gathered images from different collections of Pakistani designers and brands. Hope you will like these pieces.
Peplum Tops:
Such tops look quintessential when designed in comparatively shorter lengths, as it highlights the flares and volume of the dress. Big names of the fashion industry of Pakistan Asim Jofa, Maria b and many other clothing lines have incorporated peplum designs into their extensive formal, casual and luxury pret collection. These tops when paired with amazing bells and trousers, look absolutely gorgeous. For formal wears, the peplums are designed out of embroidered chiffon or silk, whereas for casual wears it can be designed with pure cotton or even in the lawn. However, the fabrics should be selected according to the classic peplum drapes, which are the must.
Medium Length Frocks:
Frocks look perfect when complemented with short cuts. These frocks are often the best option for casual wear which enforces a nice and funky minimalistic outlook. However heavy embroidered short frock is also the great charm for fancy parties and wedding celebrations. Unlike peplum, the formal frocks can be best wore with simple trousers or capris. Loose bottoms do not look best with the voluminous frocks. However, both the formal and informal frocks are crafted with a bodice attached through belts or prominent pleats.
Front open style – Latest Ladies Medium Shirts Frocks Designs & Styles:
Perhaps the most elegant of all is the front open shirts which are designed with an embellished or printed upper and its matching inner. For formal dresses, such option seems ideals as they create the beautiful mix of heavy embellishments and trendy prints with plain monochromatic bottoms. They are relatively simpler in outlook and highlights each and every shade incorporated into the fine embellishments. The classic front open shirts can be designed in both loose cuts and the smart fits to suit your needs.
High low shirts:
The high-low trend has become extensively popular, every fashion catalog and clothing outlet is flooded with dresses in high low styles. Such shirts have various varieties which include rounded high low borders, simple uneven front back, embroidered fronts or bordered with tussles or lace. The high-low shirts come in the loose kurta styles which have become exceedingly popular and can be carried with casual denim or straight pants.
Angarkha style:
Whether crafted with embroideries or designed in printed cotton, angarkha shirts are always a charm. They have all the perfect combinations of flares, volume, and drapes. The angarkha are on the rise in all the latest collection which are incorporating archetypal prints and patterns in striking hues of white, black, blues, greens and soft greys and beige.
Asymmetric shirts:
A trend that hit this year by storm is the asymmetric shirt style which is subdued with the inspiringly new cuts and follows amazing stitches. With this idea, you can create almost any cut of your choice. Such tops in short lengths complement the glamorous modern day.
Jacket Style:
Jacket and coti style shirts are always in fashion. As they give a rich ethnic touch and eastern vibes. You can go for long or short jackets with shirts depending on your choice. It will give a soft formal gesture. If you want a casual look then pair it with jeans or tights.
Cape Style:
Stay stylish with the latest cape styles. Like the beautiful below posted pearl white chiffon embroidered all over with intricate thread embroidery and silver Swarovski and pearl motifs on the neckline and back. Floral organza cutwork on the cape edgings. The other design has peachy pink shade in net with lace details. I hope you love these cape shirt styles.
Open Side Slit Shirt Style:
The front open slit style always seems elegant to wear. You can pair them with jeans or tights. Medium or long side slit shirts are best for the college or university going girls who go outside. Buttons are added to make them look chic. Floral and plain designs are very commonly used. While velvet, silk, chiffon is used as formals.
Long Shirts:
Nowadays long shirt fashion is seen less. But still, some people feel comfortable in them. As seen in weddings, long fancy shirts are worn with churidar pajamas. Either you can make a long A-line shirt or a simple straight one.
Ongoing Bottom Trends with Medium shirts:
If you are still confused about the perfect bottom options to pair with your perfect medium shirt outfit then here are some great choice to try on in any season.
Bell bottoms:
Well, bells are great to highlight the curves of short length frocks, peplum, and angarkha. However, you can also pair these with straight shirts or shirts with open front styles.
Trousers:
Well, many styles fall into the trousers category but all of them look equally good with the medium shirts. Pencil trousers are somewhat more idea to carry with loose shirt's, high low or peplum dresses.
Denim Jeans:
For the best casual wear, jeans always seem handy and easy to carry to almost everywhere. So pick up any of the styles from above and couple them with jeans of suitable color, then you are good to go.
Gharara Pants:
The gharara fashion is very popular these days. As these pants are worn along with short-medium length kurtis, frocks, tunics, etc. It gives a very traditional look and ethnic touch to the whole outfit.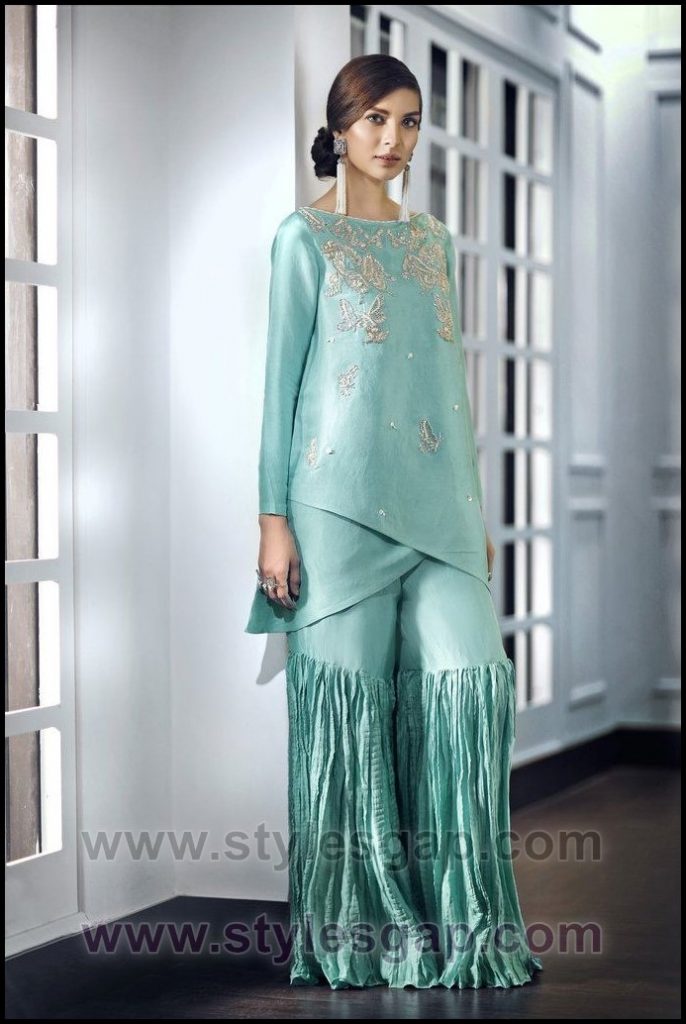 Wide Shalwars:
No look is complete without a desi twist, so how about adding the traditional glitz and glam with addition of shalwar to the dress.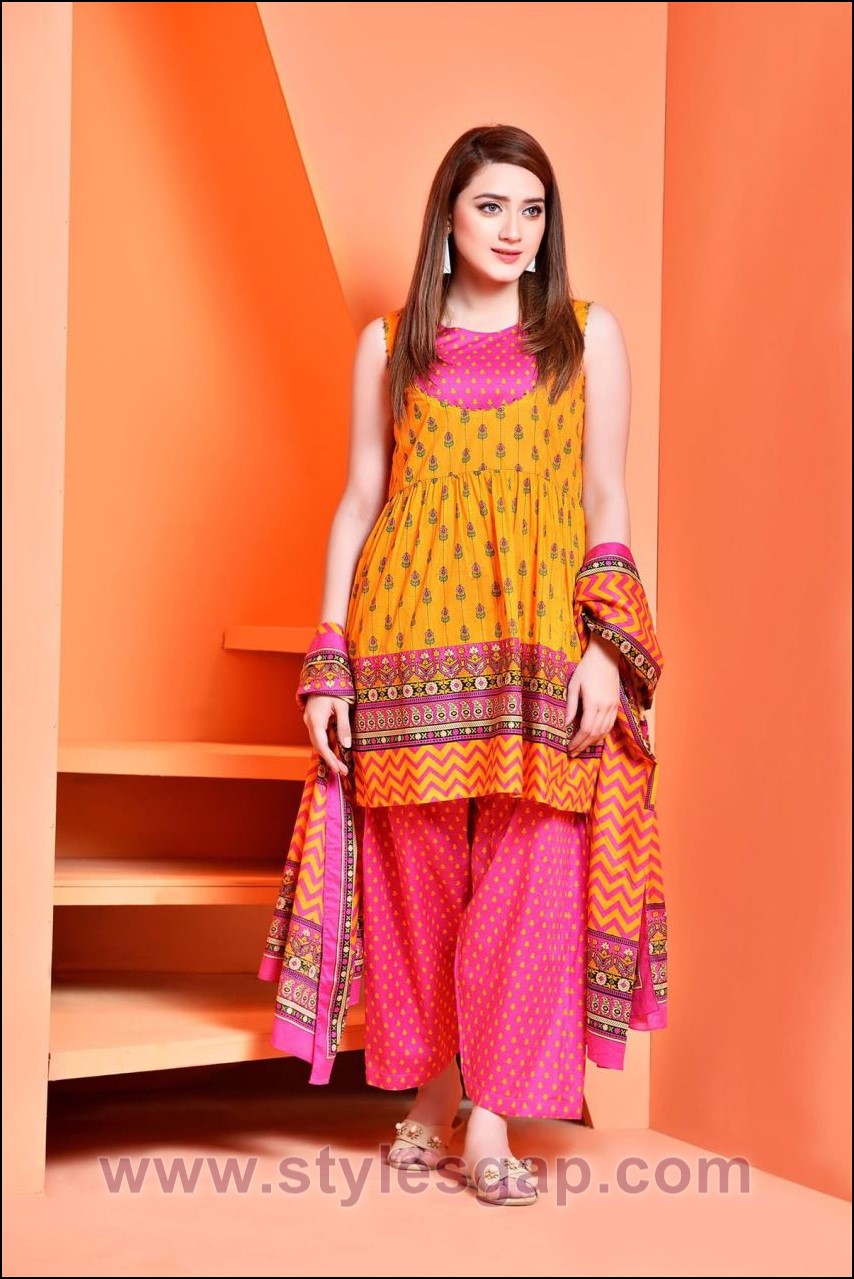 See More As:
Comments
comments