Way before the actual wedding celebrations, the most anticipated event which a bride enjoys the most is the bridal shower which makes a bride feel like a princess for a day. Bridal showers are arranged with festive colors and glaring shimmer which highlights the momentum of the wedding occasion. Thus the couture for the day has to be equally vibrant and full of charms.  These days the trend for theme showers is quite popular, where the bride to be along with her friends and family carries a similar or contrasting theme. The ideas for the wardrobe can be inspired by the seasonal variations and the classic regal, desi, western, or ball styles. Here's we are posting some of the greatest trends in the Latest bridal shower dresses ideas 2023-2024.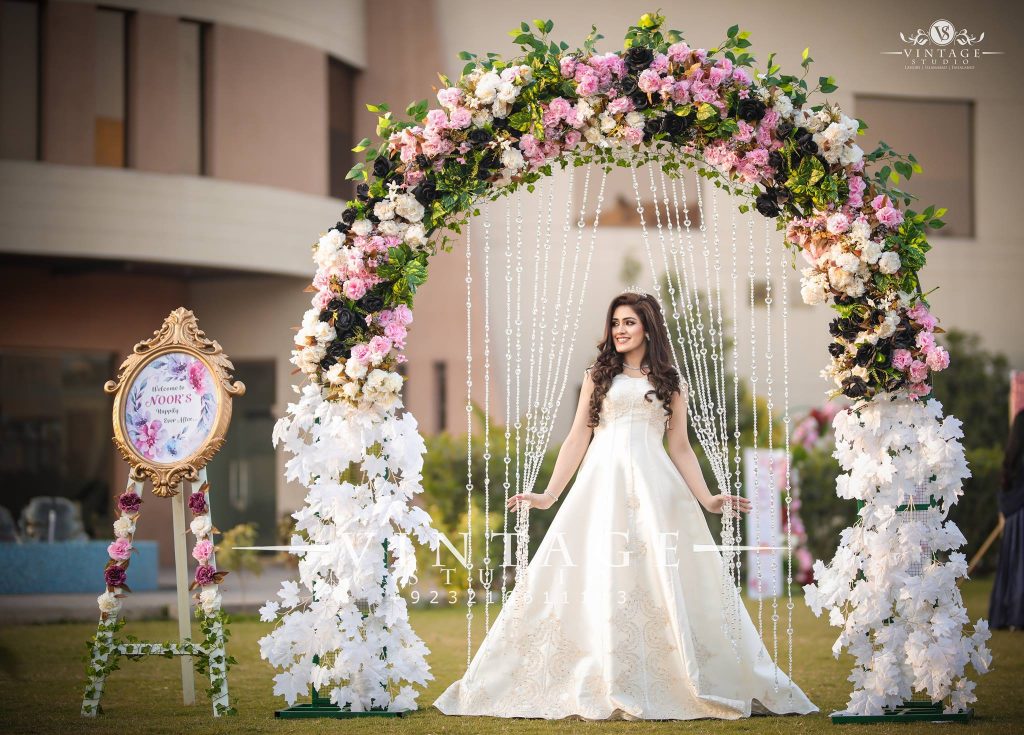 Latest Bridal Shower Dresses Ideas & Trends 2023-2024 Asian Pakistani Designs
The selection of the bridal shower dress, embellishments and the hues depends largely on the theme of the day. Over the years, ball gowns were greatly popular for bridal showers which were crafted in delicate and lacework. As of today, the trend is also evolving towards the desi styles which is introducing colorful saris and other desi dresses for the day. So what other popular trends are hitting the fashion this year, well scroll hard to find out more.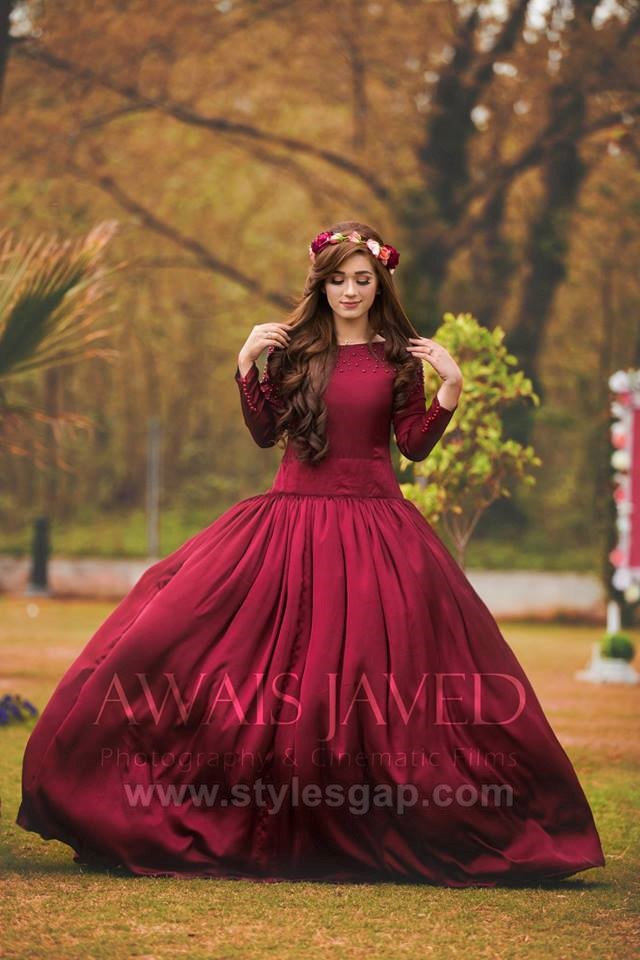 Theme white dresses:
White was like the most commonly celebrated theme of the year. From all in white theme to the bride only white, the trend has a charming sophistication and added elegance which fascinates most of us.  Frock and maxis in white bring out a wanted glow and shine to the bridal makeover. Moreover white complements the delicate embellishments on the maxis. The voluminous maxis in white are most inspiring of all. For bridesmaids such frocks or maxis are designed in minimalistic style, using less of the embroideries and layers. Popular options in white include maxis, shalwar kameez, peplums, crop tops with skirts and frock shirts.
Red & Maroon Gowns:
Red is the king of colors. Now a days there is a great trend of wearing all the beautiful shades of red like blood red, fresh, maroon, etc. You can use any shade of it. Red color has it's own charm and beauty. These red and maroon bridal gowns looks perfect for bridal shower events.
Blooming spring colors:
Letting the spirit of spring shine on the day will spark the best bridal outlook.  Owing to the lovely shades of pink, these dresses give the softest look to the bride in the most charming manner.  Like a light and delicate maxi crafted in pink net. Chiffon maxis are also quite popular in pinks which are embellished with applique work, thread work or lace work. Besides maxis, lehenga skirts with crop tops and voluminous frock are also good to carry the shade.  The focus of the embellishments is significantly over the floral patterns and blooming petals. These patterns make this trend central to the bridal shower celebrations.
Pastel Soft Colors:
Hues like mellow peach, beige, metallic silver, ivory and mercury are highly popular for the bridal shower themes as such shades stand out best in any setting and give a distinctive outlook to the bride to be. Such dresses are mostly crafted in silk or sequin and also in chiffon. There drapes give a sleek touch to the dress. The bodice is crafted with nice lace work and embellishments around the neckline. No or half sleeves suit best to the cuts and stitches however net sleeves or chiffon sleeves are also a good choice to complement the dress.
Black dresses with Glitz:
One option that we never get tired of is elegant black. Maxis and frocks designed in black are perfect for bridal shower celebrations. The bold and glitz black highlights the glow of the bride to be and the delicate embellishments crafted on it.  With black we can almost use any color or shade to create a balanced contrast. However pink and ivory are most commonly paired with black. Embroidered belts, scarce motifs and delicate embellishments are used mostly to adorn the outfits. Silk, chiffon and net lace are ideal options to try in black. But be sure to keep the dress monochromatic while add the extra color through embellishments.
Blue Bridal Shower Maxis:
Blue never goes wrong. You can choose different shades of blue such as royal blue, sky, tortoise, navy blue, etc. Take a raw net from market, dye it simply with required shade. Choose a style. A wide bottom frock, long style maxi or ball gown. Just tell the idea to good tailor to stitch. You can make a beautiful dress of it with little adornments, pearls, laces, buttons, etc.
Bodycon Dresses:
Bodycon dress is a tight fitted dress which is made of stretchable material. Bodycon means body confidence. Basically it's a western dress type now also trending in Pakistan, India and other Asian countries. Below we are posting some of the beautiful images of bridal shower bodycon gowns. You can take some ideas from them.
Cherish the Hues – Asian & Pakistani Bridal Shower Dresses:
Well there are tons of other striking hues including red, crimson, maroon, teal, mustard etc. which are incorporated into bridal shower dresses. Lavender and purple are the most adored hues which are fused into a voluminous net maxis, the bodies or embellishments are designed in darker shades of purple and plum with the a soft base of lavender. Alternatively for maroon, a darker base layer is crafted with embroideries or complemented with a decent leather belt. Such hues are also cherished with desi saris which are excessively popular these days.
Image Credits:  Pinterest, Maha's Photography, Awais Javed, Irfan Ahson, Ali Ahson, Zain Ali, Wedding Visuals, Umair Ishtiaq Photography.
See More As:
Comments
comments