It's time to get tremulous! With the funky top-notch style trends hitting the season you don't have much of a choice to hold back and stay on the backseat. Grab on to the latest designs for an inspiring new series of short frocks and peplum tops. Well, peplum tops are seen ruling the game for a while, but short frocks are also back in town with all their ease and style. Today we will discuss the Latest Pakistani Short Frocks Peplum Tops.
Latest Pakistani Short Frocks Peplum Tops Styles & Designs 2023-2024
Gone are the days when you needed to carry long old frocks, now you can bring the flare with comfort. The added advantage of carrying these frocks and tops is that they appear equally gorgeous with several bottom styles. Moreover wearing short and volume tops make you look taller and highlights your curves in an elegant style. So let's explore the possibilities of trying these ultra-modern and super-stylish short frocks and peplum tops.
1. SHORT FROCKS AND PEPLUM TOPS WITH BELL BOTTOMS:
Nothing can complement a short frock or peplum top better than bell bottoms. It's like they are made for each other. the curves of the frock, the volume of its Gehra and the bell of these trousers perfectly fit and looks magnificent. This is the reason that the majority of our eminent designers including Maria B, Zainab Chottani, etc. have created some such combos where plain monochromatic bell trouser is coupled with a nicely embroidered frock or top. Whether it's luxury pret, formal or casual wear this combination has this supreme delight which will pull you towards it.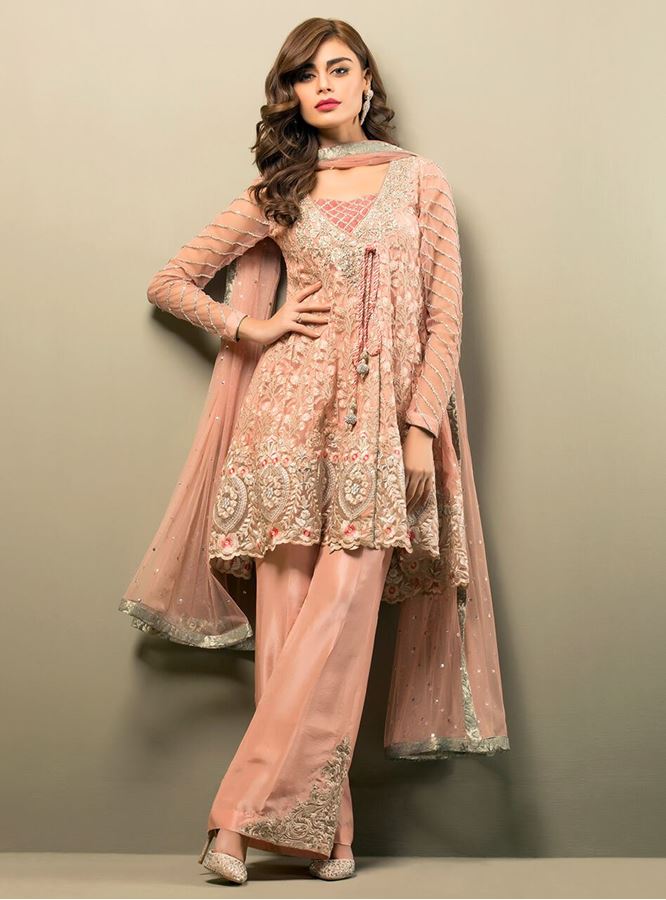 2. SHORT FROCKS AND PEPLUM TOPS WITH TULIP PANTS:
From quite a while now tulip pants have been prevailing in the fashion trends, and now their charms are going to be lifted with the latest short frocks. If you are looking for something fancy, then go for embellished tulip pants with the intricately embroidered peplum tops or frocks. The shape of these pants brings the desired grace to your frock and adds balance to its heavy volume. So if you want to highlight the cuts and panels of your frock then wear it with matching or contrasting tulip pants.
3. LATEST PAKISTANI SHORT FROCKS PEPLUM TOPS WITH CIGARETTE PANTS:
Here is something simple and casual for your wardrobe. This pairing can work for your evening dresses or other formal wears too. Most of the cigarette pants which are designed with short frocks are embroidered around the borders or sides. Even the latest collections by our favourite designers have set an entire range of cigarette pants with peplum tops. For casual wear, such trousers are kept in lovely block prints.
4. SHORT FROCKS AND PEPLUM TOPS WITH PENCIL TROUSERS:
As amazing as it sounds, pencil trousers with short frocks or peplum tops are the absolute delight. See yourself as go through the latest fashion catalogues by Zainab Chottani. Imagine a frock with loaded volume, heavy embroideries and mesmerising cuts, complemented by a smart pencil trouser that does sound inspiring. Here the colour combination is kept monochrome while in some designs trying a contrast will create simply a marvel.
5. Latest Pakistani Short Frocks Peplum Tops with culottes:
Frocks with culottes might not tempt you much, but short frock with culottes or loose bottom does sound interesting. This combination will make you travel through time as it takes you back to 50s or 60s. But the idea of using peplum tops with culottes is entirely new. In this, the border of culottes is highlighted in the same way as the Gehra, of the frock is. The greater the volume of the bottom the greater it will suit to the designed frock or top.
6. SHORT FROCKS AND PEPLUM TOPS WITH JEANS:
If you were looking for a routine outfit using the same style, then try wearing are short frocks with jeans. These frocks can be designed in cotton, linen or any comfy material you desire. It looks amazing in all. However, the prints and hues of the top must be tempting and should be by the jeans used. If you try jeans for a bit formal function, then go for short frocks or peplum tops which are adorned with lovely threadwork or lace work around the borders or the neck.
Latest Pakistani Short Frocks Peplum Tops with Sharara
Nowadays short frocks peplum tops are more seen with shararas. It is a perfect choice for weddings and formal parties. The sharara pants also look awesome with short frocks. We have posted some of the latest designs for you. Have a look on the image gallery just posted below and get inspired by the latest trends.
See More As:
Comments
comments