Bridal dresses are designed with great significance because of their super traditional outlook. We strive to pursue newer styles with the unique set of hues from the palette. Available in extreme varieties, Bridal dresses in the east have various new forms and trends. Out of these, Bridal maxi designs are trending the most, due to their sheer elegance and convenience you feel, when you carry them. There is a great room to add your creativity to it to bring out your version of the ultra-stylish bridal dress. Be it your barat or Valima, maxis are the perfect combo for your precious day. We are sharing the beautiful & Latest Wedding Maxis Long Tail Dresses Designs for all the brides to be
Keeping in mind the importance of your wedding event, we brought out a whole collection of wedding Maxis and long tail dresses designed by the most diligent designers of Pakistan's fashion industry. Get ready to immerse in an immense insight of the very distinctive set of collection. Where style is marked by beauty and fashion is engraved into each of the dress. Wedding maxis and long tail dresses are inspired from the west, but with the fusion of eastern touch into it, it has gained entirely different sort of appealing outlook, which creates a contrast with any other dress of its kind.
Latest Wedding Maxis Long Tail Dresses Designs Collection 2018-2019
This year latest collection of wedding maxis for brides carry the variety designed by all the eminent fashion artists including Nomi Ansari, Tena Durrani, HSY, Deepak Perwani and Maria.B. Soft hues with fine embroideries brought delicacy in style. There are several varied trends of maxi that are prevalent these days, which mainly include long-tailed maxi, A-line maxis and flare maxi. Wedding Maxi is also available in each category with certain variations. Chiffon maxis and long tail dresses are the most common ones which are heavily embellished with Zardozi, tilla, Dabka, Zari and fine thread work coupled with the use of contrasting stones on front and back.
Embellishments are not limited to the neckline or the borders, but the whole maxi front is seemed to be adorned with the fine embellishments from top to bottom. Use of dull gold, bronze and dull silver is most common for embellishments as these colors give an elegant appearance to the dress. However, the borders and the tails of these maxis are adorned with more prominent floral work and heavy embroidery as it seems to be the hallmark of every bridal dress. Sleeves of these maxis and long tail dresses are kept either quarter, half or no sleeves with least embroidery over them.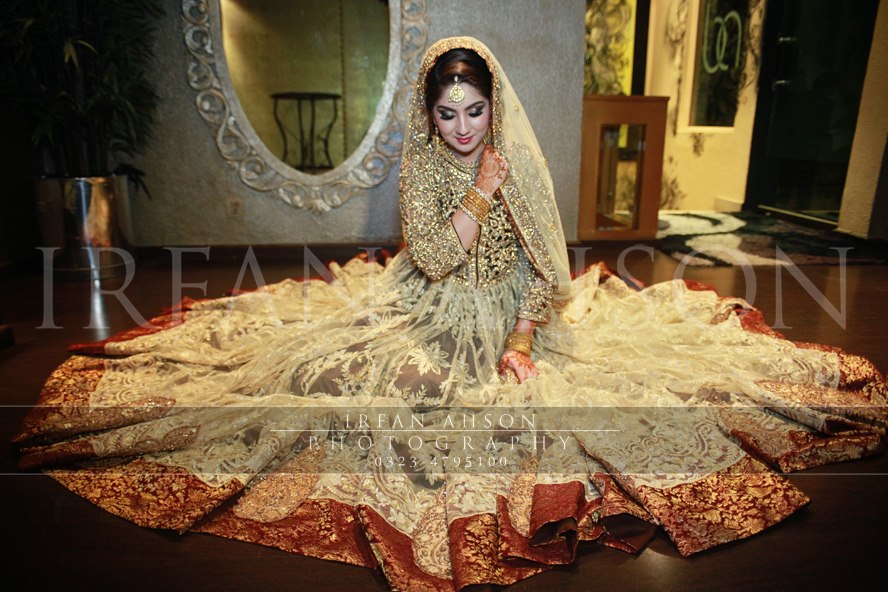 Various maxi is given more volume at the bottom by adding extra heavy fabrics attached to it inside. Sometimes in contrast or usually monochromatic. The most delightful series of hues for barat includes ivory with red, pink with beige, dull gold and monochrome red. Whereas for Walima event there is a whole world of choices on colors, like pastel pink, peach, green, move, purple, blue, etc. All these shades turn out to be quite fascinating when they are moulded into a beautiful and alluring wedding maxi. Let's have a glance at the top most trending designs of wedding maxi for brides for this year. Have a look on the Latest Wedding Maxis Long Tail Dresses Designs posted below.
See More As:
Comments
comments