Saree in India is the dressing that symbolizes prestige, high-end clothing, married life, and sophistication as well for them. It is thought of as a customer yet elegant wear for the elite class society and ethnic yet feminine for the rest. In such a region there this dressing has its fame and adoption when a today's lady is about to get married. She would desire a dress that makes her clear identity as Indians yet keeps her the best. And definitely what can be more ethnically modern than the saree style? As Bengali weddings are so centered on this dressing theme, they also have an influence over the Indians. You might have seen celebrities of India wearing sarees at their wedding events as well as at others being attendants. The constant presence of sarees in the fashion designing magazines and wedding albums is what that beats the wearing of other dressing somehow. Today we will discuss the Indian wedding formal saree designs that are trending now. They include jacquard, silk, georgette, net, chiffon and banarsi sarees.
Indian Wedding Formal Saree Latest Designs & Trends Collection 2023-2024
The Indian wedding sarees collection is what we have got for you this time. Collected from various top fashion magazines, online selling brands, and other top brands of India including the top websites that sell Indian wedding sarees; we have asserted some of the fine, latest and highest-rated pieces of designs of this bridal wear.
You'll be glad to know that the stuff here is just a representative of many high profile fashion houses of India. Sarees in different things like crepe, chiffon, net, silk, satin, banarsi and many other.  With a huge variety of styles and embroideries are all included in this array. A few design from famous fashion designers and few local ones with customized tailoring are also here. A lot for a woman to finalize her bridal dress is posted as pictures with this post.
No matter how much you dream of and make up your mind for how you dream dress for that big day is going to be. It's somewhere before ordering it for you must know how the recent celeb had it for her wedding or how the latest trends have turned the Indian wedding formal saree to be. So if, with all these issues, you have crashed here; you're in the right place and right point to scroll down and get the up-to-minute Indian bridal stuff through the design images attached. We hope it would help! For more stuff over bridal wears and sarees, stay connected with Styles Gap wedding corner.
To Shop these trendy wedding sarees visit: www.saree.com
This beautiful combination of orange-red and yellow. The pearl lining is added upon the four embriodered bordered dupatta. It gives a decent yet elegant look.
If you are a lover of dark colors then here you go. Combination of green, shocking pink and skin color saree is perfect for you. Add some sort of traditional matha patti along with Jhumka earrings.
In India, many brides go for an orange and pink mixture of bridal dress. If you love orange, then this beautiful saree with an embroidered motifs at the bottom and banarsi pallu is the best option you will have.
For all net lovers here is the saree for you. A mixture of dark and light shades. The daman of saree is beautifully adorned with 3-d flowers and motifs. The link pink sleeves and dyed bottom look so classic.
If you are not a fan of traditional bridal colors like red, orange, pink. Then here you go. This amazingly treated sky blue and off-white saree with multicolor thread work on the blouse, sleeves, and bottom is the soundest. The four-sided bordered pallu looks so chic with this combination.
The fresh pink and mint green saree with a heavily embroidered blouse and banarsi pallu is best for weddings. The kundan work on the neckline and dupatta border seem so good.
As we all know red is the classic color for bridals. Here we have gathered some traditional Indian red sarees for all the brides who love red. Like this quote "for every woman, there's a shade of red" So design your dream saree for your big day with these amazing designs. Keep following us for more fashion updates.
This mirror work red and skin traditional Indian bridal saree look so nicer. The bottom is lace embroidered along with mirror and Kundan work.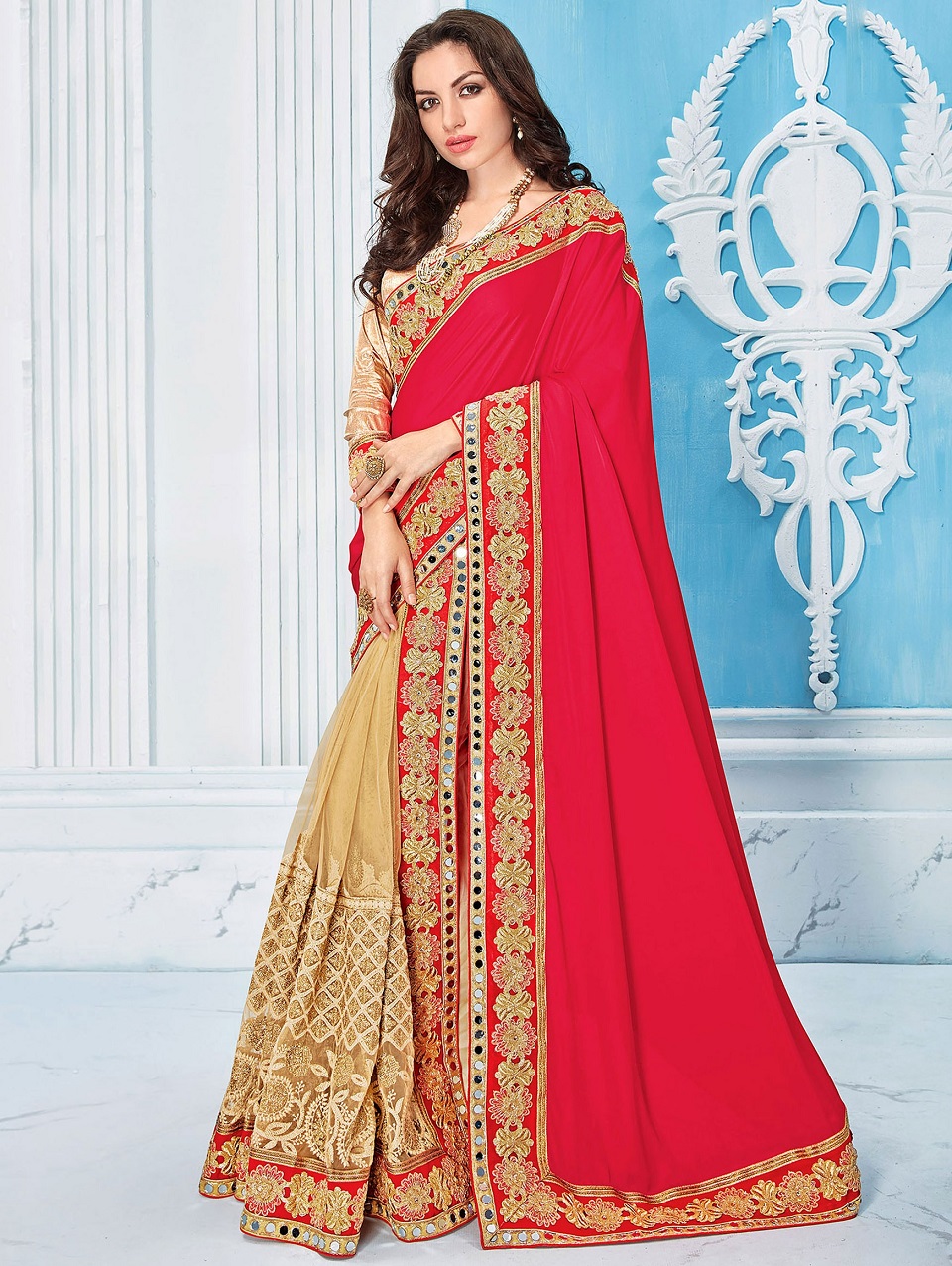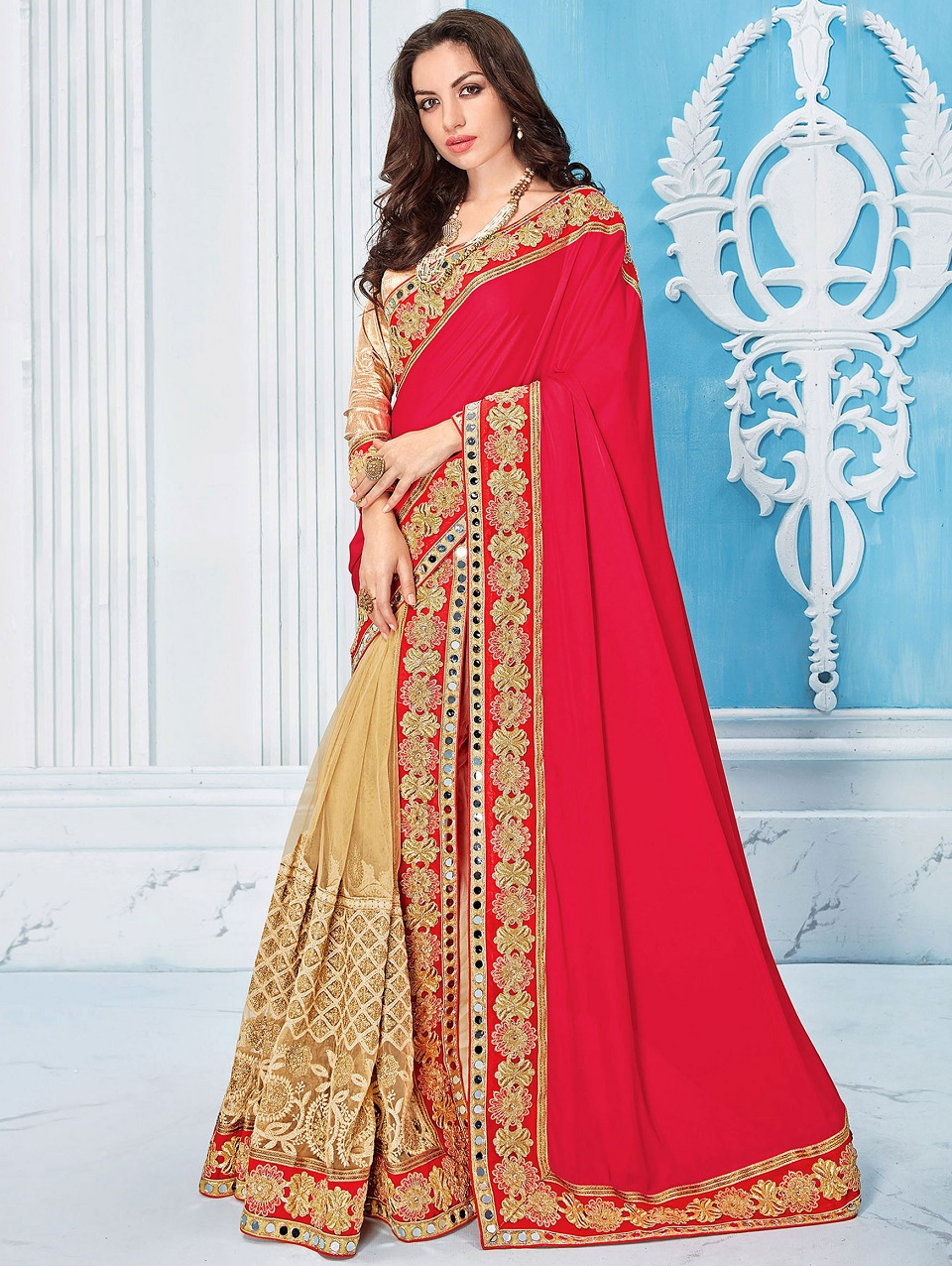 See More As:
Comments
comments