It has been weeks since we all are in quarantine, and not being able to visit a salon is a major problem for those who need to dye their hair every now and then. Well, you haven't tried dying your hair at home, then don't worry! This quarantine is making all of us learning new things, and dying your own hair can the next big thing you can learn. So, scroll ahead; find out how you can dye yours perfectly in these testing times!
How to Dye your Hair at Home during the Quarantine – Hair Coloring DIY Tutorial
Before you start dying your hairs, it is important to wash them first.  Washing hairs just before dying them does not give good results. Therefore, they must be washed at least 24 or 48 hours before dying. Make sure when they are washed, no oil or other hair products are not left in the hair.
The next big step is to choose an appropriate hair color for you. You can choose the brand according to the quality standards you have. Reasonable price with lasting results is what we are looking for. The hair color which does not damage the hairs must be your preference. Picking the right color is the next big step. If you are doing it for the first time, then avoid doing risky experiments and do not choose extremely different shades from your natural hair. Try to pick colors that are close to your natural color; in this way, you will have a balanced look.
Well, now that you have made the decision, its time to start doing some practical work. Since you are going to dying your hair at your home and not in a parlor setting, you need to do some preparations to keep your place and your clothes clean and stains-free. To do, get yourself some old towel or a piece of cloth to cover the back and front of your shoulders. Alternatively, you can also make a cover by cutting holes in a large shopping bag and then put it on like a shirt to protect your skin and clothes from color stains.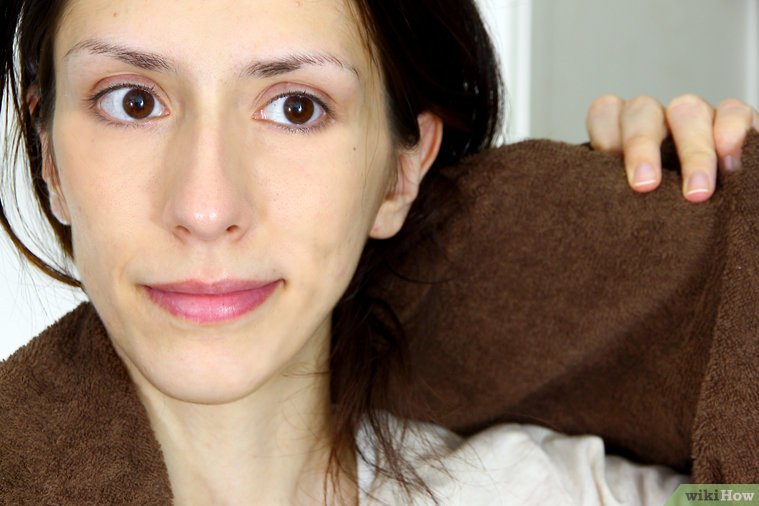 Image Source: WikiHow
Before you start dying your hair, make sure to comb them first. Those twisted knots in them, whether big or small, is going to mess up with your whole effort of dying the hair. So patiently comb your hair until they are dead straight. Run the comb through the hairs in sections then run it from top to bottom one last time to make sure they are straight and knots free.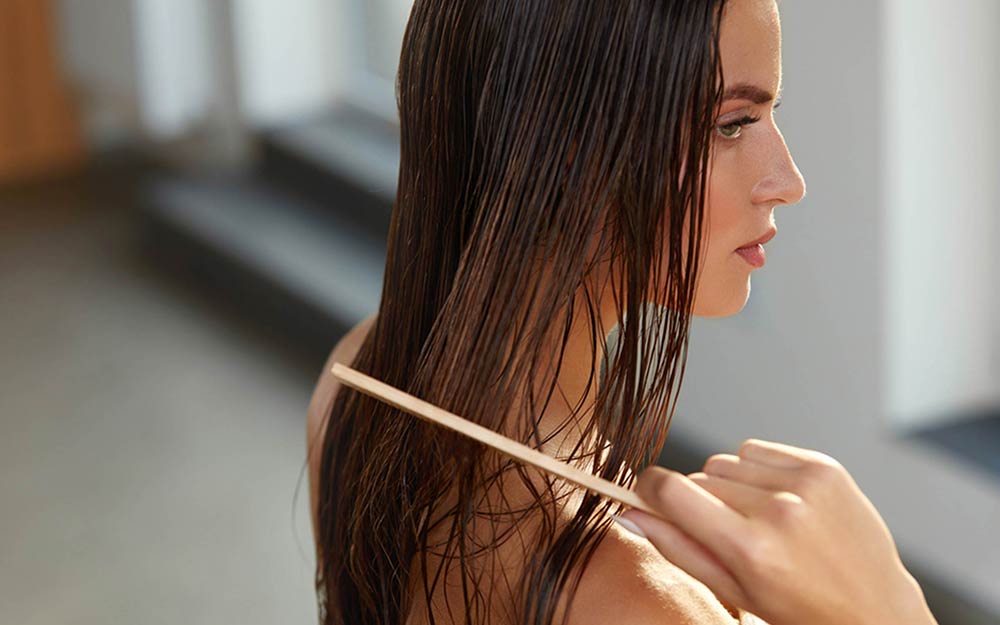 Wearing gloves is not only important because they save the hands from the color, but they are also important to give you easy and tension free handling of the coloring brush. Gloves that have a tight grip over the hands are suitable for this job; however, in these times, you can go for any gloves which are available at home.
The hair color must be prepared in a plastic or glass bowl. Usually, hair color comes with a complementary dying brush and a color mixing bowl, so you can make use of them otherwise take any suitably sized mixing bowl and an applicator to apple the color on your hairs.  Mix and prepare the hair color according to instructions on the box.
Before applying the prepared color on your hair, divide your hairs into different portions. This step is important for ladies with thick hairs. Separate the hair on the top layer from the layer underneath it and roll the top layer into a small top-knot.  Split the bottom layer into portions towards each of the shoulder side.
Image by PopSugar
Remember that you need to cover each portion separately; this will give good results, and you will not need to put extra effort into dying your hairs. Start by dying one portion of the bottom layer and then move to the next.
There is no thumb rule to say from where to start applying the color, but it is always best to start from the roots and then move slowly to the tip of the hairs. In this way, when you dye both the portions of the bottom layer, now untie the top knot and while holding that layer into your hands, divide it into two portions. Tie one portion with a clip and hold others to apply the hair color. Now untie the last portion of the hairs and apple the color liberally. In this way, you can cover all your hair without anyone's help. If you very thick hair, then you can always divide them into more layers for better coverage.
Every hair color comes with its instructions and states a suitable application time until the color penetrates into the hairs It is saved to leave the color on the hair exactly according to that given time; otherwise, some shades may get darker when left for a longer duration. Allow the hair color to dry at least, and that time is enough to get good results.
To wash the color off your hair, you can sit in front of the sink while turning your back towards it and move your head backward to wash the hairs under the tap water, or you can do the same using a hand shower. Whichever technique you use, just make sure to remove the color thoroughly from the hairs and avoid getting the color water onto your face and eyes.
Shampoo and Conditioning:
Wait at least for an hour before washing your hair with shampoo; in this way, the hair color will be able to penetrate deeply in the hairs. After one hour, you can wash them with shampoo and condition them as well as using quality products.
Conclusion
Now you know how to dye your hair in quarantine. It wasn't that difficult. Right? SO, follow these simple steps and let us know how it all went for you!
See More As:
Comments
comments