Looking for a bit of inspiration when it comes to trying a new hair color for the spring and summer of 2023? You're not alone. With so many hair colors and new ideas out there, it's hard to keep up with the hair color trends. That's what we're here for!
We put together this list of all the latest hair color trends so that not only can you keep up with the trends, you can get some new hair color ideas you may have never considered before. Let's get started.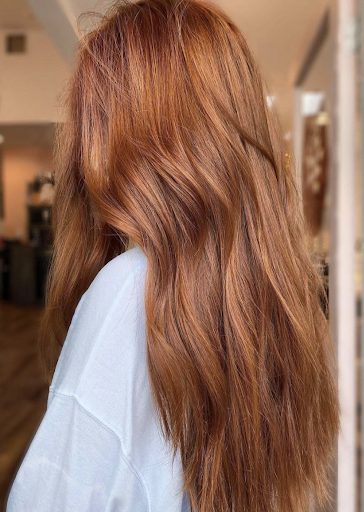 Ginger is a trend we saw introduced earlier in the year and it's definitely one that's going to be sticking around in the spring and summer months. Adding a bit of hazel to your ginger is a great way to lighten up to look, making it especially gorgeous for summer.
Ginger hazel is also a nice way to get that ginger look without having to commit too much to a super bright ginger shade. You can achieve it by using a warm cocoa-colored base and then adding copper accents throughout the rest of your hair.
Balayage is a hair color trend we've seen stick around for a few spring and summer seasons now. But there's a very good reason for it. Balayage looks super beachy and stunning. It also happens to be a super low-maintenance way to have blonde hair. You won't need to touch up your roots nearly as often as you would with a regular blonde color.
You can add soft honey blonde throughout to help transition from brunette roots. This hair color seriously looks good on everyone.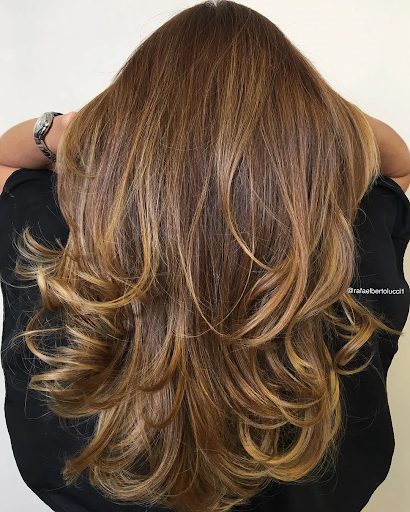 If you're a brunette year around and want a bit of a change for spring and summer without going too wild with it then golden brunette is a fantastic option. It provides the perfect mix of sun-kissed with deep earthy tones. You can add lowlights throughout to help bring some dimension into the hair and help make your hair feel more summery than even – even as a brunette.
Sunset red
Now, if you're really looking for a hair color that packs some punch this summer, sunset red is the way to do it! This stunning color mimics the colors of a sunset blended together to help achieve a super vibrant color.
Just be sure you're ok with booking in for a few appointments throughout the spring and summer seasons to help the hair color stay as fresh as possible.
Is there anything better than looking like your hair has been naturally lightened by the sun? It sounds pretty awesome to us anyway.
Sun-kissed tips are excellent for their natural look and allow you to go blonde without committing to a full head of highlights. This is accomplished by dying just the bottom strands and happens to be super low-maintenance. There truly is no hair color that will leave you feeling as beach and of course, sun-kissed.
Penny for your thoughts on the copper penny hair trend? If you ask us, it's a definite win.
We love copper penny hair color for spring and summer as a lovely way to revive your strands and add some depth. It also happens to look super natural if your hair color is on the deeper side while still helping add some flare to the hair. This hair color also allows for tons of flexibility so you can play around with various shades throughout.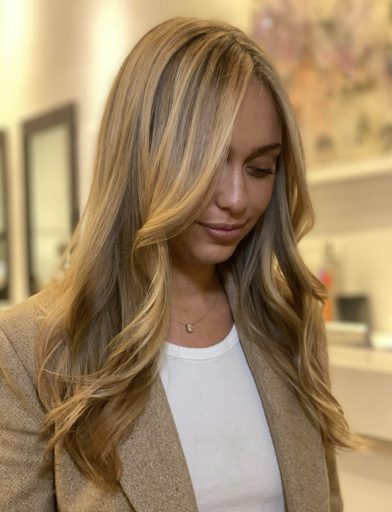 Calling all summer blondes! The buttery blonde hair color is definitely for you. And blonde is simply a hair trend that really never goes out of style. So you'll have ease of mind knowing it's definitely the right move.
Think of buttery blonde as a similar color to a stick of butter fresh from the fridge and then blended together in ribbons. It's soft and beautiful with toffee undertones that provide you with a ton of dimension.
Wheat brown streaks
Could the streaky hair from the early 2000s be making a comeback? Not quite.
Wheat brown streaks in 2023 are done in a much more modernized way. The washed wheat color allows you to see a lot more blend with a beautiful golden ash tone all over. This hair color is awesome for those with dusky blonde hair or warm brunette hair to start as you're able to really build off the colors and get the cool effects of streaks.
Along with the regular balayage is a new color combination. Starting with deeper roots and then adding a stunning caramel balayage through the lower parts of your hair provides you with a melty and simply stunning color combination.
We love a caramel balayage for brunettes as well as it allows you to avoid the pains of growing your hair out. Be sure to ask for a balayage that allows focus on the ends of the hair and the pieces around the face. You truly cannot go wrong with this one.
Statement blonde money piece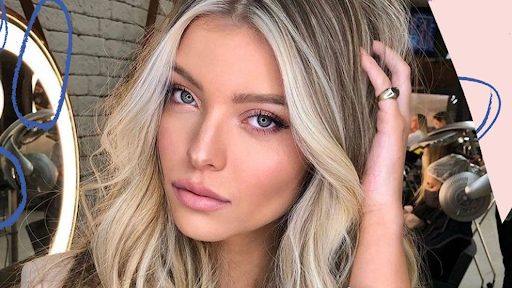 In 2023 it's now easier than ever to become "blonde" without having to over-commit. This is especially true with the statement blonde money piece.
Your stylist will use minimal baby lighting throughout your hair to help blend perfectly with the blonde "money pieces" right around your face. Your hair will mostly stay brunette but you'll get the look and feel of going blonde which couldn't be more perfect for summer.
Booking Your Next Hair Color Appointment
We hope you're feeling inspired to try something new at your next hair color appointment. Have some fun with it and you're sure to love your locks all summer long.
If you're on the hunt for a Palm Beach Salon to get the perfect hair color, we couldn't recommend Anushka Palm Beach more. Their team of expert stylists is experienced and ready to help you get the hair color you've been dreaming of.
See More As:
Women's Top 10 Best & Popular Summer Hair Color Trends
7 Best Tips to Choose the Right Men's Hairstyle for Your Face Shape
Comments
comments