Enjoying the freezing wintry days? Look what StylesGap has got for you! Now the days to pass on the cold days with boring dresses and false fabric are over, the days of this century demand everything in cozy, trendy and quality assortment. So here! I present to you a common, famous, and well-known name of the fashion industry; Warda, serving the customers with premium fabrics at economical prices in almost every city. A  name in the fashion industry that in ensures your closet to have long-lasting clothing items is today brought to you. Here we are going to share another astonishing dress selection of the season WARDA Latest Women Designer Winter Dresses Collection 2018-2019.
WARDA Latest Women Designer Winter Dresses Collection 2018-2019
The designer Brand Warda, founded in 2006 owns the specialty of printed and ready-to-wear clothing for voile, lawn, chiffon, woolen, cotton, khaddar and silk for women in high quality and affordable price ranges. The success of a brand is not an unknown aspect; this tag is famous over the globe and known by everyone. Establishing its outlets in Lahore, Karachi, Peshawar, Mirpur Azad Kashmir, Sargodha, Faisalabad, Hyderabad, Sahiwal, Rawalpindi, Gujrat, Khariyan, Rahim Yar Khan, SWAT, WAH Cant, Mandi Bahaudin, Sheikhupura, Sialkot, Jhelum, Sadiq Abad, Abbottabad, Bahawalpur and Gujranwala etc.; the tag has always provided its customers an excellent experience be for Warda, it's not only a sale but a relationship with the valuable customers. Knowing that winters have passed into our doors, every designer brand is releasing new collections for this season and so is done by WARDA.
Printed Latest Women Designer Winter Dresses
Bringing a real fashion to winters, the famous name has introduced a fresh and exclusive range of ready-to-wear and unstitched printed dresses under the label printed boho chic collection. This assortment possesses outfits made with thick and rich fabrics like Khaddar, linen, cotton karandi, silk karandi, and cambric in single shirts, 2 piece and 3 piece suits ranging from 1600 PKR to 4000 PKR onwards in price. Every single piece of this collection has a nice and unique print embellished with attractive motifs.
Embroidered Chikan Kari Latest Women Designer Winter Dresses
Unique execution techniques, cuts, neckline printed shirts, double shirts, and eye-catching color contrasts and combinations with a traditional look make every dress from the array worth spending for! This array has outfits to give a girl, funky and cosy look and to a lady, sophisticated nice look. Designed and stitched in a way that each dress remains trendy yet elegant; warda has fulfilled the needs of its valued and loyal buyers. So Ladies, grab your bag and rush towards your nearest store to dip your winter in style with these superb outfits. Embrace the grace with WARDA this season; explore the whole array in the beautiful display of them in the images below. Check these beautiful embroidered Chikan Kari dresses in amazing styles.
Woolen Silk Latest Women Designer Winter Dresses
Wool fabric is used to keep bodies warm in winters. Warda has designed a special woolen silk dress series with amazing prints and designs. Elegant patterns and different cuts can be seen in the assortment. I hope you will love this collection. Stay stylish and warm this winter season by wearing the exquisite designer suits.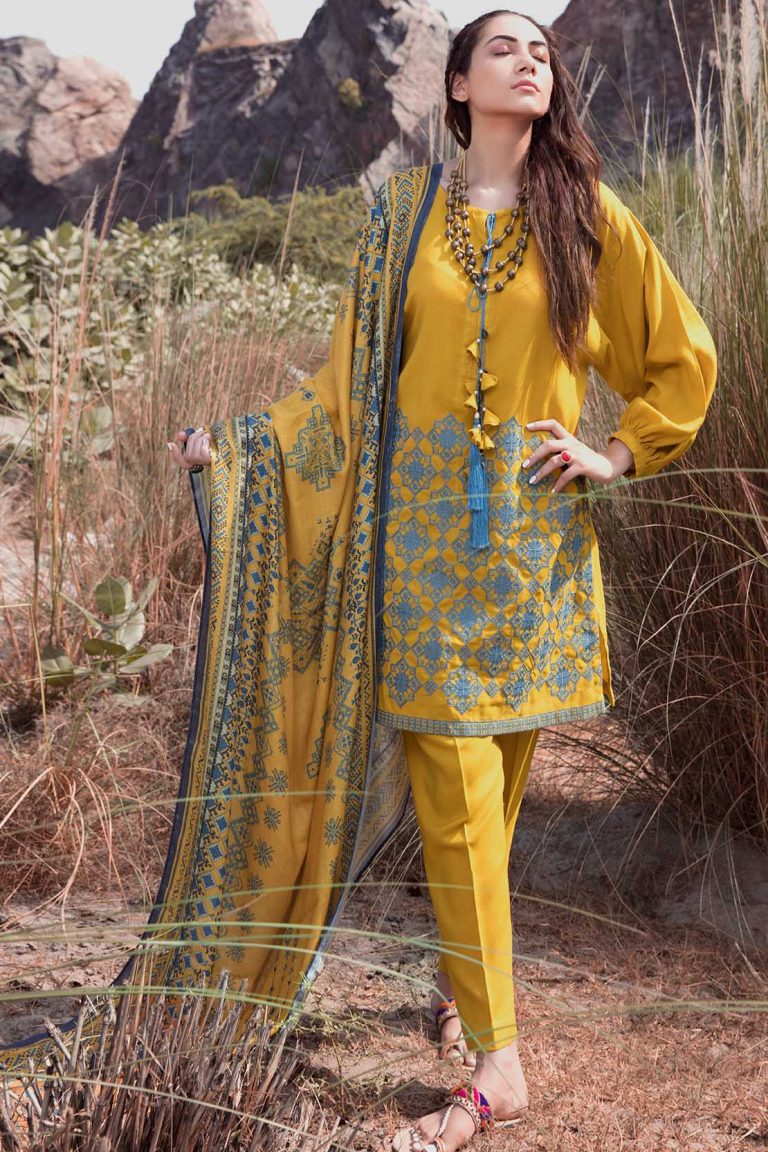 Marina Embroidered Latest Women Designer Winter Dresses
These suits are made up of warm fabric widely used for winters called Marina. This fabric will keep you warm in cold weather plus the amazing designs will make you stylish. Have a look at the beautiful designs posted below.
See More As:
Comments
comments