Layers are essential all year round. Sometimes we need protection from the sun; at other times, we need them to keep up warm. Jackets are the ultimate accessory for layering. They are incredibly versatile, effortlessly chic, and super durable in terms of longevity. Style is personal, and it varies from person to person. You could be more inclined towards a minimalist aesthetic or something bolder and more memorable. The jacket you opt for depends significantly on your style aesthetic and your need. Since jackets are probably the most frequently picked out item in your closet, you must choose wisely and choose well. Here we will discuss the top ten trends of winter jackets fashion that will perfectly match your outfits.
10 Winter Jackets Fashion & Styles that are Perfect Add-ons to Your Outfits
There is a collection of winter jacket styles to choose from – each comes with its own flavor and personality that introduce new accents to your outfits. We have compiled a list of ten essential jacket styles that every woman needs in her arsenal to spice up their ensemble.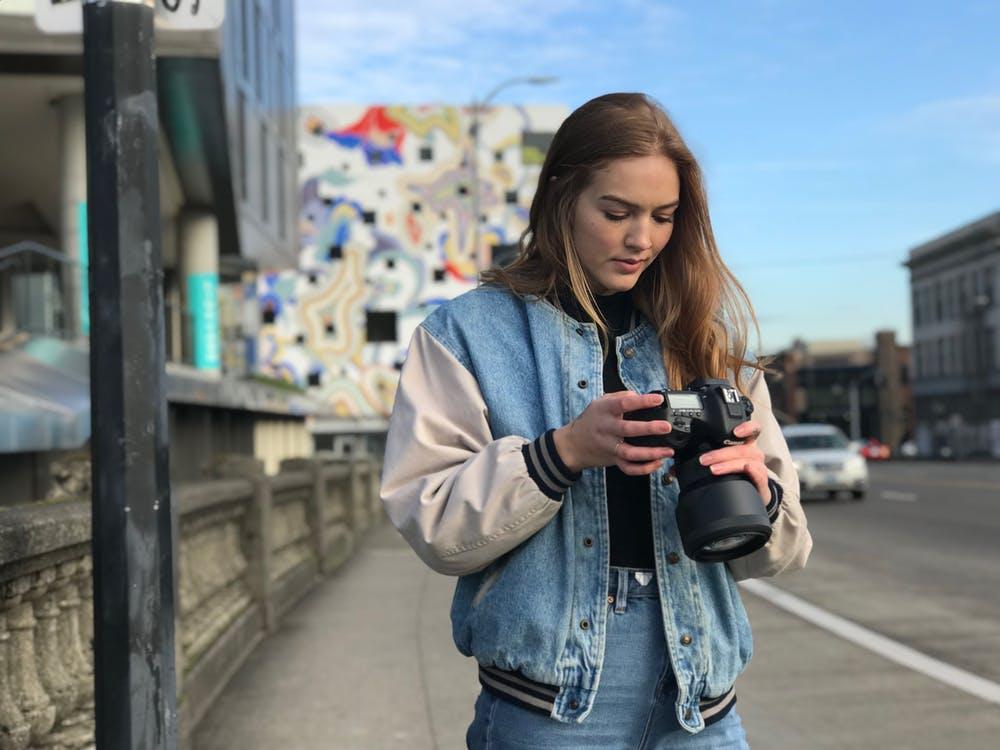 Let's get started.
There is no one on this planet who doesn't own denim. Denim is the epitome of comfort. It is casual, it is low-maintenance, and it is rough and tough – nothing else compares to it. Similar to a trusty pair of denim jeans, a denim jacket is an essential you need in your life because it is just that versatile and handy.
Denim jackets look fabulous with everything ranging from jeans to dresses to skirts to gowns. They are fun to play with as well. You can opt for a basic cut or something a little adventurous like a sleeveless cut, one with faded details, or something bedazzled and sparkling – denim jackets are basically sought of a blank canvas. Find your favorite denim jacket and make it a part of your everyday wardrobe.
A trench coat is the timelessly classic essential every girl should own. We have seen it over the years everywhere – the elegant camel trench coat. Chic, polished, and versatile, a camel trench coat is the perfect accessory to complete any outfit. Not only is it incredibly classy and sophisticated, but trench coats also keep you warm and cozy in winter season, making them ideal for the fall and winter seasons. They are also waterproof and thus perfect for the rainy season.
Wear them over your ensemble of choice to add a classy new accent to your look. Couple them with your favorite ankle boots and you are ready to go. If camel is not your color of choice, opt for something more neutral like a classic black or deep charcoal grey. If you love something a little more outgoing, a fiery red or yellow looks just as great – whatever fits your fancy. Regardless, trench coats are a staple that will forever remain in style.
Who doesn't love a good old leather jacket? Leather jackets are the ultimate accessories that work in every setting. Wear a leather jacket to give a basic dress an edgy flavor. Add a leather jacket to a casual pair of jeans and a plain white tee and turn it into an outfit perfect for a day or night out. Pair your leather jacket with a chic pencil skirt and silk blouse perhaps.
A leather jacket is one accessory that looks good with everything. Whether you want to spice up an outfit or tone it down for something more casual, a leather jacket never disappoints. They are also great for keeping you cozy, so there really is not much to complain about.
Leather jackets come in an array of designs – each catering to a different style aesthetic. We have the classic bomber leather jacket, the edgy zipped racer jacket, the minimalist friendly moto jacket, the traditional leather coat – the list goes on.
More than its style, what matters most when it comes to leather jackets is their aura. Their striking yet subtle look makes sure all eyes are on them. Moreover, if your personality is the outgoing sort, the trendy New York leather jacket women give you the necessary boost, and you really do not need much other than your favorite accessories to complete your look.
Bomber jackets are the perfect hybrid of casual and chic. They exude a peculiar confident aura that is hard to match. Their cuts make them best for both men and women. The best part about them, however, is their versatility.
Bomber jackets complement an array of outfits from sophisticated pencil skirts to girly maxi skirts to edgy ripped jeans. They provide you with a supplementary layer of warmth, which makes them perfect for that in-between season when it is not too cold nor too warm. However, you can choose to get them lined with a thermal fabric to make use of them when temperatures drop further.
Quilted jackets are the perfect cross between bulky puffer jackets and light leather jackets. They are just warm enough to keep you from freezing while ensuring that your sweat does not pool up underneath. Quilted jackets are the ideal fall winter season attire as they keep you warm and they are super cute.
Woolen jackets feel like heaven. They are winter warm, soft, and fuzzy, and feel like you are wearing a blanket. If you live in a cooler region, you need to have a wool jacket in your closet because nothing combats the cold like a good woolen jacket.
If you do not want a wool jacket, you can opt for something lighter like cashmere. Cashmere looks and feels super luxurious, and it is delightfully warm. If you have some additional cash to spend, treat yourself to a delicious cashmere sweater. You will not regret it.
Whenever we imagine winters, we imagine overcoats – long, stylish, chic, and warm. Overcoats exude sophistication and elegance. They are a quintessential part of winter wear, so it is worth the investment. The best part, however, is that you can wear absolutely anything underneath – the coat will hide it all.
We all have lazy days when we do not feel like changing out of our PJs to make grocery runs. Let your overcoat come to the rescue. Throw on your overcoat with a pair of boots, a scarf, and some lipstick, and you are ready to go.
Fur screams money because they are an item that only the elite can truly afford. For us, who live on a budget, the next best thing is faux fur. Faux fur is just as luxurious and unique, it is winter warm, and it makes you feel like a rich landlady – who could possibly hate that feeling?
If you are carrying a faux fur coat, you know you will stand out in a crowd. Investing in a faux fur coat is an excellent idea because they last you for years. If you are looking for good color choices, a classic black or white never fails to impress. If you are on the pursuit of something different, a maroon, deep chocolate brown, or animal prints are excellent choices as well.
Puffer jackets are no longer a necessity but more of a style statement. High-end labels are now embracing puffer jackets for their peculiar outlook, versatile practicality, and unique style. Perfect for the chilly winter season; opt for a puffer jacket that will work best with your style and your daily needs.
Blazers add an instant professional and polished element to any outfit. They harbor a classic silhouette that flatters all shapes and sizes. A blazer, unlike any other jacket, is more than just a layer. Blazers are a part of your outfit. They blend in with your gear by making you stand out more. You can choose from an array of fabrics and colors.
A velvet blazer feels super lux and works best in casual settings. A silk blazer is best for formal events. If you are looking for something suitable for daily wear, stick to the classic black or navy blazer.
Parting Thoughts:
Your jacket is the final piece that completes the puzzle, that is your outfit. They breathe life into even a boring attire. You can mix and match them with an array of combinations, and they last you for years. The next time you wish to splurge on a shopping spree, be sure to do it on a jacket – it is an investment worth the money.
Article Contributed by Ashley Rosa:
Ashley Rosa is a freelance writer and blogger. As writing is her passion that why she loves to write articles related to the latest trends in technology and sometimes on health-tech as well.  She is crazy about chocolates. You can find her at twitter: @ashrosa2
See More As:
Comments
comments