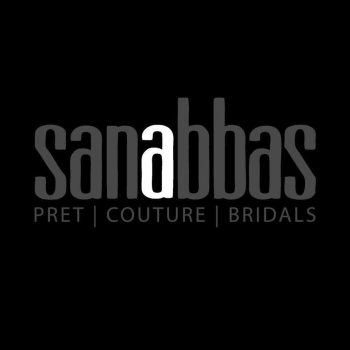 An emerging name in our fashion industry, Sana Abbas is famous for her exquisite style of designing which significantly reflects nothing but sophistication. Modern women are perfectly symbolised through her excellent couture collection, encompassing from rich bridal wear to pret series. She stepped into the fashion arena of Pakistan in 2009, by opening a small yet distinct clothing line. Ever since then, the brand has been making a great success and earned the big name for its craft. Sana Abbas' collections have also showcased at various international platforms including Europe, America and the Middle East where she generated waves of appraisals through her work. Her work was even showcased at the International Bridal Fashion Week at Atlanta, The Perfect Wedding UAE, Pakistan Fashion Extravaganza London and Bridal Couture Week 2015. Splashing colours encapsulated in intricate embroideries and meticulous designs give you immense pleasure when you experience her breathtaking collections. Today we are going to present the Sana Abbas Beautiful Formal Eid Dresses Designs Collection 2018-19.
Sana Abbas Beautiful Formal Eid Dresses Designs Collection 2020-2021
Well, the good news is still left to break, Sana Abbas Beautiful Formal Eid Dresses Designs Collection is just being launched and available at its outlets. The collection is highlighting the recent trends and styles in the most tasteful manner, suiting to the needs of the modern women. Short loose tops, peplum shirts and classic bell bottoms are recreating the magic in that catalogue. Decent embellishments with hints of contrasting colours are indeed appealing. So let's have a sneak peak of the latest Sana Abbas Beautiful Formal Eid Dresses Designs Collection 2020. Presenting you the 12 Sana Abbas beautiful formal dresses designs. Here they are. Have a look.
1. BATEAU:
It seems like the sky is blooming at night with that lovely white 3D floral adornments over pastel yellow net shirt. The combination of yellow with white is creating an appealing contrast. The details over the neckline and those cut-out sleeves are admirable.  Straight pants with that pretty top would be the best match to pair.
2. AZURE:
Such a beautiful use of embroidered net in the most delicate style. It is woven with decent monochromatic lace work and embellished with fancy buttons and pearl embroidery all over its sleeves. A cute peplum top or a short frock would be best to style using this masterpiece where you can pair it with bell bottoms or boot cut pants and a chiffon dupatta.
3. DAINTY:
Dainty is a meticulous display of fine net and lace work. It has a lovely organza frill covering its neckline. It's creamy; rich colour is boosted by the pretty handcrafted motifs with shiny white pearls. The shirt can be designed in funky cute top.
4. CHER:
One-sided delicate, colorful embroideries in floral patterns is making this shirt incredibly fascinating. This ensemble of a white net shirt with block printed back is one good combination to try on this Eid. The shirt can be coupled with smartly embellished pants.
5. FOXY
Pink shaded floral embellished is adorning the shoulders and creating a magical contrast with the beige top. It is a quality beige net shirt with self-work. You can try it with boot cut pants and pair it with contrasting chiffon dupatta.
6. DAFFODIL
As the name tells it, this piece of fabric is refreshingly inspiring because of its appealing yellow. The shirt created in organza with intricate embroideries in yellow covering the entire shirt. Here too the pretty mustard is paired with soft white in boot cut pants.
7. BEWITCHING
Bewitching is another mesmerizing creation in pastel, with classic lacework and bordered 3D floral work in pink. The neckline and sleeves lined with frill work.
8. DIVINE:
Pastel pink with luxurious lacework and heavy embroidery over the hemline is one gorgeous creation by Sana Abbas. Fine details on the sleeves and neckline are highlighting the pasty pink. It can be paired with frilled pants and lovely chiffon dupatta.
9. CLASSY:
Self-embossed organza nailed with intricate 3D embroideries with precise details on the neckline. The net sleeves complemented with lace work which is also used in the hemline. You can couple this dreamy shirt with the matching bottoms and soft dupatta.
10. PERKY
Minty fresh green is another great option for this Eid, as it is so going to be hot out there. This refreshing shade will cool you down a bit. It has self-embossed work with pearl embroideries and frilled sleeves. Motifs scarcely patterned over the front in great depth.
11. ONYX
Boldjust got exciting with these amazing shirt pieces crafted under the label of Sana Abbas. Blossoming daisies are crafted along the shoulder line and around the neckline. The mix daisies is lovely Moreover the detailed handcrafted work over the net is super glam.
12. LAVISH
Organza is used creatively to design this piece of shirt. It has vibrant handcrafted motifs in the front which has pretty embroideries in gold and ivory. It will look best with navy blue boot cut pants or pencil trousers.
Shop here@ www.sanaabbas.com
See More As:
Comments
comments