Summer has just hit the extremes; the warm blazing heat could be really a challenge when you need to go out to work or hangout. Most of all, your hair might keep you more than uncomfortable if you try to keep the conventional open hairstyles. SO if you want to go all cool and comfy with your hairstyles, then top knots hairstyle could be the perfect option. It has the variety of differing styles for each sort of hair and occasion. Here we brought the best of all, ranging from most casual ones to the ultra-glamorous ones.
Latest Trends Top Knot Hairstyles Fashion for all Hair Types
Keeping in view the latest styles, following the set of top knots will take you by surprise with their stunning and simple out.
CRISS CROSS TOP KNOT:
It involves highly simple and easy steps to get it done yet looks incredibly alluring. The crisscross arrangement of hair gives a nice bulk to the knot. What you need to do is to tie a high central knot leaving half the hair behind from back then whorl each tuft of hair around the knots by crossing them over and simply tuck them in using bobby pins! And Voila! In just a snap of time, you'll get yourself a fancy looking top knots hair do! Keep few bangs and curls of hair hanging from sides and front as it looks fascinating.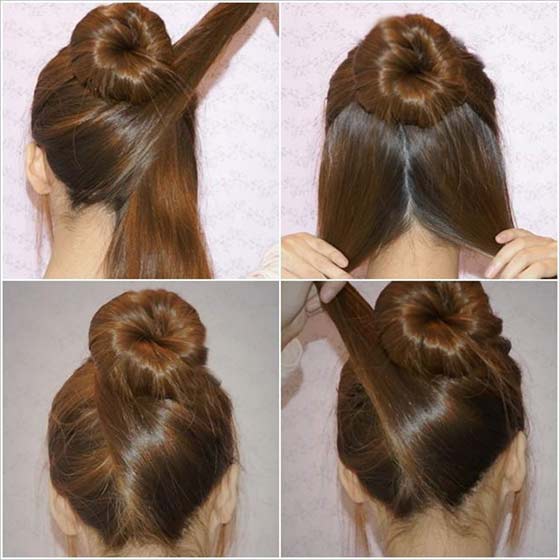 MESSY TOP KNOT:
This one is the real treat for all the girls; this summer let's take your hairs do to a whole new level. Spark your style with the ultimate messy top knot. It is best for casual hangouts and your summer day out. It can be carried easily with any outfit and apparel. All it requires is the loosely tied hair up in a knot with messy outlook. Once set, the look can be secured using hairspray.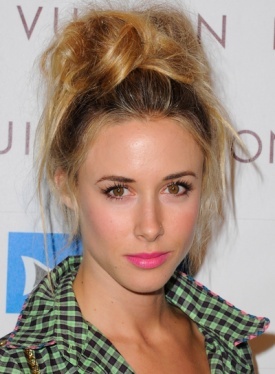 PERFECT HOLIDAY TOP KNOT:
Gaining much popularity these days, perfect holiday top knot is loved by all. Unlike other knots, you can increase the size of the bulk of your knot for this one. Hair needs to be tied high up in a ponytail then are rolled outwards from the center of the ponytail and tucked outside with the pins. It gives the nice and fine touch of a perfect round bun.
UPSIDE DOWN BRAIDED TOP KNOTS:
The braided top knots not only looks funky but cool to carry. The hairs  in the center is tied up in the knot whereas the side hair is tied up in the braids which are then whirled around the knot. Each of the braids is then secured by tucking in using bobby pins. The braids are a perfect option to secure tightly any stray bangs of hairs which can be quite an ease for summer.
HALF UP TOP KNOTS:
Whether you have medium or long hair, half up knot is crafted for you! Tie half of the hairs into the knot leaving the rest behind is another way of getting yourself a stylish hairdo. It is easier to make and like other top knots can be carried to anywhere.
TOP KNOT HAIRSTYLE TRENDING:
See More As:
Comments
comments