Fashion is the name of something that tastes different and unique. That's another matter that this thing flavor good or bad for you. It is much that what you wear, what you eat, how's your lifestyles and way of living. When it comes to fashion, most of the time clothing comes in mind. Latest trends in clothes and the designs that are changing day by day. Then after some time the same fashion repeats itself. Today we are discussing here the "Pakistani Fashion Party Wear Dresses". No doubt that people of Pakistan are also grooming ordinarily, their style statement is going to be good. In major cities like Lahore, Islamabad, Karachi, Faisalabad, etc. young generation prefer to do urban western trend dressing. Wearing jeans, tops, t-shirts and style themselves were funky and casual. Today we will share the latest trends of Pakistani Party Wear Dresses for Women.
But still majority goes for our traditional taste, Our young girls wear Salwar kameez, frocks on the daily basis as well as Eventual wear. So here I am discussing designer inspired "Latest Party Wear Dresses for Pakistani Women". This collection contains best "Ready To Wear Formal Suits for Ladies" that are designed just according to modern fashion trends. Bold & Dark colors are contrasted with dark ones to make the amazing shades. Use of different type of work including gotta, Zari, Dabka, Motifs are used along with beautiful laces & patches.

Latest Pakistani Party Wear Dresses for Women 2017-2018 by Zunaira
Zunaira Lounge is one of the leading Pakistani designer based fashion brand that deals with women clothing & accessories. It was formulated few years ago in 2010 and this recent time; it is gained too much popularity by producing the valuable stuff for its beloved customers. Zunaira Lounge offers stitched and in-stitched dresses for ladies with affordable prices and packages. It is gaining its name due to its unique designs and stuff. People are now preferring it on many because of its high-quality fabrics with best stitching patterns. Latest Pakistani Party Wear Dresses consists of best formal wear suits including embroidered and fancy gowns, double shirt dress, umbrella airline frocks, long shirts with palazzo pants and many more.
These attires are ideal for your formal wardrobes to catch. You can wear it on every type of party, gathering, formal & casual meetings, events, functions, and occasions. Dyed Chiffon, Silk, Georgette, Mareena, Craipe, Cotton, Chunri, Net and other fancy fabrics are used to design the costumes with modern eastern & western cuts. Some suits include the short chest covered jackets along with huge pishwas that looks so traditional to wear. Front open long gowns are the basic part of this collection with sleek cut and angrakha styles. Each and every dress has its unique design and charm. Have a look at the below posted image gallery and get inspired by the Latest Pakistani Party Wear Dresses for Women.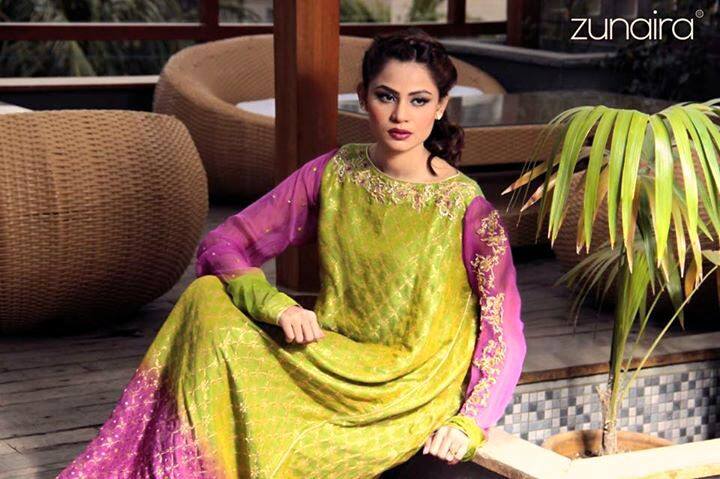 See More As:
Comments
comments