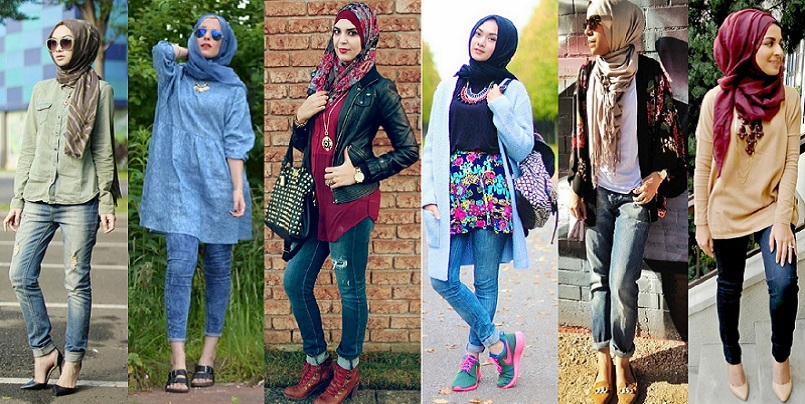 Hijab is a representation of modesty for Muslim women but styling it in different ways with modern outfits can add glamour. Earlier we posted about party wear hijabs and abaya but there are girls that wear only hijabs with other outfits like jeans tops etc. Young girls always wish to look great in any way, either they are wearing hijab or not, so for the girls who want to look little funkier and chic with hijabs here is the excellent place to learn how to fulfil it. The best way to achieve the stylish look is to wear hijab with jeans. There are so numerous ways to wear hijab casually with jeans. For a day to day look you can easily make the combination of the long top with skinny jeans along with the hijab i.e. your body is covered properly also you can look stylish. Here we are sharing the Latest Casual Hijab Styles with Jeans.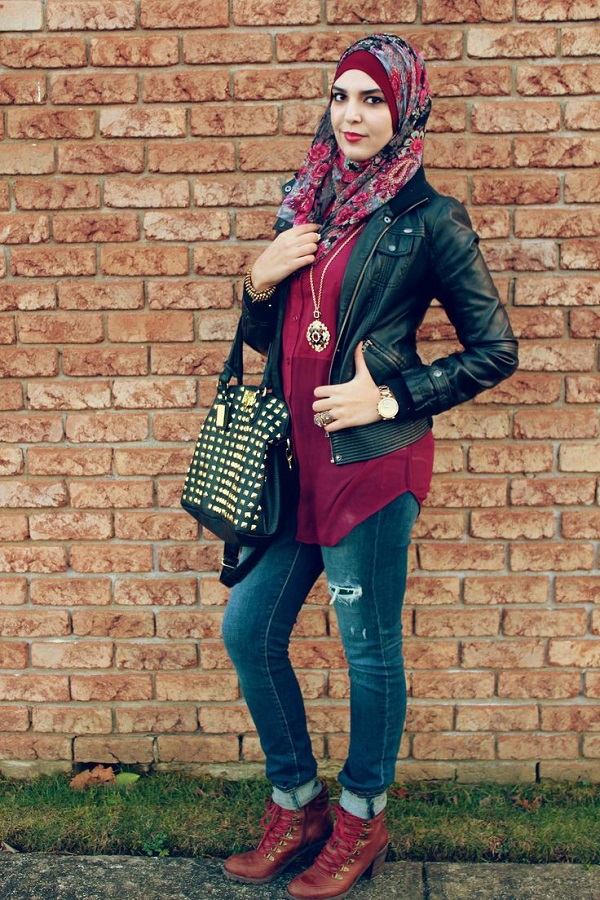 Jeans with long boots are the hottest trend of these days, remember that every style I am mentioning here includes hijab too. You can wear them along with a long abaya gown. Furthermore, for the pure funky look, you can match hijab with ripped or distressed jeans. Some girls who fancy sports look especially teenagers can go for a contrast hijabs with Nike sports outfit. One must try other bold colors in casual hijabs like maroon, red, plum, brown, peach, violet, etc. Also, there are many printed hijabs now available for the casual wear, floral patterns, zebra lining, animal prints, digital prints, writings, self-prints and many such things are made on hijabs to make it look funkier. Women especially young girls are wearing hijaab in their daily routines in various ways. Arabic ways to wear hijab is the best choice and also very popular. Giving different layers on your head and adding some accessories or hijab cap is also the very popular trend.
Latest Casual Hijab Styles with Jeans Collection 2021-2022
In this collection, we will feature the latest designs and styles of hijab jeans. The hijaabs maybe caught along with jeans or a long costume abaya or maxi gown; the choice is all yours. If you want to make it funky, then I will suggest you go with denim pants and jeans. While for semi-casual events you can pick outfits like maxi gown or abaya costume along with a casual wear hijaab style. You can add a branded wrist watch, a designer handbag, stylish glasses and a pair of good shoes to make your look perfectly appealing.
There are different types of casual abayas; some are floral printed, having belts, light embroidered and maxi styles. I think young girls with hijab jeans and stylish top look prettier than in any other form. You can also add fancy pins on your hijabs, other than that try wearing stylish sunglasses too and you won't believe how sophisticated you look. These trends are best for teenagers; the university going and college going girls. Following are shown various methods of wearing casual wear hijaabs with jeans with all the details of types of outfits that are most suitable for you. These are available at any Islamic wear stores in your town. Hope you too will like these highly appreciated trends of these days and get the useful ideas for yourselves too.
Latest Casual Hijab Styles
See More As: