Hairstyles count for most of our outlook. They carry those curls and silky black shine determines how our makeover will turn out to be. Every look demands a different hairstyle which could suit best to the occasion or best to our makeover. A heavy voluminous Bun per say would only suit a Bride dressed in shimmering red. Or a simple twisted half knot style would suit best for a party makeover. So coming right on the point, we all need series of hairstyles for each occasion. It seems a bit too confusing considering so many styles which are on the trend. But with our insight regarding the best of the party and wedding hairstyle, you will get your perfect pick. Here we are sharing the Latest Asian Party Wedding Hairstyles 2023 for Asian Girls.
Latest Asian Party Wedding Hairstyles 2023-2024 for Indian & Pakistani Girls
So let's give the scroll one more push and find out more about the recent gorgeous hairstyles. Whether you have curly hairs, wavy one or silky one, you can try the Latest Asian Party Wedding Hairstyles according to your desired outlook.
The Wedding Buns:
Buns have always been the right choice for the bridal makeover. They so suit the regal and traditional Asian bride. Moreover, it adds to the desired volume of the bridal hair. Buns these days are in turn comes in so many varieties like the buns with side curls, the buns with bangs, the buns with flowers or the neat buns. For those of you who are not going to carry a matha Patti or side Patti can try buns for best of their outlooks, as the front hair will be styled accordingly and will give our face a nice touch.
The Fancy Updos & Braids:
The fancy updos & braids were not that common, even a few years back. But as of today, the braids are so in style. As the braids to can be styled with lots of volumes and messy outlook. Braids are also a perfect way to adorn the hair with delicate floral twigs extending from one end of the braid to another. Even the braid can also complement the floral matha Patti or any other head jewelry. So go ahead and try one for your special day, especially for Mehndi or Mayun outlook.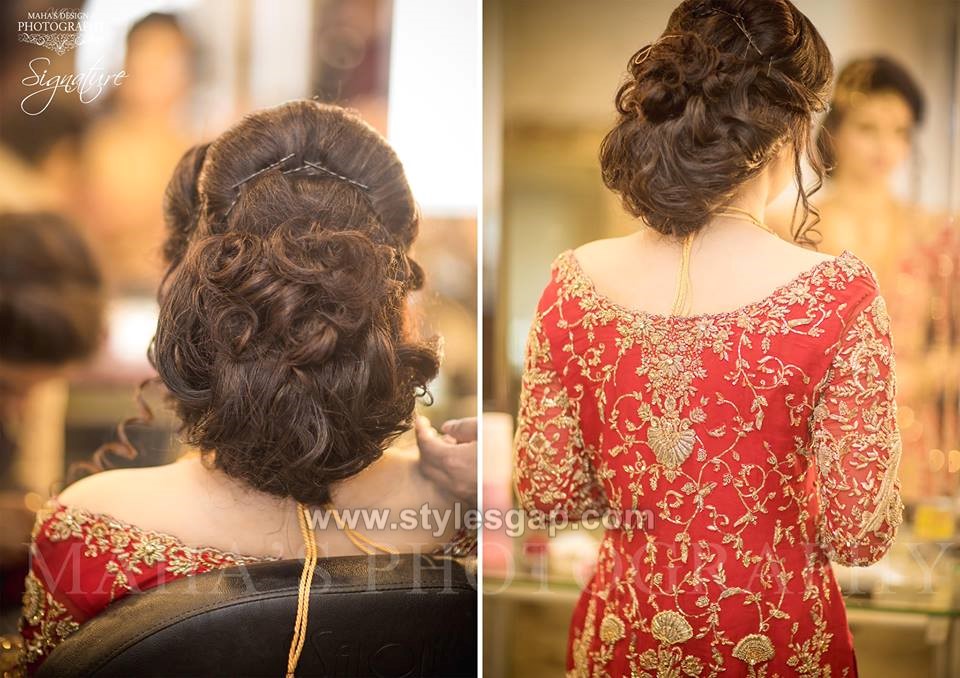 The Bangs & Curls:
Bangs have their own fascination when we consider the fall and shine of them. They add so much sophistication to any of the hair types. Mostly bangs are set in untied hair, but the style varies from one side bangs to the two side bangs, or the bangs with half knots or small bangs with bun. Bangs suit best to the lighter bridal outlook and also looks perfect for all the party dresses. So they are somewhat more Omni in their use.
Back Curls
Flower Affair
Funky Party Hairstyles:
Party braids
are entirely different from the bridal ones, as these are simpler and lighter in volume. You don't need lots of hair ornaments to style them. Rather just few bobby pins will suffice for an amazing party braid. You can try a simple side braid, or a French one, fish braid or loose braid. For a funky party outlook just don't forget to pull out few of the small bangs around the ears and you will simply rock.
Sleek Ponytails:
Ponytails also look great. They are very much in trend nowadays. You can add some accessories to it or keep it simple. It's totally upto you how you style your ponytail. For festive events, you can make it with flowers and beads. For a casual look keep it simple.
Elegant Party Buns:
A perfect messy bun is the ideal party hairstyle. Whether you are carrying a western gown or the traditional one, the messy buns are your answer to all the amazing outlooks. Try it in one-sided buns style or top knots. Few simple twists and curls will give you a nice look for the day. If you want to add more funk, add some braids near the hairline or a sparkling hair brooch.
Half Up & Down:
The trends of half up and down hairstyling are always in the fashion. Whether it is a formal event or a simple casual one. Half up & down hairs always flaunt the day. For carrying a formal look you have to form a neat flaunting layer with a flower.
Simple Straight for Teens/ Girls:
Simple straight hairs always look decent as well as stylish at the same. We have picked some of the straight hair Latest Asian Party Wedding Hairstyles for Asian Girls. They are perfect for teenage girls.
See More As:
Comments
comments