Long frocks and gowns are going to be the most popular trend from the previous year to till now. Every famous Designer is designing and present their most recent arrivals. Many leading designers and brands are showing their collection on them. Hey, Gals! Today I am sharing Latest Party Wear Frocks Designs Collection By Zahra Ahmad. They are best for any event and occasions whether at parties, gathering or weddings. It is one of the most eminent brands of Pakistan. It is working for several years and in such a few time this brand has got remarkable appreciation from her beloved customers. The Dresses i am featuring below are according to the latest designs and fashion trends. Different fusion of cuts, embellishment, and adornments are used to make them perfect to wear on party and formal occasions. The color scheme of these outfits is very impressive and attractive. Light and dark hues are blended in Silk, Chiffon, Craip and reshmi stuff with bright embroidery at necklines. Banarsi patti, laces and net is used to give the dress an extra glamor.
Latest Party Wear Frocks Designs by Zahra Ahmad Collection 2017-2017
Here we have posted beautiful party wear frocks collection by Pakistan's most popular women clothing brand Zahra Ahmad. It includes different type of party wear frocks like front open frocks, angrakha style frocks, floor-length maxi style, umbrella frocks, Aline and much more. These dresses come up with surprising color combinations and embroidered necklines. The attractive embroideries and adornments on the front panels, sleeves and back make these dresses more appealing to look. Have a look!
A decent and light embroidered umbrella type frock in a beige shade with embroidered border &  neckline.
Shocking Pink gown style frock with blue contrast having fantastic embroidered neckline
Royal Blue color frock with embroidery at Neck and Red banarsi patch is used at bottom
Off-white gown with orange shade shirt
White color andrakha with laces to give an elegant look at parties
\
Floral length umbrella frock in light orange and off white contrast with stone work embroidered neckline
Long tale gown style frocks with straight cuts
Net gowns with frocks in black and orange colour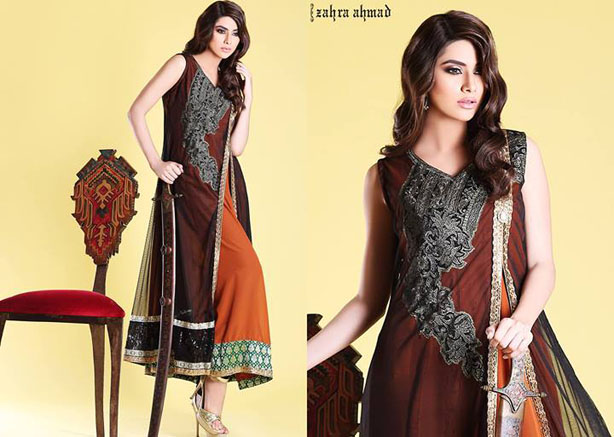 Floral length gown styled frocks with light embroidery and stone work
Beautiful shaded Silk gown for weddings and parties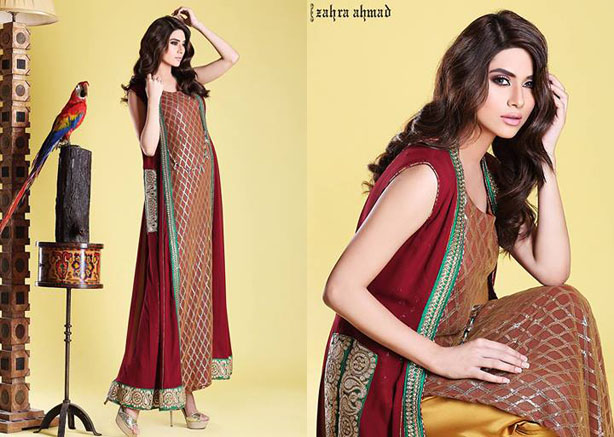 here is the gallety of latest Zahra Ahmad party wear frocks. Hope you will love each and every design. If you want to shope these dresses then visit the official page.
Here to Order: Zahra Ahmad Facebook Page
See More As:
Comments
comments