While anticipating for the biggest Award show of Pakistani television, we not only look forward to all the electrifying performances or the winners of the season but also expect to visualise all the great outfits our stars and celebrities carry to the big event. We may see them on our TV sets all the time, taking different roles but it is a whole new experience when you get to see them in some fancy designer outfits with alluring makeovers. Every year Hum Network bring you the best of the opportunity to see all our fabulous celebs in style and glam. That's right, HUM Awards is like a citadel full of television stars, as soon as you see them walking on the red carpet, you do put a lot of thoughts into their looks while gazing their apparels. Who nailed the style, who wore a gorgeous outfit of the evening, who was the most handsome of all, these are the questions which create a lot of buzz in all the fashion circles of Pakistan once the ceremony is over. We will discuss the top 10 best dressed celebrities at Hum awards 2017.
Well giving answers to all your queries, we have rated the top best dressed celebrities at HUM AWARDS 2017. Nobody could agree any less with this list, as we all have witnessed how greatly these celebrities pulled the style.
We Went to the Show & Selected these Top 10 Best Dressed Celebrities at Hum Awards 2017
We went to this amazing night full of fun and thrill and noticed the people. It's hard to decide and select the top ten out of all. Because each and every celebrity was looking fabulous. But we have to post the top ten list. Hence we have selected these top 10 best dressed celebrities at Hum Awards 2017. Have a look!
10. Ahsan khan:
The man of the evening, who bagged two awards for his amazing acting and did an exhilarating performance along with Kubra Khan, was also noted for his classic outfit. Slim fit pants with a classic black jacket coat from Amina Yasmeen was highlighting his charismatic personality.
9. Hareem Farooq:
Her fine beige gown for the evening worth all the admiration it can get. From the House of Elan, her outfit was an exquisite work of art created using delicate net and work in ivory. The wrap style with an ivory belt was making the dress even more delightful.
8. Feroz Khan:
It was certainly this man who took the style to a whole new level. This shiny blue blazer, the check vest, stripped tie and sleek hairstyle, all were the winner of the day. Feroz khan's personality and charming prince outlooks need no mention, but this outfit is speaking a volume about his ultra-cool looks.
7. Sanam Chaudhry:
This emerging talent of our television industry has earned so much name and fame in such a short span of time. She won the award that night, and she certainly won many hearts with her alluring outfit from Masroor Akram. It was one classic gown with lovely drapes and decent embroideries around the waist giving the dress a smart fit.
6. Gohar & Anam:
One of the most beloved couple in the television industry, who always get into a fashion news whenever they walk into an event. Their outfits for the evening worth to be mentioning here. It was a blend of bold and sparkly, entirely a combination jazz outlook. Anam's golden saree from Fahad Hussayn was creating a lovely contrast with Gohar's dashing black outfit from Munib Nawaz. 
5. Mikaal Zulfiqar:
One of the most handsome players in town, Mikaal Zulfiqar is known for his cool, smart outlooks and fine acting. For this year's 5th HUM AWARDS the star taken his looks to another level by carrying the classic combination of black and white. That, neck bow, white dress shirt, marbled coat and black bottoms were simply reflecting the grace, sophistication and class this star owns.
4. Momina Mustehsan:
Her soulful performance was not the only thing which made the audience crazy for this lovely lady. Her pretty light pink ball gown has made her win everyone's, heart. From her auburn locks tied into a wonderful hairdo to the soft pasty makeover, she enthralled everyone with her gorgeous appearance. Her outfit was a decent ball gown from Saira Shakira with draping chiffon and intricately embellished bodice on top.
3. Fatima Khan:
Fatima Khan's inner creativity and aesthetics always let her choose the best of the outfits for Award ceremonies. Her choice for the 5th Hum Awards was also perfect to the core. She carried a lovely mermaid gown from Asifa and Nabeel in green with motifs of embroideries around the shoulder. Her draping side sleeve and flared gown bottom were making this outfit mesmerising.
2. Mawra Hocane:
The Barbie doll of Pakistan's Drama Industry, Mawra Hocane again nailed her cute and pretty outlooks with her pastel pink outfit from Daniele Carlotta. The dress was the epitome of elegance in which the multi-hued bodice was coupled with the plain, puffy and voluminous maxi. Those curls, her makeover and inspiring smile certainly added more charm to the dress. It was all light and simple yet stunningly beautiful. The contrast of the colourful bodice and the soft pink maxi was tying every sight to it.
1. Reema Khan:
They say the true beauty never gets old; this holds to be true whenever we see Reema Khan on the screen. After years of working in Pakistani cinema, she still looks as ravishing as the day she first stepped into the industry. This year her looks were boosted with this classic outfit, shimmering in silver from Nomi Ansari. The fancy peplum top was paired with decent printed embellished skirt. It was just as bright as the personality herself.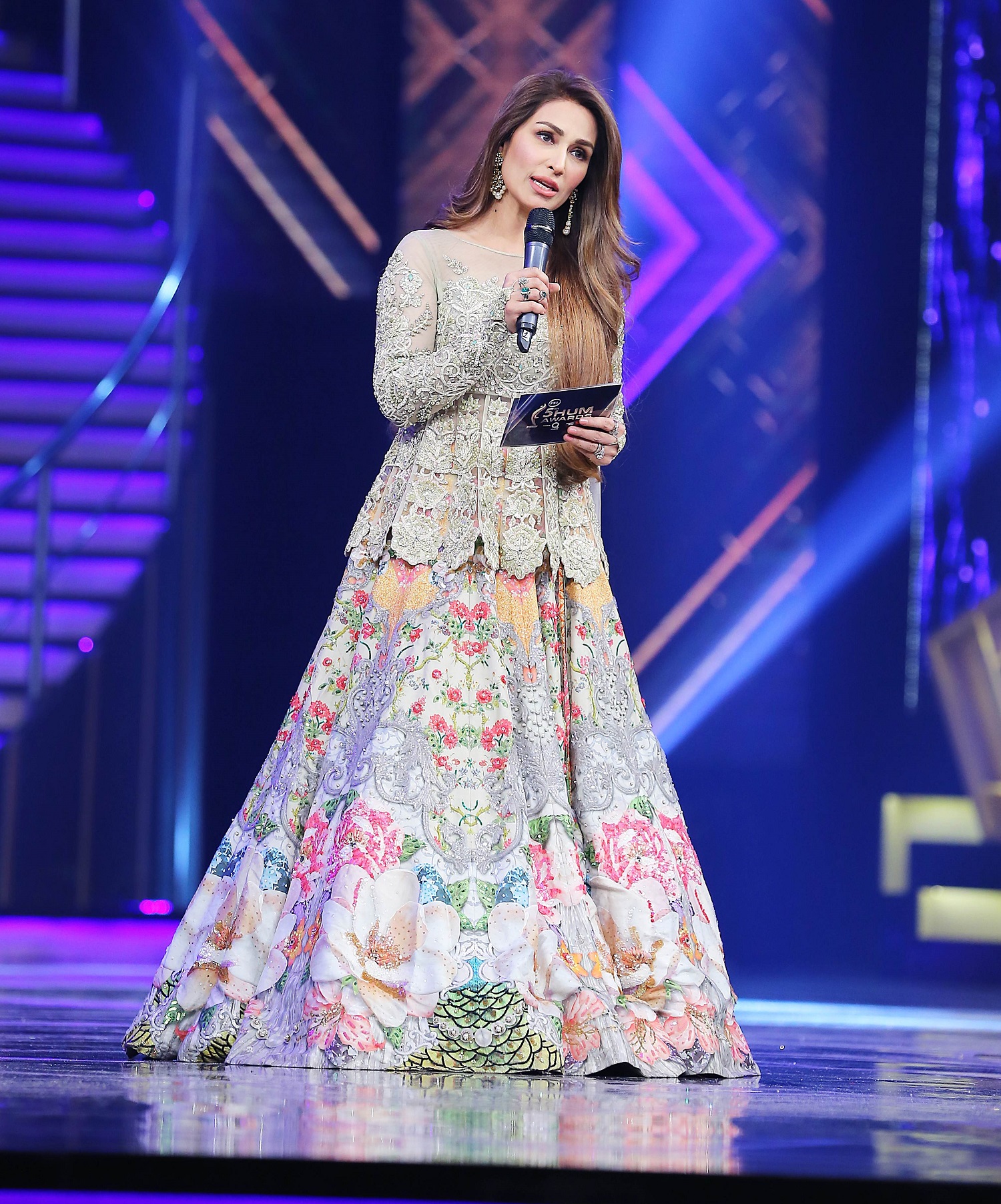 Hope you will love knowing the top 10 best dressed celebrities. For more updates on fashion & entertainment keep visiting us. Follow us on social media platform. Have a good day!
See More As:
Comments
comments