The fragrance of varieties in the clothing of Indians, Indian Punjabi suit is spread from Kashmir to Kanyakumari and Gujarat to West Bengal. In India, every state has its identity by its food, clothing, rituals, and customs. The bridal dressing styles get changed within a mile just as the density of air changes with height. Here we are sharing the Different Cultures Indian Traditional Bridal Dresses Trends that are worn all over India.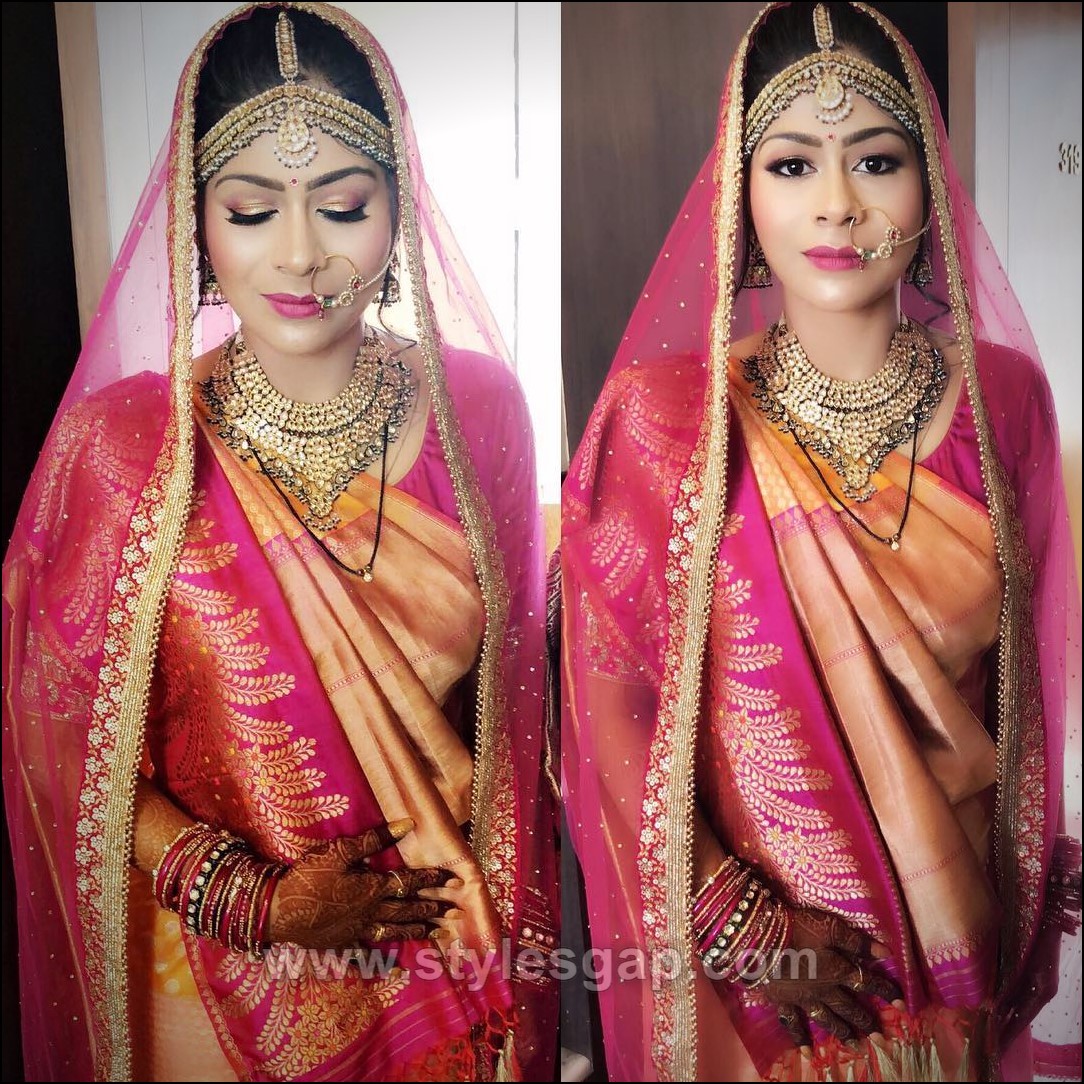 Different Cultures Indian Traditional Bridal Dresses Trends 2023-2024
You may get wondered, but NRI people are also nuts about the Ethnic clothing of their respective origin. On the family functions, they prefer to go with Indian traditional only. Have a look at the Different Cultures Indian Traditional Bridal Dresses Trends.
GUJARAT – Gujarati Brides:
The Gujarati brides go for embroidered attires that simply hold the adorable look. Village women are used to wearing Chania which is more akin to petticoat and adorned with glass work, the blouse called 'choli' and 'odhni' which is a piece of fabric cloth that covers the body and back side of the head. 'Bandhani Saree' and 'Patolas" are the identities of Gujarat.
RAJASTHAN – Rajasthani Brides:
The regional dressing of Rajasthani brides is just similar to the Gujarati outfits. They wear Ghaghara, choli which has a greater length than Gujarati choli and odhani. But if we take a look at royal dressing style of ladies which is known as 'Rajasthani Poshak' then it is indeed heart throbbing. It mirrors the culture and uniqueness of Rajasthan.
PUNAJAB – Punjabi Desi Brides: 
'Phulkari' is the traditional clothing of women of Punjab. It is also known as 'Bagh' which is decorated with heavy embroidery and vivid patterns. Moreover, its designer Patiala Suits and dresses are the trademarks of Punjabi women dressing designs. This wearing style is not only limited to Punjab but all over India; the women prefer to wear them either we talk about work or parties, family functions.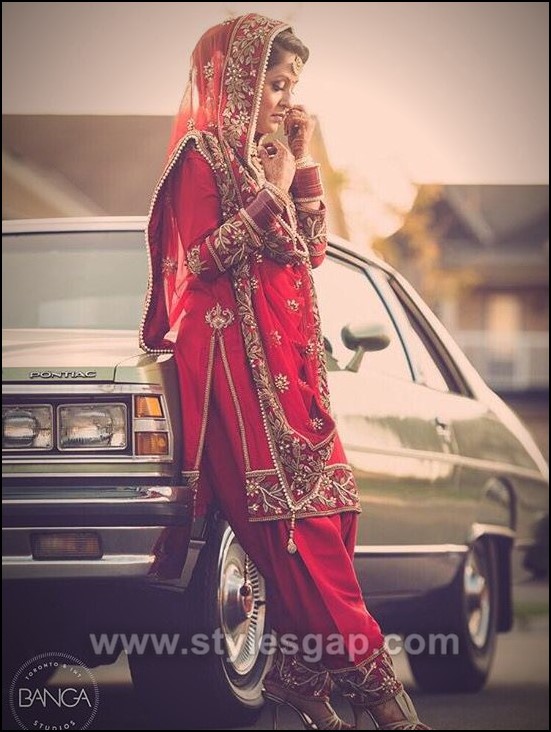 Maharashtra – Maharashtrian Women:
The way Maharashtrian brides own the sari, it truly reflects the culture and traditions of the state. They simply wear sari and choli, but it more resembles the draping style of 'Dhoti.' The style is also known as 'Kasta or Nauvari sari' which means 9 yards. The length of the sari is 9 yards. The women fold their sarees and tuck them on their back.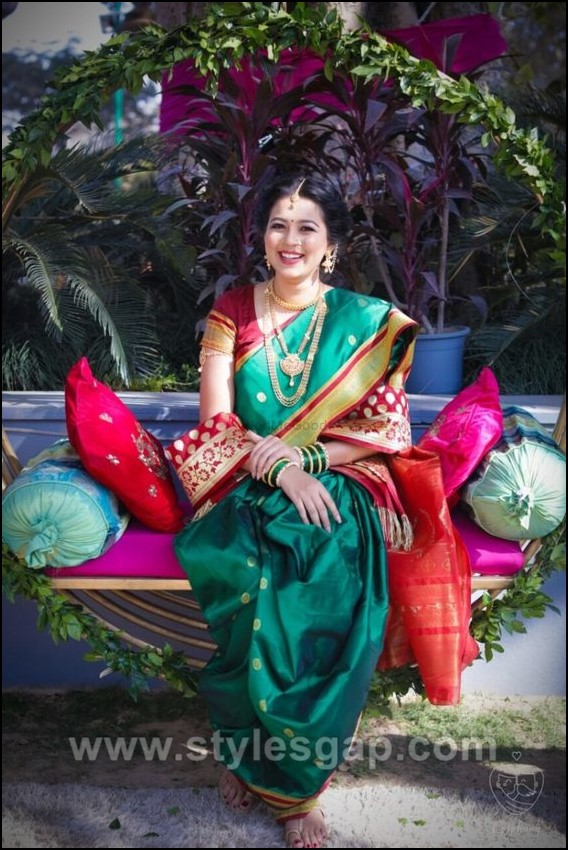 Tamilnadu Women:
It is needless to say that 'Kanchipuram saree' rocks in Tamilnadu. The women prefer to wear Kanchipuram in wedding occasions, family functions, and workplaces as well. These sarees come in various colors, designs, and textures. Hence they are famous in all over the world for their unique designs. The sarees consist of silk and cotton fabric and it has a length of about 6 yards. Heavy work and embellishments decorate the heavy Kanchipuram sarees.
Kashmir – Kashmiri Brides:
The state holds diversity in the topography but the similarity in the clothing style of men and women. The men and women wear same cloth called as 'Pehran.' It is a combination of two gowns which are dressed one over another in layers. Nowadays, the Pehran is worn with a Salwar just as the Afghani women wear. However, in bygone years it was a single piece of long cloth only.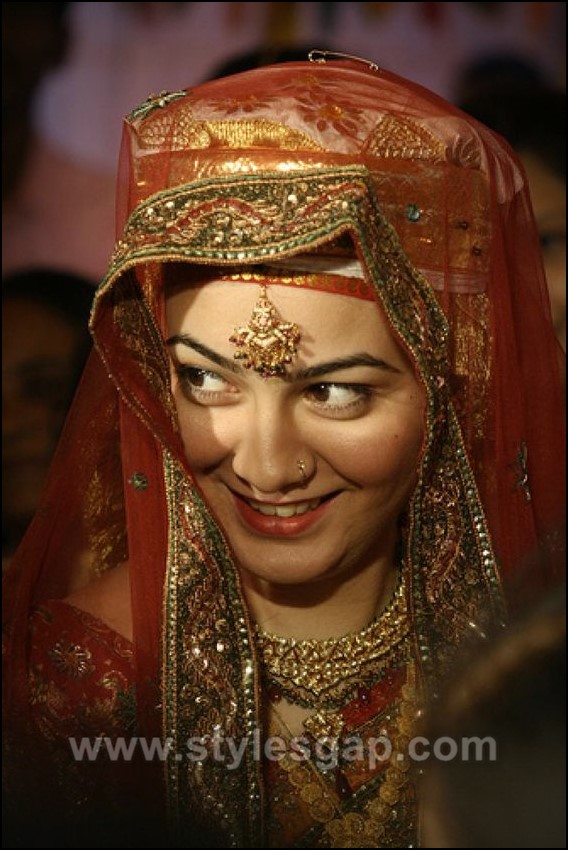 Haryana – Haryanvi Dulhans:
Haryanvi brides are more inclined towards vivid colors of clothes. Their traditional Indian clothing style includes 'Damaan,' 'Kurti' and 'Chunar.' Chunar is a cloth which is adorned with different work and it cover the back side of the head. The kurti resembles with shirt type blouses. It usually comes in white colour only. Damaan is a cloth which more akin to the skirt which comes in various colours and patterns.
Kerala Brides:
In Kerala, the customary dressing style of Indian Kerala brides is known as 'Mundum Neriyathum.' It is a combination of two cloth pieces. One piece of cloth called 'Mundu' is covered the lower part of the body while another piece of cloth covers the upper portion. The Neriyathum drapes around the blouse. You can also wear Neriyathum in a modern Saree style.
Conclusion
Every corner of India holds its uniqueness of dressing style. All the outfit designs reflect the culture and customs of their respective regions. Few dressing styles are still same as they were in bygone years; some have got changed with the modern age. Moreover, some dressing styles such as Kanchipuram, Patiala suits, and Punjabi dresses are famous not only in India but all over the world. Hope you have loved the Different Cultures Indian Traditional Bridal Dresses Trends. Keep following us for more.
See More As:
Comments
comments