Women fashion trends change time to time with additional styles and traits. Many variations are made to improve and to provide the ladies with the best things to catch. Day by day the fashion changes and sometimes get repeated after a regular period. Talking about the Indian fashion, which is most vast and broad not only in Indian but covering the major part of the world. America, United Kingdom, England, Dubai, Franc, Italy and other big countries include a huge population of Indians community, so none of the parts of this world is missing from the Indian Cultures. Indian fashion, lifestyles, customs, traditions, values, etc. are always regarded to be attracting for other communities of the world too. We will discuss today the Beautiful Indian Party Wear Anarkali Dresses Collection.
Indian Dresses
includes
Anarkalis
, Kalidar Suits,
Shalwar Kameez
,
Punjabi Patiala Suits,
Pishwas frocks, Sarees, etc. Today we will talk about the formal dressing of Indian ladies going for a party, event, occasion or to attend the wedding ceremony. Formally mostly girls choose Special Anarkali Dresses which looks trendy to wear. Married women and girls also get choose
embroidered saree dresses
. As Saree is the
national dress of India
, so women prefer to wear it to maintain their traditions and cultures. Fashion designers and brands layout their party wear formal dress collections every year for every occasion and season. Natasha Couture, Manish Malhotra, Ritu Kumar, Tarun Tahiliani, Rohit Bal and many others design their special assortments of party wear dresses for women. Here we will discuss the formal embroidered Anarkali suits by famous designers.
Beautiful Indian Party Wear Anarkali Dresses Collection 2019-2020
Beautiful Indian Party Wear Anarkali Dresses Collection 2018-2019. Consists of party wear Anarkali suits in a wide variety. The Anarkali dress is designed in a variety of ways by decorating with laces, motifs, patches and much more. Various types of embroidery works like dabka, zari, motifs, sequence, gotta, tilla are done upon the fabrics to enhance the traditional beauty of attire. Banarsi Patti fashion is very famous and is done at the front end panels of the frock with the wide bottom patches. Fabrics like Chiffon, Crinkle, Silk, Jacquard, Net, Georgette are used in making these dresses. Dupattas are also added with these suits, and they may be adorned type or simple. Anarkali dress forms the umbrella type frock that is best to pair with Churidar Pajamas. Impressive Bold colors like navy blue, orange, black, brown, fresh red, dark green, shocking pink contrasted with light ones like off white, yellow, peach, sea green, etc.
These outfits are best for your all types of functions, parties, and events. They are perfect to fit in your formal wardrobes. Now it's the time to stand out from the party by making yourself glamorous with this enchanting series of party wear Anarkali suits. Have a look at the fantastic image/ picture gallery just posted below and get inspired by the latest patterns and designs. The fresh orange and pink color Anarkali design posted below is the one you can die for. You can further pair it with a lehenga or a churidar pajama. Some people love it to wear it with trousers and palazzo pants. The golden embroidery along with the purple patch makes it look more appealing. Hope you will fall in love with these stylish attires!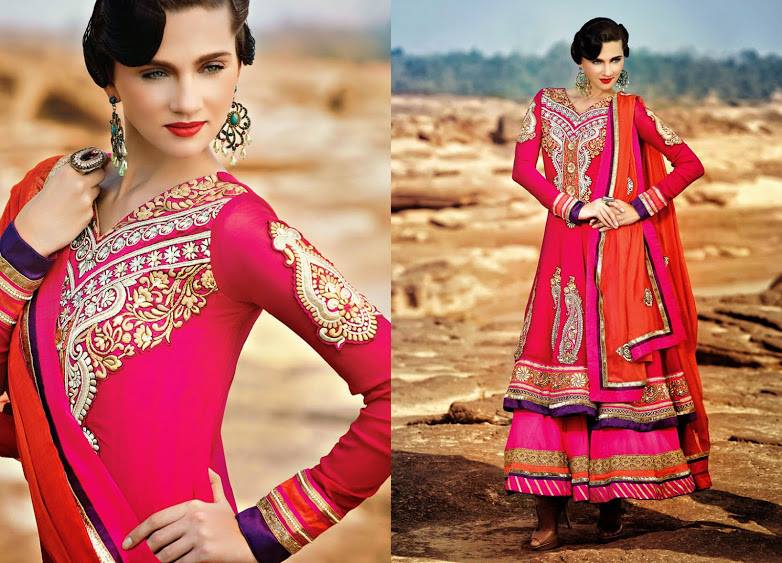 Beautiful & Latest Indian Party Wear Anarkali Dresses Collection:
Here we have gathered the amazing collection of Asian anarkalis. They consist of umbrella style, maxi design, kalidar and many more. It comes up in fabrics like net, chiffon, organza, jacquard, crape, lace, etc. We have posted casual as well as formal wear anarkalis. You can wear them in daily routines as well as in events. I hope you will love each and every design that is posted below. Keep following us for more fashion and beauty tips.
See More As:
Comments
comments