The holidays are an exciting time of year, full of family, fun, and gift-giving. But the holidays can also be extremely expensive, and if you don't budget well throughout the year, you can end up in a lot of debt, and with loads of stress to boot. Here are some tips for spreading the cost of Christmas shopping throughout the year.
How to Spread the Cost of Christmas Shopping Throughout the Year
Here we are sharing some of the important tips and tricks to spread the cost of Xmas shopping throughout the year. Give it a read to know.
Start Early:
One of the smartest things you can do when it comes to shopping for Christmas is to start early. This will help you avoid that last-minute panic of trying to find perfect gifts for everyone in the month of December, and, more importantly, will help you spread out your Christmas shopping costs throughout the year.
So, if you're out shopping in July, and you discover a gift that would be perfect for your parent, friend, or significant other, don't shy away form purchasing it just because it's "too early." Another approach to take with early gift shopping is to purchase potential gifts as you become aware of them. For example, if you see a great watch, or, even better, if you come across a great sale on watches, make a gift purchase – even if you're not quite sure who it will be perfect for. By the time the holidays roll around, you'll have a veritable suite of potential gifts to dole out to your loved ones.
At the very least, make a promise to yourself to start your Christmas shopping in October. That way you'll have three months to spread Christmas shopping costs across, instead of just one if you normally start in December.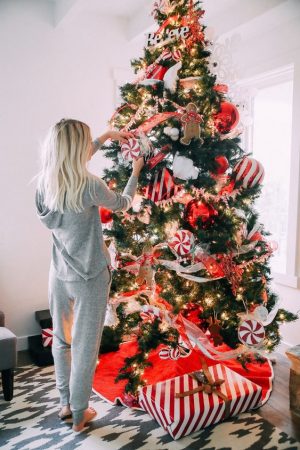 Use credit cards – but use them wisely:
Credit cards definitely come in handy over the holidays, when you tend to spend much more in a couple months than you do during any other average month in the year. However, if you're not extremely careful about how you're using them, including how many cards you're using and the exact balance on each card, then this may end up being a huge pain come January.
If you get into trouble with credit cards and debt over the holidays, there are some banks and institutions that will help out people with low or bad credit scores. These institutions will allow you to pay a fixed monthly rate, and find a repayment plan that is feasible for your income. Or, you can consider a catalogue with pay monthly options.
Have a plan:
Another major pitfall of Christmas shopping spending is going into it without a plan. If you don't have a set list of gift recipients or a clearly outlined budget of how much you're willing to spend, then you are much more likely to overspend and go into debt. Do your homework ahead of time to make sure you have a plan for spending, and do your best to spread that spending over a longer period of time so it doesn't all hit your wallet at once.
With these tips for spreading out the cost of Christmas shopping throughout the year, you'll be able to save money, shop efficiently, and enjoy the holiday season even more.
See More As:
Comments
comments