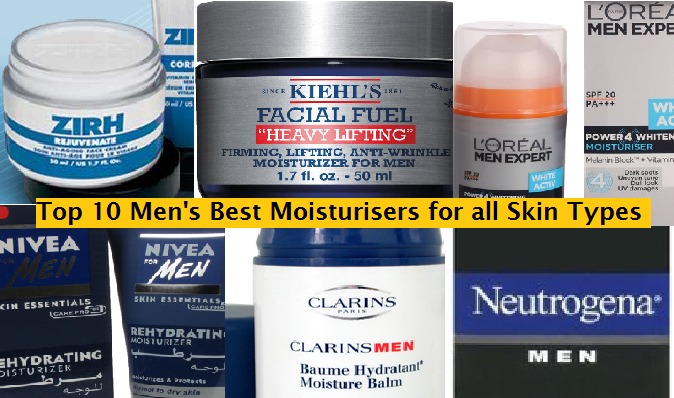 When it comes to skin care it should be different from what many guys think it should be. It is true that male skin is not as sensitive as female's yet it demands proper care. Male skin tends to be thicker, with larger pores and more oil glands. This means, in a nutshell guys that you need a heavy-duty lotion to be applied. Normally we use products that work for women but that might not work for male skin. Some of skin care products work equally good for both men and women skin but this isn't the case for all. You as a male need to apply lotion which keeps your skin wet and also fight against wrinkles and other skin disorders.
One of the finest quality moisturizers are produced to help your skin and make sure it doesn't look dry or dull. In order to get best result from these products make habit in your daily routine to apply after washing your face or after every shave. In some cases you might have to apply these moisturizers twice a day.
What are the best moisturizers for a guy? Guys want a lotion which keeps their skin hydrate without feeling too much heavy. Men want a fast-absorbing facial moisturizer that offers complete protection from the elements, including an SPF, without a greasy feeling. Here are some moisturizers especially made for male skin that are serving for many years and they can be good choice for you.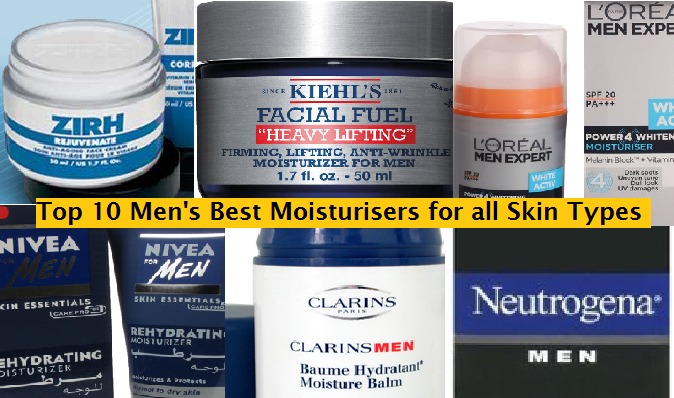 List of Top 10 Most Popular Best Men Moisturizers of all Time  – Best Selling Brands
1:CLARINS:
This French luxury cosmetic brand was established in the year 1952 by a medical student Jacques courtin-clarin. Currently Jacques's son Christin coulter-clarin is the chairman Clarins cosmetic company. Company started its business at international level in the year 1970 by starting their companies' branch in America. At the end of 2010 company has its products used in more than 150 countries around the globe. Clarins men moisture balm is considered as one the finest moisturizer available in market.
2:JACK BLACK:
Jack Black is a American company, having products especially for men skin care. Company started its production in the year 2000 in Texas USA. In a short period of time brands products for skin care brings great success for company. Company has now its trusted customers in many countries worldwide. Jack black's double duty face moisturizer provides great protection from sun light and gives a silky touch to your skin.
3:NIVEA:
This brand is owned by German company Beiersdorf, which was established in the year 1882. Nivea is a one of oldest skin care product brand started bu a pharmacist Carl Paul.  At the start of 20th century, the new owner Oskar Troplowitz developed a water-in-oil emulsion as a skin cream with Eucerit, the first stable emulsion of its kind. After world war 2 company started its trademark products giving name Nivea like face washes and other skin care lotions. At this present time company has its costumers almost in every part of world. Nivea for Men's Protective Lotion is a great choice, with SPF 15 for sun protection and moisturizers that soothe without clogging up pores.
4: Neutrogena:
Neutrogena is an American brand of skin care, hair care and cosmetics that is headquartered in Los Angeles, California. According to product advertising at company's website, Neutrogena products are used in more than 70 countries. Company was established in 1930 as a cosmetic manufacturing brand. Neutrogena, guys, is a phenomenal skin care line. Know this if you know nothing else. In recent years, Neutrogena has developed a skin care line specifically for men. The Neutrogena Men Age Fighter Face Moisturizer is part of this line and it's another excellent choice for every day.
5: L'Oreal:
The L'Oréal Group is a French cosmetic and beauty company, headquartered in Clichy. It is the world's largest cosmetics company, and has a registered office in Paris. It has developed activities in the field of cosmetics, concentrating on hair color, skin care, sun protection, make-up, perfumes and hair care. In 1909, Eugene Schuler, a young French chemist, developed a hair dye formula called Aureole. Schuler formulated and manufactured his own product. L'Oreal Paris's men expert moisturizer has offer a great protection fo men skin, applying it regularly will result in increased gloomy skin.
6:KIEHL'S:
Kiehl's is an American cosmetics brand that specializes in making high quality skin, hair, and body care products, established in 1851. Kiehl's was purchased by the L'Oréal Group in 2000 and currently has more than 250 retail stores worldwide, and over 1000 points of sales. kiehl's Facial Fuel is a great choice of moisturizer for men. It's very, very lightweight, smells 'manly' and absorbs so fast you'll forget whether you put it on (until you realize how soft and supple your skin feels)
7:CLINIQUE:
Clinique Laboratories, is a manufacturer of skincare, cosmetics, toiletries and fragrances, owned by the Este Lauder Corporation. Brand was established in 1968 in America, headquartered in New York. Clinique's Maximum Hydrator is a great choice if you are a guy with normal or dry skin. This ultra-hydrating facial moisturizer makes for a great everyday lotion. Skin will retain more moisture throughout the day, eliminating that horrible dry, tight feeling some tend to get. The moisturizer also helps to minimize those pesky fine lines that you are getting.
8:ZIRH:
The Zirh grooming range was launched in 1995 and features an enormous range of products for hair, face, body, shaving and sun protection .Japanese skin care company Shiseido partially acquired Zirh in May 2000, but was reacquired by previous owners in 2007. It is now owned by Procter & Gamble. Zirh's skin care line for men is considered by many to be among the very best on the market today. The line can be pricey, but the quality is high and the investment is worth it. Zirh's Protect Daily Moisturizer offers great protection in the form of a lightweight lotion. It's not greasy-feeling at all and a little goes a long way. Great stuff for men with oily or normal skin.
9: Mario Badescu:
Mario Badescu was a Romanian-born skin care specialist with a bold vision. Being both a chemist and a cosmetologist, Mario had a very unique perspective about skin care. For men who need a truly great moisturizer after they shave, Mario Badescu's After Shave Moisturizer is a solid choice. This lotion helps to soothe skin after shaving while also adding much-needed moisture and protection. This moisturizer also has a pleasant, clean smell that isn't overly manly.
10: LAB SERIES:
The Lab series is a manufacturer and marketer of prestige skincare, makeup, fragrance and hair care products. The company has its headquarters in Midtown Manhattan, New York City. In 1946. Lab Series Skincare for Men makes some truly outstanding products specifically for guys, including this Daily Moisture Defense Lotion with SPF 15. The lotion is very hydrating, yet it absorbs quickly and offers long-lasting results.
See More As:
Top 10 Most popular Men Shoe Brands of the year
Top 10 Most Popular Men Blazers of all Time
Top 10 Best Famous Celebrity Hairstyles for Men
Armani Best winter Coats & Jackets collection for Men