Just with the arrival of spring season, fashion designers started exploring spring summer beauty in dresses in various ways. Every day is a day when any of the designers is launching its spring summer dress collection in order to fulfill the demands of modern women. So, ladies your patience is over now because almost all the famous brands of our country has launched their spring-summer collections from which a few we are going to mention here below.
Top Pakistani Brands Spring Summer Dresses Collections 2015-2016
Here posted below are the latest arrivals of Pakistan's to most brands towards the spring-summer season.
Gul Ahmed:
Gul Ahmed is a leading brand that is a day by day touching sky of success and customer demand. The brand has always offered something unique and delightful. Gul Ahmed promises superior quality that is why the reliability of young girls and women is firming with every day. At every season, Gul Ahmed launches its various collections especially Gul Ahmed Lawn is very famous. The brand serves for both men and women clothing, other than that its product line includes bags, bed sheets, towels, etc. Its products and designs are liked across the world. This spring, once again the brand has presented an amazing collection with appealing prints.
Gul Ahmed is offering its newest and spectacular spring collection in reasonable values so that everyone could be able to enjoy and appreciate them. Both stitched and unstitched outfits are available in this launch. Various gemstones, artificial diamonds, shining materials and laces are used to garnish fancy outfits. While for casual events, there also are available modest outfits. In Gul Ahmed Spring Summer collection chiffon dupattas are paired with shirts and their prints and schemes are keenly observed as young girls usually like bright and fresh colored trendy wears especially for spring season so this collection is perfect for this purpose as it comprises of vibrant and bright colors. The arrival is available in all renowned outlets of Pakistan.
Junaid Jamshed:
Next we are going for Junaid Jamshed, a name that needs no introduction. The fashion brand took its first step in the fashion industry of Pakistan in 2002 and now it is known internationally by the people of the entire world. Initially, the brand served for the men clothing but afterward Junaid Jamshed took a move towards women clothing line also and left everyone behind in brilliant designs and fabrics.
In this collection, a wide range of trendy and elegant dresses is seen. Both stitched and unstitched variety is available in attractive designs and colors. Unique embroidery prints, fancy laces, beads and amazing floral arts enhances the beauty of dresses in this collection. For stitched dresses, the professional tailors have neatly maintained the eastern touch along with a latest trend. Keeping the eastern way of clothing in mind, three piece dresses are paired up with awesome combos of prints. Both long and short shirts are designed according to the latest trend for ready to wear dresses, but a huge variety for unstitched is available as well for the ladies of their choice of stitching. The prices are slightly expensive which makes no offense with quality and when you will see these dresses you will really know that some things are worth paying.
Al-Karam:
Another leading star of the fashion industry. The product line of Al-Karam is very wide as compared to other brands like domestic cloth line, fabrics, dresses, etc. Al-Karam is both men and women clothing line that is serving in the field of fashion from an era, and here from 'era' I mean a very long time not exactly an era, since 1986 And till now it has always come with amazing designs and quality. Just according to the expectations of fashion lovers, Al-Karam has brought something new, illustrious and special in its collection for this spring summer season.
In this collection, the dresses are exhibited with concept of catching eye of all fashion lovers. This latest collection is titled as "Al-Karam Rangoon ki Dunya". Jolly prints, intricate styles, trendsetting styles and much more is kept in this launch. Lawn chickankari designs with many lights and dark colors are designed by Al-Karam, that is especially best for the ladies of age above 40. All summer products are made good quality checked thread on them. Three pieces and four piece dresses are available with chiffon dupatta, other than that one and two piece are provided in this collection, where the shalwar pieces are kept in amazing contrasts to make one feel more elegant. Some dresses contain chiffon sleeves adorned with embroideries. Fabulous embroideries are also made on necklines and front part of many prints of lawn and cotton. All new arrival is available in Al-Karam stores from Feb 28, 2015.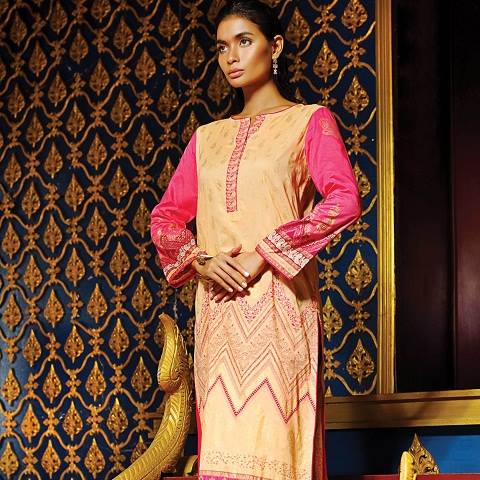 Nishat:
When weather changes, one can see how desperate our fashion designers become to achieve higher goals of modernity in their products. Among above mentioned famous brands, Nishat is also the leading one, stated in 1990. It is known for unique product line and the best quality fabrics. Nishat is running for both men and women, for women it's Nisha and men it's Naqsh. Apart from that clothing bedding and home accessories are also provided by the brand. No doubt their clothing charm is the colors & designs though contemporary yet simple and elegant are just according to the customer's choice. The outlets of the brand are spread nationwide in various cities whereas it has reached the soil of countries like UAE, UK too. Like other designer brands, Nishat has also launched its spring summer collection for the year of 2015.
This collection of floral blooming blossom prints is so delightful and awesome. All the dresses are designed with the most perfect contrast that can never go wrong. We all know that Monochrome never love  dies! Cool and fresh hues blended in perfect tones are love. Well, this collection is offering a lot more to lovers of animal print clothing with various leopard, tiger, and zebra printed fabrics. To make the look trendy, as well as sophisticated, , the dresses are consists of vivid color combinations and intricate embroideries. Believe me or not, but this collection is going to get loved especially by young girls. Enjoy your journey to Nishat spring summer collection 2015 through these images and get to the Nishat store in your area as soon as possible before the stock gets over.
See More As:
Warda Spring-Summer Dresses Feb Collection 2015 for Women
Pakistani Top Designer Brands Wedding Collections at Pantene Bridal couture Week
Zunira Lounge Latest Formal Party Wear Dresses for Girls 2015-2016