Gul Ahmed, the most familiar name in Pakistan's Textile industry. It is one of the biggest and oldest fashion and textile industry in Pakistan. their Dresses are very famous and remarkable among all other. It is satisfying its customers since several decades and till now its stuff is more and more valuable and high quality. The Designs and Prints are very unique and artistic having no match with other brands. Gul Ahmad has presented its many collection every season and at every event. recently they have launched Gul Ahmed Latest Fall/Winter Collection 2014 for their beloved customers. This Collection is for this coming winter season and it includes every variety of Warm and chic  Stitched and Un stitched dresses.
Th Gul Ahmed Latest Winter/Fall Collection is blazing this winter with wonderful outlets which really make you feel satisfied, stylish and graceful.They have entitle this Fall Winter collection as  Embroidered Khaddar, Cashmere Digital, Corduroy, Fancy Khaddar,  Normal Khaddar,  Pashmina Shawl,  Pashmina Scarves,  Single Khaddar,  Single Viscose,  Silk Velvet,  Viscose collection.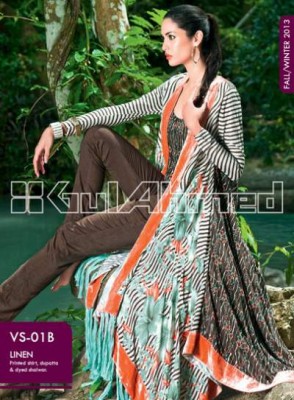 Gul Ahmed Latest Fall /Winter Arrivals 2014 will be in stores from 5th October at all of their official outlets now. You can surely get this collection by visiting your nearer store. You can also Buy these Dresses Online through their official site. The Winter Dresses are very comfortable and make you feel warm in coming cold weather. The dresses posted below are just perfect for winter season and will keep you comfortable and warm throughout the season..We suggest you to buy and wear Gul Ahmed dresses to look noticeable and attractive in this period of time. The collection is available in different colors variation. You can select any color which will suit you and fulfills all your requirements. They launched their trendy set of clothes every season and at every occasion, This fall /warm assortment have wide range and variety of dresses designs / prints in wonderful unique color palette and combination. This series of outfits has all the essence to wear for every age of women whether young or old. Gul Ahmed winter collection incorporates light color patterns like pink, yellow, orange, blue, red, magenta, white and brown and also have dark color codes with glowing and sharp prints and designs. Check the wonderful images below and try your taste and select your choice.
Gul Ahmed Winter Dresses Designs for women and Young Girls 2014-2015