Get ready to witness the mystical and magical land of Kohkaf, through sheer creativity and skilful efforts by designers at Lahori Ink. You heard me right. This Eid, Lahori Ink is going to spread the spellbinding effects of its latest Eid collection named "Kohkaf" 2020 to every corner of the country. The exclusive collection is a complete sum of whimsical designs catering to the needs young and confident women of today. Your idea of a perfect Eid Couture will be taken to whole new level after you experience its exquisite embroideries and delicate net fabrics. Let's follow the beautiful collection of Lahori Ink Semi Formal Eid Dresses Designs.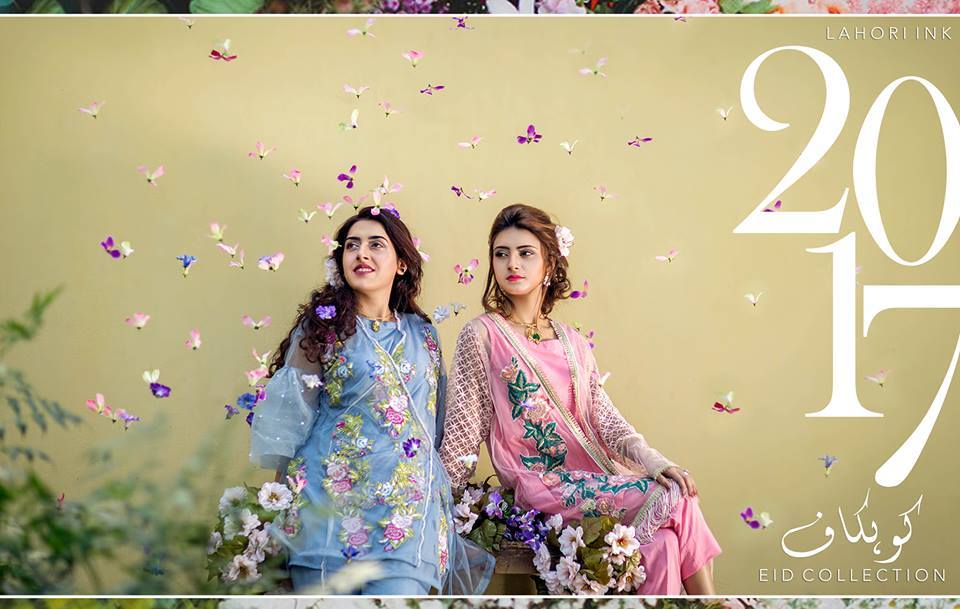 Lahori Ink Semi Formal Eid Dresses Designs Kohkaaf Collection 2020
So let us all be dazzled with the finest new collection, now available at affordable prices. Matching dupattas and bottoms can be bought as separate pieces along with your favourite shirt piece. There is a whole series of quintessential shirts in mesmerizing colours and meticulous prints and adornments. Without a further due, behold as we unveil the latest Lahori Ink Semi Formal Eid Dresses Designs Collection 2020. Find out which treat you are going to have for this auspicious event of the year and enrich yourself with the eye glaring styles.
1. Rang e Zard:
Hello to the sunshine, the apparel in "Zard" is truly reflecting the colours of summers. It's an embroidered net top with the cotton shirt inside. The front is embellished with pure white embroidered motifs in floral patterns. Sleeves, however, have the hints of funky hues in its embroideries. The shirt would go perfectly with the white bottom adorned with a bit of lacework.
2 Falsa:
The colour itself brings all the relief and calm to you, imagine what the entire dress is going to make feel once you carry it. Moreover, the sheer delicacy of its net is making it look like a fairytale outfit. It has decent embroideries in white and pink, covering the entire border of the top along with sleeves. Its light, it's appealing and it's everything you would hope to get for the big day.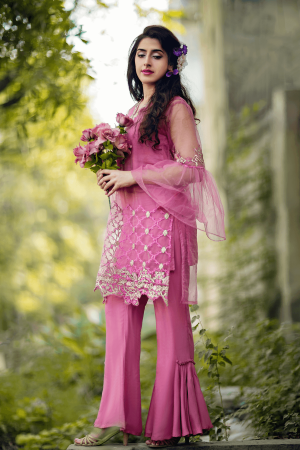 3. Talasmi Jaal:
As the name is perfectly indicating the beauty of this dress, it has a complete network of embroidered patterns all over it. It's a nice mix of black with off white, while the inner shirt is created entirely in black. Borders of the imperious net shirt are aided with lace in ivory. You can pair the shirt with pure white bottom and dupatta in black.
4. Parbaad:
This particularly dress can take you to the magical garden of Kohkaf full of fresh breezes and flower scents. From its rosy pink to the lacework it has, everything about this dress is just so fascinating. To spark an appealing twist out of it, its sleeves are embroidered with roses in pink with green. Sleeves are also well embroidered around the borders while the entire shirt carries delicate motifs all over it.
5. Khakstri:
This ravishing blue will feel you with the ultimate joy. It is also in pure delicate net, embellished with enriching embroideries in pink and green. Those prominent roses are well arranged to cover the front of this shirt. Sleeves here are kept simple and elegant. This is one of best piece from the Lahori Ink Semi Formal Eid Dresses Designs.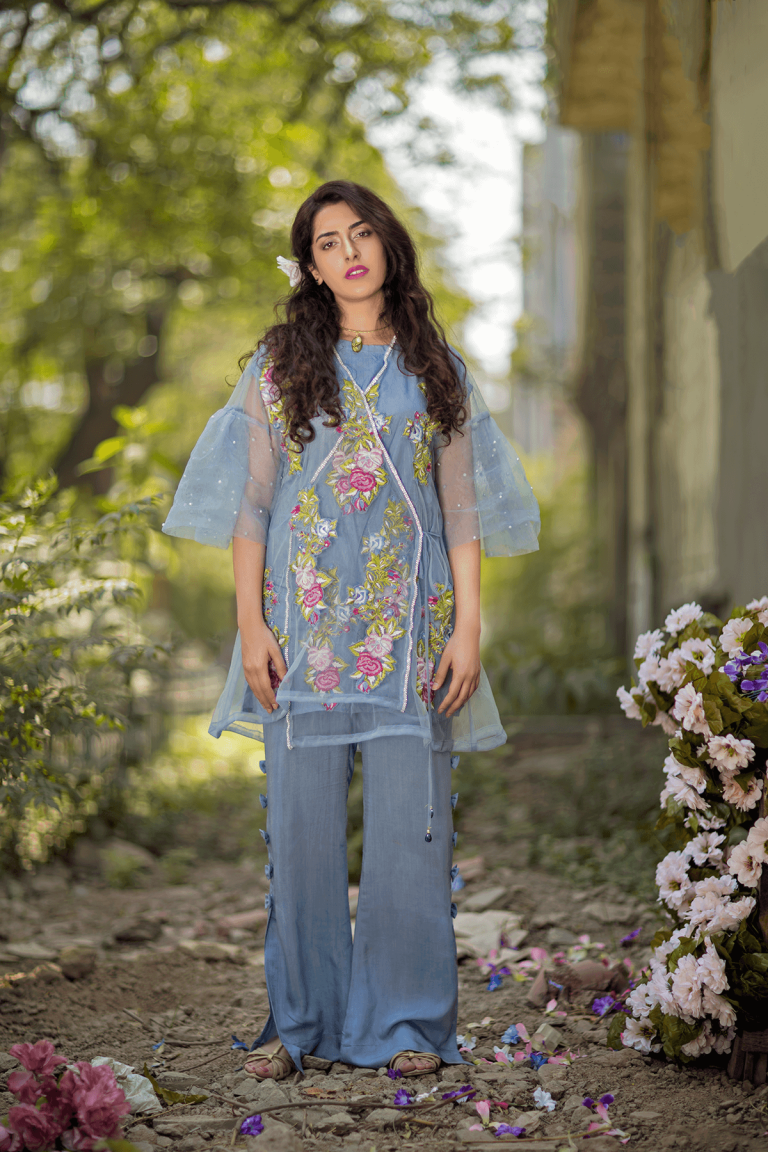 6. Badi Ul jamal:
The loveliest use of charming white and soft Ferozi is made possible in this particular attire. The shirt is designed in net with self-embroideries, coupled with lace work with beads. From the neckline to the sleeves and the border everything is bordered with lovely lace with rich embroideries in off white. It is paired with delicate net dupatta and the white bottom.
7. Burg e Sabz:
Defining new green is also kept as a part of this Eid collection. The net shirt is embellished with 3D floral embroideries. The border is designed with blooming flowers in many hues, portraying a classic view of a garden. While motifs in dark green are complementing those lovely flowers.
8. Zebabi Siyah:
A dose of sober black with bursting colourful embroideries is what you need to make your Eid outlook really special. It just not has the contrasting white but multiple hues in pink, green and others to bring out the best in it.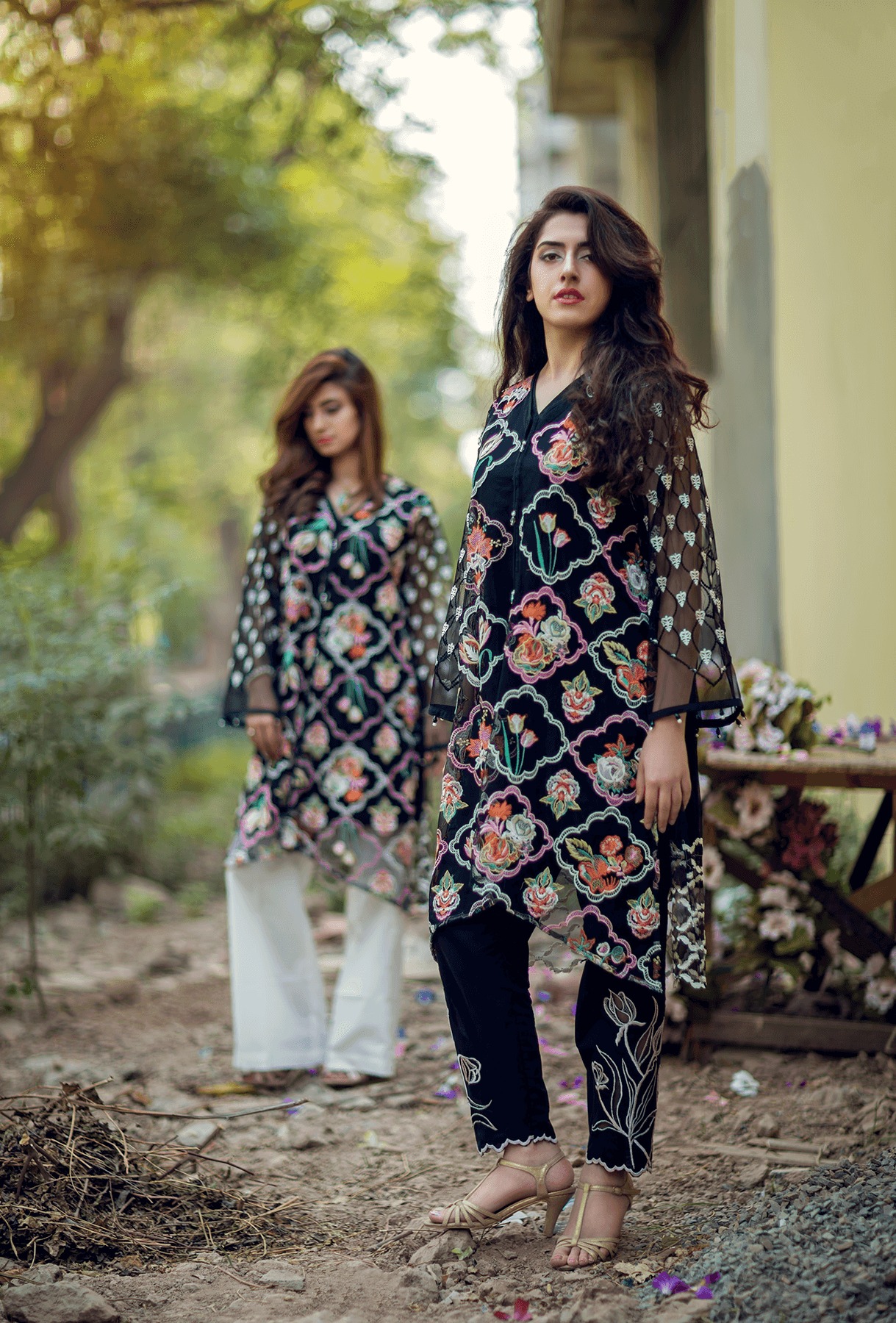 9. AAB AY SHEREEN:
The tranquillizing effect of this pretty blue will came to your nerves this summer. Dress designed in cotton with ravishing lace work attached to the border and its sleeves. Those flowers in pink and pink dupatta in the net are creating one amusing contrast.
10. Bashko:
You won't be able to keep yourself from buying this one. As it is a classic dose of pink, paired with white. Borders are frilled, sleeves are embroidered with network embroideries and the front of the shirt is crafted with prominent green motifs, perhaps the entire ensemble is one unique combination.
11. Rang Banfas:
It looks like a blooming lavender when you carry this piece of apparel. Here the classic shade of move is paired perfectly with beige and white embroideries. The entire shirt is kept simple in net except for the neckline add the borders which are richly embroidered using detailed thread work. Its inner shirt is not kept simple rather it's lined with a darker shade to create an alluring effect.
Hope you have loved viewing the Lahori Ink Semi Formal Eid Dresses Designs Collection 2020. Keep following us for more fashion updates 🙂
Buy these at www.lahoriink.com
See More As:
Comments
comments