Eid is just coming soon; few weeks are left. Shopping is on its way; People are chasing and finding their required designs all over the markets and malls. Today we will share the Latest Khaadi Lawn Chiffon Eid Dresses Collection 2020. Many designers are busy in launching their arrivals; some have introduced while some are left. Khaadi, on of Pakistan's bright name in fashion brand had also unveiled their collection a few days ago.
"Khaadi Lawn Eid Collection
" is just recently launched after the great success of volume 1 and 2 of summer lawn. Talking about the brand, Khaadi is started in the year of 1998 in Karachi dealing with high-quality fabrics and producing valuable designs. In the start, it deals with an only un-stitched variety of ladies clothes and fabrics but later on started bringing out ready to wear dresses. We are sharing the limited edition festive range. That includes the suits ranging from 4,900 to 12,000 pkr. I hope you will love viewing these marvelous attires. Khaadi specifies its lines as Prêt Ready-to-Wear, Unstitched Lawn Fabrics,
Casual Kurtas
, Kids wear dresses and men eastern dresses including kurtas and shalwar kameez. Other than clothing it offers women accessories such as jewelry, stoles, shoes, and handbags. This brand is now also engaging with home lifestyles offering furniture, bedding, kitchen products, and bath items.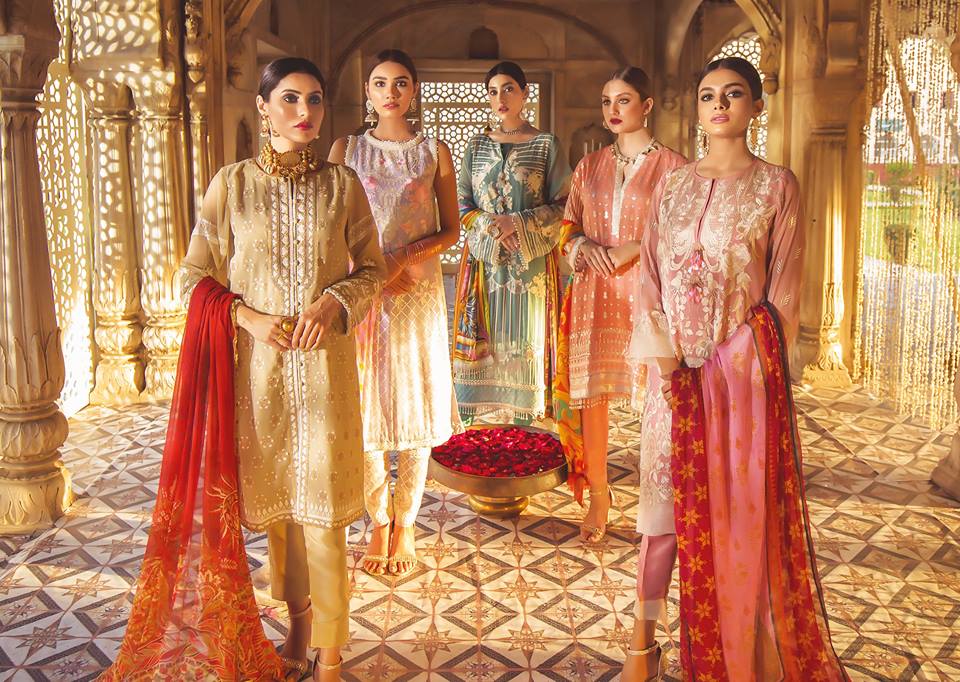 Khaadi produces it's seasonal as well as occasional collections including summer, spring, winter/ fall, lawn, pret, party wear, casual and formal wears. Khaadi kurtas are very popular among young girls because of their spectacular creations. Their three-piece suits are also very popular among working women in Asia. Talking about the "eid collection," it consists of a variety of formal event wear dresses. Shirts are decorated with floral embroideries and patches at a bottom. The necklines are adorned with sleek embroidery works. The embroidered plus printed chiffon, silk, net dupattas add more grace to the dresses.
Khaadi Lawn Chiffon Eid Dresses Designs Collection 2020-2021
Un-stitched three-piece suits include a piece of the shirt with dyed shalwar and chiffon. The fabrics consist of pure lawn, jacquard patches, and cotton. The meaning of Khaadi is "hand-woven", has remained genuine to its title and proceeds to create a combination of designs to supplement both the eastern and western cultures. This assortment has amazingly embellished dupattas with perfect adorned shirts.  The color combination is just mindblowing. You will fall in love with each and every design. Look at this carrot red outfit having multi-colored embroidery and a gotta embellished dupatta. It is just perfect for this festive season.
Luxurious Chiffon:
Welcome the festive season with the Limited Edition Unstitched Luxury Collection. Sparked from heritage and finished with a touch of modern accents offering a variety of embroidered fabrics. It has been launched in stores and online.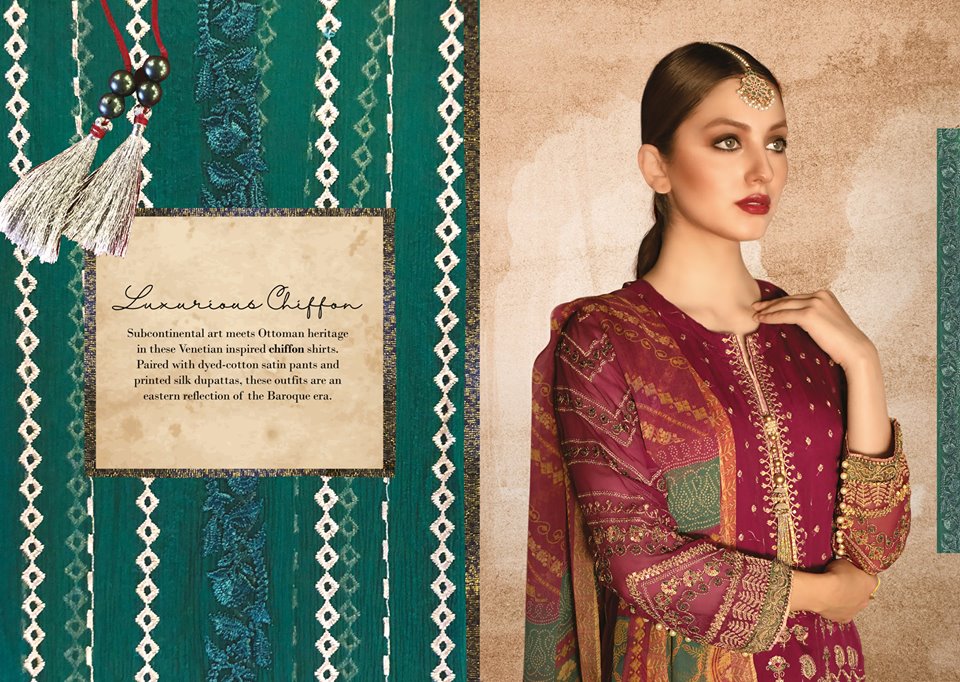 This magenta pink dress with delicate details looks the best for the festival season.
Look at this amazing design. The black number having multi-toned embroideries. The stitching style in the picture is soundest. You can make a front open jacket style shirt having inner. Adding some delicate frills around the borders.
This fresh lavender pastel toned outfit seems very interesting. Peach and light purple combination having a subtle embroidery looks very fine. Pair it with vintage jewelry to make a style statement.
This beige white dress having floral printed chiffon dupatta is one of the best designs of Khaadi Eid Collection.
Classic Lawn:
The pretty yellow satin shirt paired with a tissue silk dupatta dyed inner and cotton satin shalwar looks so regal. It comes up with a decorative organza patch to make it fancier.
This fresh colors and pastels are competent in this embroidered classic lawn collection. Its price range is 4,900 pkr.
Net Jacquard:
Wow, such delightful dresses are included in this series influenced by the banarasi and kanjivarn. It is perfect for young girls who love to celebrate the joy of Eid. It has a fancy cotton net jacquard shirts with embellished dupattas, cotton satin trouser and dyed inner.
As white never gets old. It is regarded as the traditional color for festivals. Plus it looks so decent and trendy. Look at these two amazing designs by Khaadi Eid Collection. Printed embroidered shirts paired with a chiffon dupattas. They are for 7,900 pkr each.
All eyes on this incredibly beautiful pink outfit. You can make an angrakha frock out of it. It comes up with a beautiful embroidered lace. Match it with a khussa and jhumka ballis.
Sophisticated Schiffli:
Overall we can say that this luxury assortment is full of festive colors and traditional embellishments. It has zari, Mughal motifs, resham, gotta and sequins finished. All the fabrics used are of very high quality and super comfy. Straight from our traditions, we can see the true spirit of culture and style in these dresses. It describes the pure heritage of sub-continent. Just fell in love with this lavender and white outfit. It has classic sleek embroidery on the shirt and trouser bottom. Pair with a Kundan necklace and jewelry. Or just go with the earrings.
This design reflects the soft feminine sensibility. Soft florals are meeting the geometric patterns to give a legendary yet elegant look. Celebrate the pleasure of celebrations with this wondrous dresses collection.
Handwoven Suits:
Khaadi never gets compromised on its quality and maintained the reliability as premium clothing exporter in all over the world includingIndia, Bangladesh, Arab Emirates, London, America and many other countries. The handwoven three-piece lawn suits are the main part of Khaadi Lawn Chiffon Eid Dresses collection. That means long and medium length trendy shirts paired with trousers pants along with silk/ chiffon dupattas. You can buy these suits online or visit the nearest outlet. Make your events more fashionable by wearing Khaadi. Have a look at the Khaadi Lawn Chiffon Eid Dresses below and get inspired by the latest designs. Keep following us for more fashion stuff.
See More As:
Comments
comments