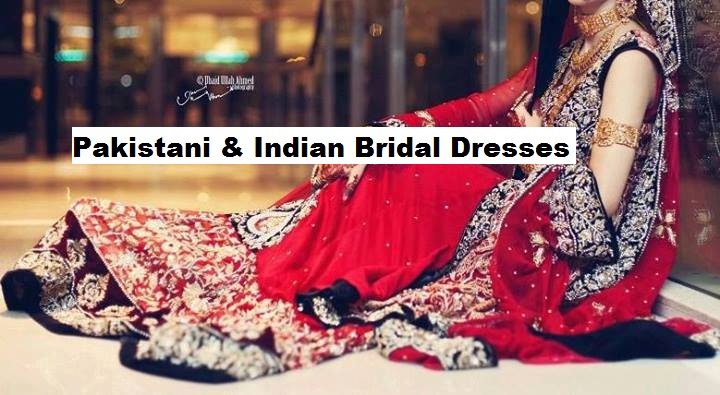 Being a bride or Dulhan means being the star of the show, being  more highlighted, A charm in the crowd and a constant factor of attraction for all the people knowing about the wedding. A girl is normally more concerned with what she picks for her and conscious about her styles how can she even think of being lesser than any other girls on her most special day. She needs super classy and perfect dress that suits her and keeps her trendy up-to-minute as well. So for this event every woman desires and shops the best for her. Some prefer the light dresses and some like the heavy ones. Which is the one that you desire? A deep discussion of what is in the fashion market these days will lead you to choose the right thing for you. Here you go! Today i am bringing up Latest Pakistani & Indian Best Wedding Dresses and Bridal Gowns for Women  including the hottest collection of Most recent fashion Bridal lehengas, kurtis, shararas, gaghras, gowns, front open shirts, frocks, lehenga choli, fancy salwar kameez suits and many more.
Asian Women fondly follow the tradition of wearing a bridal lehenga on wedding, and as the trends keep on changing, lehenga trend is not the same as of the older times. Latest fashion designers have made the lehenga less heavy paired with long kurtis with heavily embroidered dupatta… Combining different clothing materials like silk jamawar and banarsi stuff making borders with contrasting stripes of stuff and colors with more heavy stone and sequence work. This central dressing style is now a day not strictly thought of as a wearing, but many of the other types of wearing are also being picked up by the modern brides of this era. These include maxi, embroidered frocks, Sharara with long and open shirts and gowns, etc. Wedding in Asian countries is not merely a one-day celebration it starts from a girls mayun function and ends at walima or reception. So the dress styles and color schemes do differ for each day's event Red and maroon combined with skin or cream shade is the one most worn by dulhan but in fresh fashion statement designers have introduced many different colors like green, maroon, magenta, peach, smoky grey, cream, pink white and many more to be worn by a bride.
Pakistani & Indian Bridal Wedding Dresses & Gowns Collection 2016-2017
Starting from maayun girls in latest trends wear chunri style stuff or yellow; On mehndi, continuing the customary theme with a trendy touch. Women wear Yellow dominantly with other tints that are commonly green, orange and pink; Reds, maroons and brighter colours with lighter borders are mainly used for main day; and pastel tones or soft colors like skin, pink, cream, cyan, and peach, etc. They are preferred for walima function or the thing being in fashion for this year was to hold a single color and use it for your entire wedding as your theme tone.
Keeping your precious day in concern, I present a fine variety of adorable bridal dresses with unique cut exquisite embroidery and stone work on jamawar borders worked on vibrant and trending hues of this year. This collection is a complete series of bridal dress package including Mehndi, Mayyun, Walima, Barat outfits. Have a look on the below assortment and get motivated this season!
Checkout More As:
Pakistani and Indian Trends of Top Bridal Dresses of the Year