As summers step in, ladies of every age have a same thing on their minds. When are we going for shopping?! Every woman has her style of dressing that matters with her choice, comfort, culture, etc. Many things count, and when we have discussed many traditional eastern designer outfits how can we not discuss the western styles. Many women in Asia and America wear western style dresses, and there is a huge variety of western dressing available in the market. But there is a time and group who won't wear Gucci, D&G, Chanel and any other international brand; they will look for something western, with an eastern touch in it as well. Here we have something like this for your people, and that is ZARA the brand. They recently introduced their western style spring summer Ladies dresses  collection 2015.
Some words about the brand, Zara's started working in 1975 from Amancio Ortega and Rosalia Mera. It's a Spanish accessories and apparel brand that has its bases in Arteixo Galicia, The most attractive thing about this brand is that they are so quick and efficient and straightly incorporate with styling and showing up the new fashion trends with amazing cuts. This brand has a worldwide fame in designing shirts, bags, footwear, belts, cosmetics, makeup, fragrances and many more products. They bring stylish and unique designs of tops, shirts and casual dresses every year. So they did this year! This collection consists of Tops, Casual T-shirts and dresses, and semi-formal ones as well. Zara has always stood out of the crowd in their designs and dresses because of their unique cuts and prints, one specialty in their designs is the blend and hue of colors and prints, which form an even unique and attractive design. Different stuffs and fabrics like, chiffon, Georgette, silk, cotton, and T-shirt fabrics are used in the tunics and tops. Usually when we buy something western we need load of accessories to make it look a bit semi-formal, but when buying a Zara's top we don't need to carry much of that stuff to avoid extra casual look.
ZARA Spring-Summer Collection 2015: Latest Women Dresses, Tops, T Shirts, Skirts & Accessories
Women, especially girls prefer to wear shirts in summer, and more preferably in casual wears. It saves from adjusting many things, adjust the dupatta, watch out the long shirts, etc. The girls who work at home also find it more comfortable to wear shirts rather than wearing long shirts and carrying long dupattas with it. Secondly teenage girls prefer to wear shirts and tops; they are very less interested in wearing traditional shalwar kameez or other dresses. So, Tops are something that are never out, whether it's summer or winter or whatever the culture is. And Zara is a brand that can glamorize your look fantastically, it's a must have the thing in your wardrobe.so check out and pick up your favorite items.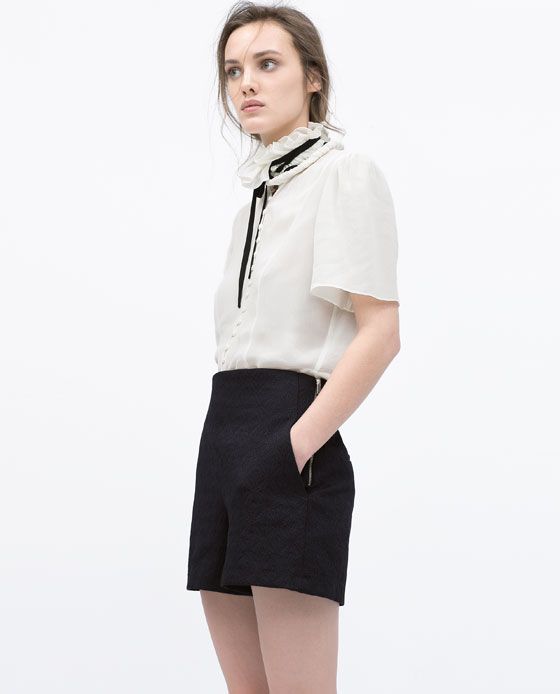 See More As:
Next Brand: Latest Dresses, Shoes, Bags & Accessories for Men & Women 2015
Jimmy Choo Latest Ladies Shoes, Bags & Accessories Collection
CHANEL Spring Summer Collection 2015 Haute Couture Fashion Show