When the blazing sun is up, show up yourself with cool and energetic tones of modern yet sophisticated dressing by Lala textiles! Design and quality considered by the maturity of creation and enduring appeal is in your closet when you choose this label. Fulfilling the needs of quality fabrics, Lala Textile brand comprise four different selling brands that are producing and delivering summer; midsummer and winter assortments for the women across Pakistan; these four are Lala classic, Kesa, and Sana & Samia. The brand with the experience of more than 50 years keeps on providing the customary and chic prints and design ranges in rich fabrics. An accessible price range of all season's collections are well created and delivered by.The Sana & Samia brand has collections of exclusive midsummer embroidered chiffon with an emphasis on embroideries; kesa offers the embroidered aesthetics with floral motifs and ethnic as well as modern patterns; while the La Femme produces the designs inspired by nature and eastern heritage. At this time, Lala Textile brand is available countrywide in all top cities all inaccessible price ranges. So are the latest collections of this tag in embroidered, kurta and pret ranges!
La Femme Kurtis By Lala Textiles Spring Summer Dresses Collection 2015-2016
Lala's summer/spring collection for women 2015 was showcased in TFPW (Telenor Fashion Pakistan Week), displaying a huge array of amalgam of printed kURTI suits, embroideries and new innovative designs under the label of "Electric Summer 2015". The assortment under this label rejoices the summer joys with a splash of playful colors on embroidered cloths; lovely cottons; and nicely printed chiffons. Designs vary from longer falls too short cropped jackets and shirts. The Brocade Embroidered collection of summers by LALA features of seven designs of three piece suits with exquisite embroideries of floral and chic yet ethnic patterns paired with Capri pants palazzo and trousers and dupattas with floral and retro themes printing. Short and long shirts, double shirt, kameez with short cropped jackets with intricate embroidery and long flared jackets, frocks, and many others designs with a different executing and cutting style are included in this ensemble. All the colors from pastel hues to bold tints are well used in the dresses for a modern lady to be everything she desires to be!
Words aren't enough to define the styles and cuts beautifully covered in this collection, see the images added below to know what a fine designing and executing is like. Celebrate every coming summer day the mouth-watering array by the Lala Textiles.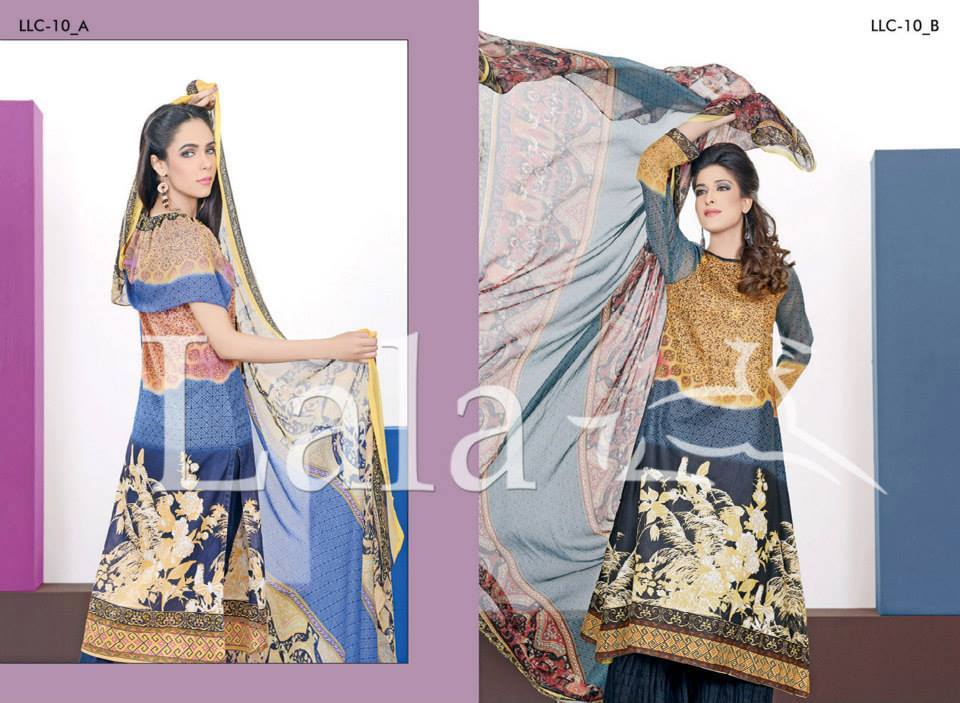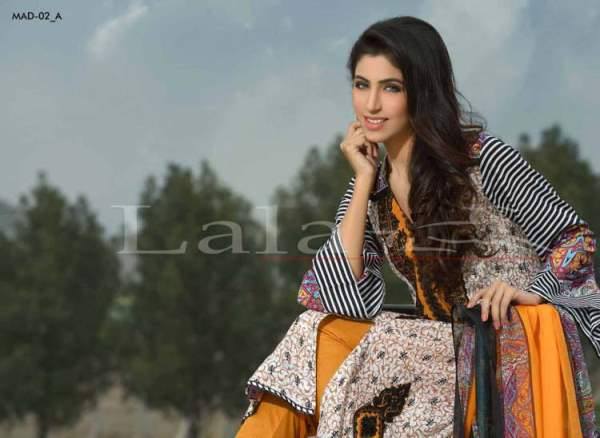 Mehdi Lawn designs 2015-2016 Summer Spring collection by Zohaib Textiles
Five Star Textiles Digital Printed Lawn Dresses Summer Collection 2015
Nimsay Stylish Summer Casual dresses collection for modern girls 2015-2016