Hello, dear ladies, life is so fast, day by day, the world is magically having success in everything. We are inventing new things, new style, new visions and new lifestyles, as all these things are making the world a better place. So we all are achieving them and forwarding ourselves. Similarly, the fashion world is not behind; it's inventing and discovering a magical arts and techniques in makeup, dresses, and everything. Here I'm going to discuss, one of the super techniques that our makeup artist have invented. Dear girls, as we all know, makeup tips count a lot now in a makeup, even as a single mistake, can ruin your make up.
How to Get Thinner Nose with Makeup- Step by Step Tutorial:
Today I'm going to share best and easy tutorial technique for you that tells how to make your nose look thinner with makeup. If you have the bad and broad nose, then this is not going to ruin your makeup taste. These are some techniques that will help to have a pretty thin nose.
Things you Need:
Dear ladies, before starting a make-up you must have these things in your makeup bag. Do you have these things?
Makeup base, Foundation, Concealer
Blush (pink or peach)
Bronzer
Eye Makeup Items including eye-shadows, mascara
White eye shadow
Eye Shimmer
False eyelashes(optional)
 lipstick kit
 Makeup brushes or tools
Cleansing Face:
First wash your face with firm soap or face wash. It depends on you what type of skin it is, select your face wash according to your skin characteristic. I would recommend some face washes that even remove your white or black head from face skin or a nose. These are the Himalayas, Clean and Clear, Dove, and many others are famous.
Nose Cleansing:
It's really important to take care of your skin. Cleansing is the part of your makeup; it helps you to prevent your skin from dust, extract the roughness of the skin from the face. If you have blackheads or whiteheads on your nose, then you need to clean them before starting a makeup. I would suggest you the best cleansing milk that can help you to have clear and soft skin, as these are: Nivea Visage Refreshing, Himalaya deep cleansing, Nivea Aqua Effect refreshing, Clarins cleansing milk. These cleansing milk are very good and give the best result, although they are reasonable too. Clean your nose and remove all spots and heads.
Making Base:
Now it's time to apply a base on your face, it's your choice to apply a face powder or a foundation, that your skin prefers the most, you just need to tune your skin so well. Wow, what a perfect palette is ready to apply other makeup products.
Face Contouring:
After applying a foundation or a base, now you need to enhance the features of your face with the help of contouring part. Just follow these steps as shown in pictures:
Nose Contouring:
After applying a contour base on cheeks, forehead and chin, you need to contour your nose. So what do you want? As we all know, thinner nose always looks so smart and hot, it makes your look more attractive and charming. As many of you want to have a thinner nose. So what techniques are behind it? Dear ladies now need not to worry. his tutorial will give you the best technique that can help you to have a thinner nose that you're wondering to have it. The first step is contouring of your nose, apply contour base like a line on the sides of the nose as shown in the pictures. (pictures)
Now start merging a base and bronzer, with a help of the sponge or a contouring brush. Yes, dear lady, your nose looks thin now by the magic of the makeup. Follow these pictures:
How to Contour Your Nose to Make it Smaller- Tutorial
White Nose Line :
Here is another tip that you can call it a second tip, here you go. Take out your white eye shadow, now with the help of finger just make a line on the nose front bone slightly. Here it gives slim and straight look, I call it best tip ever as when you take snaps, your nose looks straight and slim in the pictures.
Blush on and shimmers time:
Apply blush on whatever color do you want to. But keep this in mind that you must apply a shimmer before applying blush on. It will give the shiny and attractive look to you.

Final touch:
Time for eye shadows, apply shadows whatever type you want to and apply a lip color then. Here you're ready to have a perfect nose that looks thinner, slim and smart.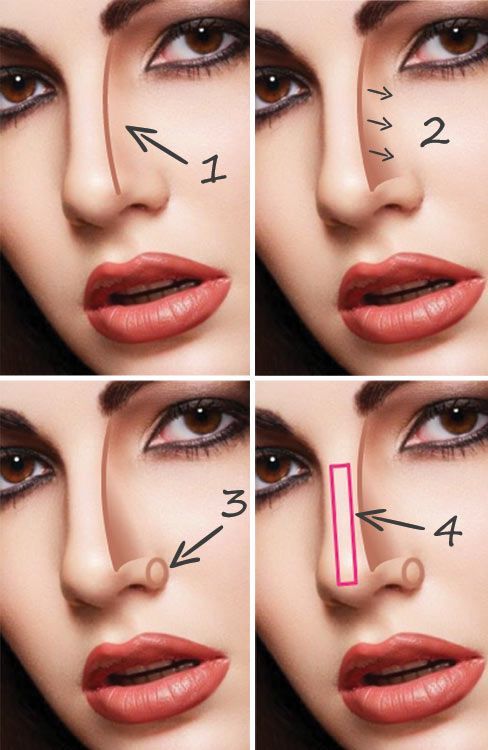 For more tips and techniques, follow us on a Facebook page and website. Stay tuned with us.
See More As: