Eid is just coming in few weeks, and people have started for preparing it. Still the scorching weather can't stop them from shopping; their craze is going to increase day by day for the search of their required outfit. It is the wish of everyone including men and women to wear beautiful clothes on Eid. Our blog has shared many Eid collections for you people now it's time for another amazing Eid dress series. House of ittehad Izabell Eid Collection 2015 is just here to turn your heads up. House of Ittehad has got too much fame among its beloved customers in such a few lapse of time and touch the glories of success by its exceptional performance in women as well as men clothing. Yes! Follow the eye-catching designs of this amazing collection that contains formal wear festive dresses.
Each suit has its charm and uniqueness. All suits are in a form of two/ three pieces and each suit is designed with incredible artwork by passionate designers. The shirts have sleek embroideries with alluring prints. Some are plain with few adornments at necklines and bottom. The house of Ittehad always keeps in mind the choices of people of each age group. Some want simple and luxurious dresses; some go for modern and fancy stuff. Several want simple as well as sophisticated suits to wear. So this collection consists of the different variety of dresses.
House of ittehad Izabell Eid Embroidered Lawn Chiffon Dresses Collection 2015-2016
The high-quality fabric is the base of every dress by House of ittehad Textile Mills. They pay attention to both the stuff as well as the order of print including color theme and designs. The fabrics contain lawn, chiffon, jacquard, crinkle, silk and cotton. The color chosen are very interesting composed of fresh primary, secondary and analogous colors like red, green, violet, beige, royal blue, peach, sea green, off white, etc.
House of Ittehad has launched its latest Eid Dresses Collection 2015 by Izabell on 13th June. Now it is available in all its leading stores nationwide. You can also catch it online through the e-stores linked with this brand. The dresses will keep you comfy and feel chic in this enticing climatic conditions in your areas. Meet the new ways of elegance by wearing the best designer eid suits this year. So fill your formal wardrobes with this amazing eid dresses assortment by famous Pakistani brand.
Some suits have embroidery on neckline & borderline and some having full embroidery on sleeves. Ittehad Izabell Eid Dresses Collection 2015-16 is a combination of astonishing patterns and covering the need of modern Asian fashion trends. We have posted the images from this assortment, have a look at the below pictorial gallery and get inspired by the remarkable designs of the season. Make your events more tasteful by wearing the perfect clothes!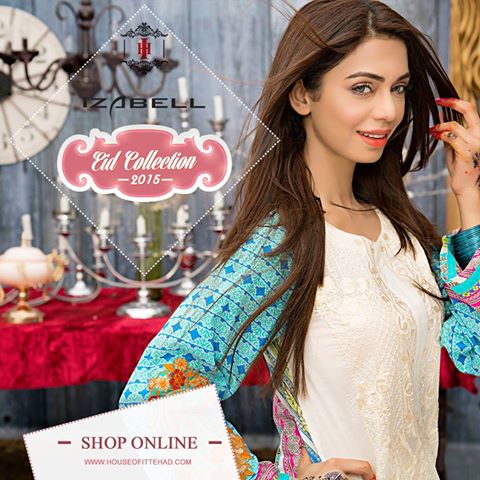 See More As:
Alkaram Eid Festival Dresses Collection 2015
Ayesha Chottani Summer Formal Eid Dresses Designs 
Zanab Hasan Chantilly Lace Fancy Suits Collection 2015-16