Wedding ceremonies are auspiciously significant in Pakistani culture, where days and even months are spent on wedding preparations or arrangements. Festive celebrations are so prevalent that no event passes without throwing any fancy party or function. Long before the bride and bridegroom are tied into the bonds of marriage, they are linked together by a committed bond of engagement. There are a variety of ways in which this occasion is celebrated. No matter how huge or small the celebration is, the engagement dress of the bride is kept highly remarkable and unique. Keeping in mind this distinctive demand for engagement dresses, Pakistani designers themselves create a whole series of latest trendy apparels for engagement ceremonies. Today we will dicuss in detail abut the latest bridal engagement dresses and trends.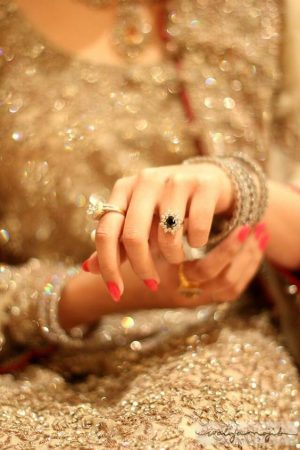 Each year, the trend for wedding apparels changes bringing new hues and glaring designs out in the light. Same in the case of engagement dresses. Now you can have a world full of choices for your significant day. From heavily embellished to simply adorned attires, all are available under the labels of eminent Pakistani wedding couture designers. Whether it's vibrant, dazzling collection by HSY, Maria.B or Nomi Ansari, etc. their wedding couture equally highlight the pastel shades of bridal engagement apparels.
Engagement Makeup Ideas & Looks:
Usually, the engagement makeup is kept light and dim. Soft pastel eye-shades with glittery tones are used. Smokey eye makeup is more famous nowadays. Soft peach, red, plum and pink shades of lipsticks are applied. Light jewelry including earrings and pendants are more preferred. Engagement hairstyles include half up and half down, curls and way hairs decorated with beads and flowers. The makeup must be according to the dress color and latest trends.
Newest Bridal Engagement Dresses Trends & Designs Collection 2022-2023
For all those who are soon going to be caught up into the ties of engagement, here is good news. All the engagement dresses collections with exciting new designs are here. These dresses are given tons of amazing embellishments and are beautifully adorned with the embroidery works of Tilla, dabka, zari, zardozi, stones and pearls. Work on fine net and chiffon looks stunning and shines bright along with your engagement ring. As the day is marked by delightful celebration, so the dress is designed by it. It has to carry the balance of embroideries and the colors. Use of darker or bold color would ruin your entire outlook for the day.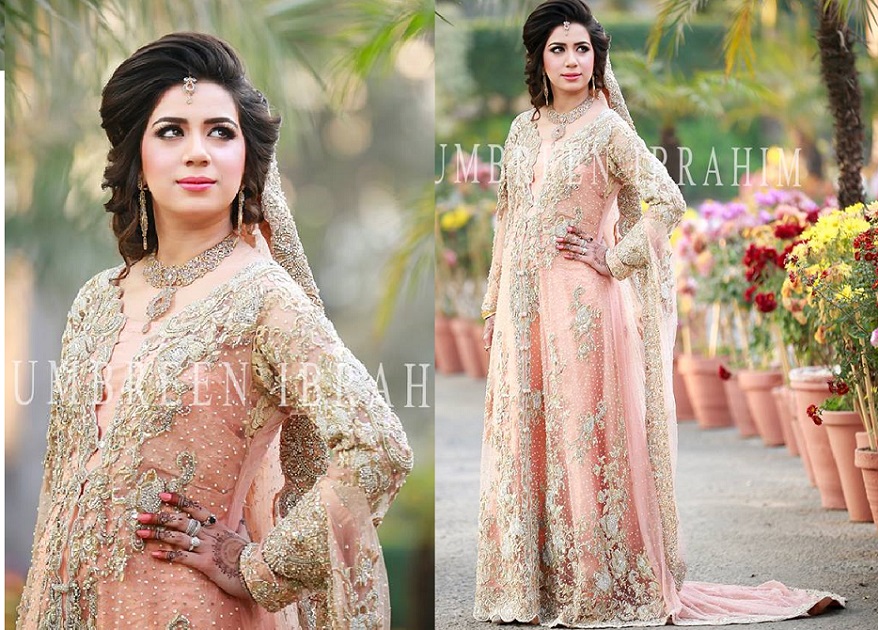 A collection of the latest engagement dresses has variant styles, which varies from long flared lehengas to the puffy frocks and gowns. Gowns are new and more demanded. However, lehengas and frocks are used preferably by most of the girls. These lehengas are kept simple, with loads of volume. Many are created in double layers of fabrics with the net outside and other fabrics inside. Most of the embellishments are focused on the lehenga as it takes more gazes than other parts of your attire. In gowns and frocks, as you move towards the bottom, the embellishments become heavier. Loads of cutwork, net's work, and stones work is used on the upper portion of the dress.
Drapes of long dupatta in chiffon, filled with chunks of adornments look perfect with the dress. Your jewelry defines how you need to carry your dupatta on this day. It has to complement the dress's style, embellishments and ofcourse its hues. In a monochromatic dress, it of same shades as the dress is but if you are going for dichromatic or multichromatic, then a little contrast would be essential to create a striking appeal in your dress. Have a look on the beautiful engagement dresses gallery of this year and get inspired by the latest designs!
Image Credits: Umarish Studio, Irfan Ahson & Others.
See More As: