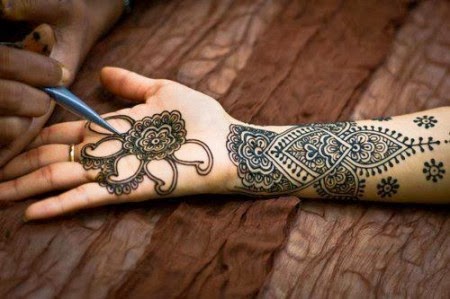 Mehndi is one the favorite and preferred thing which girls do. It is a very old and famous tradition starting from very earlier days.Whether preparing for a wedding ceremony, any event, festival like Eid or any other function, women is imperfect and incomplete without Mehndi. Not only in Pakistan but the the usage of heena/Mehndi is spread all over the world including other Eastern, Arabic and Asian countries like Pakistan, India, Bangladesh etc. It is the most beautiful way to enhance the beauty of arms, feet and hands. Girls like to decorate their hands and feet with beautiful patterns and designs. Today i have selected a beautiful and ideal series of Latest Eid Mehndi Designs Collection For Girls 2014. The collection consists of best ever tried Mehndi ideas and concepts which will really inspire you. They consist of Pakistani, Indian, Arabic and Bengali designs which are so easy and good to copy. Eid is a beautiful, special and our religious event, everyone wants to look gorgeous and beautiful on Eid day. Men, women even Kids wants to wear lovely eid dresses. Women especially girls don't want to compromise with their elegance, regardless if they are selecting a dress, shoes or a Mehndi design. Beauty salons and palours offers different types of packages for girls and bridals, especially during Ramadan, at chaand raat and Eid. There is a special type of traditional event usually at night during wedding ceremonies at Pakistani, Asian, and Eastern known as Rasm e Heena. In short the you can't imagine any function without heena.
New Best and Easy Mehndi Designs and Patterns for Eid 2014-2015
For you ladies! Today i have placed the wonderful best and easy Mehndi designs for the coming Eid ul Fitr and Eid ul Azha. The patterns are simply just Waaow and cool to adopt. You can choose any of the style and apply it to attain a charming look. The series posted below consists of amazing styles of heena for hands, feet and arms. You can also use them for weddings, mehndi functions and events, Indian festivals like Holi, devali, Karva Chauth etc. Young girls always demand and search for the latest trends and styles, so here you will find all over whatever you demand and need. We are trying our level best to provide you with  the most current updates of fashion and glamor.  Enjoy your day with these beautiful patterns and make it special. Get inspired by the photo gallery posted below, keep hitting StylesGap for hottest fashion trends!