Its the start of summer season, people are enjoying the terrific bliss and charm of the season. The glowing hot weather is moving with its great appeal hence now a days demand of summer dresses is on its peak. Many designers have launched their summer clothes arrivals, some are releasing, and several are preparing for it. As every one wants to style him/ herself with the most comfortable and suitable summer spring season outfits. So here you go! beacuse today i am bringing the most hottest arrivals of Summer Eid Dresses by Pakistan's famous Brands. Few days are left in Ramzaan kareem then after that Holy month Eid ul Fitr just comes. Women must be searching for that special day Eid dress. You will find here every type of dress you demand and need. Here is Latest Summer Eid Wear Formal Dresses Collection for Women 2014. the collection consists of latest fashion summer Eid ul Fitr Dresses 2014 by Pakistan's famous Designers and Brands including Gul Ahmed, House of Ittehad and Bonanza. The dress type includes, Summer Lawn, Fancy embroidered Frocks, simple Salwar Kameez Suits, Three Piece Lawn suits, Printed Shirts with tights, Digital & Floral Printed Kameez/ shirt designs with Plane Trousers/ palazzo. Trend of separate shirt with printed back and front is more common and seen now a days. For your Eid day it will be perfect fir young girls, as it is included in the modern fashion craze, Wear a stunning floral digital printed shirt with gorgeous neckline, bottom border, front and back. Pair a trouser or palazzo as it is more in fashion. Then match a Chiffon plane dupatta with any one of the matching color with the shirt. This goes more cultural and gives you a complete trendy and festive look. You can also go for an embroidered Kurti or Kurta nourished with sophisticated cuts and pair it with a chorri pajama. This will also give you a alluring Look. Women having age above 30 can pick any one 3 piece lawn suit from Gul Ahmed for your Eid day. As the designs are so Marvelous and elegant to wear. Here below i have posted the three lovely and appealing Eid Dresses Collection by 3 Famous Brands. People from any region can opt these attires on their special formal and festive days. As these are specially designed or Formal days..
Gul Ahmed Fancy Embroidered Chiffon Eid ul Fitr Dresses Collection 2014
Women the wait is now over. Gul Ahmed has just presented Fancy Chiffon & embroidered Chiffon Eid Dresses 2014 for women. Gul Ahmed is a leading fashion brand known for its quality clothing. Opt the glamor of gorgeous this season at Eid day by wearing the elegant fancy & stylish dresses by Gul Ahmed. As Eid is just coming, few days are left, mostly women has started to get and search for their Eid festive clothes. You will see the markets are now full of with women and gents rushes. The strength of this buzz will be four times greater in the Last Ashra of ramadan. Gul Ahmed Fancy Summer Eid Dresses Collection for women is now available at stores. It is Specially for the coming Festival. These dresses truly speaks the elegance and trendiness. As this brand always meet up with high quality materialized attires so 100% pure silk fabric is used in the outfits. This selection is the fantastic combination of Chiffon Collection and Embroidered Chiffon Collection. Joy your Festival with these Ready To Wear Fancy suits. See the images below.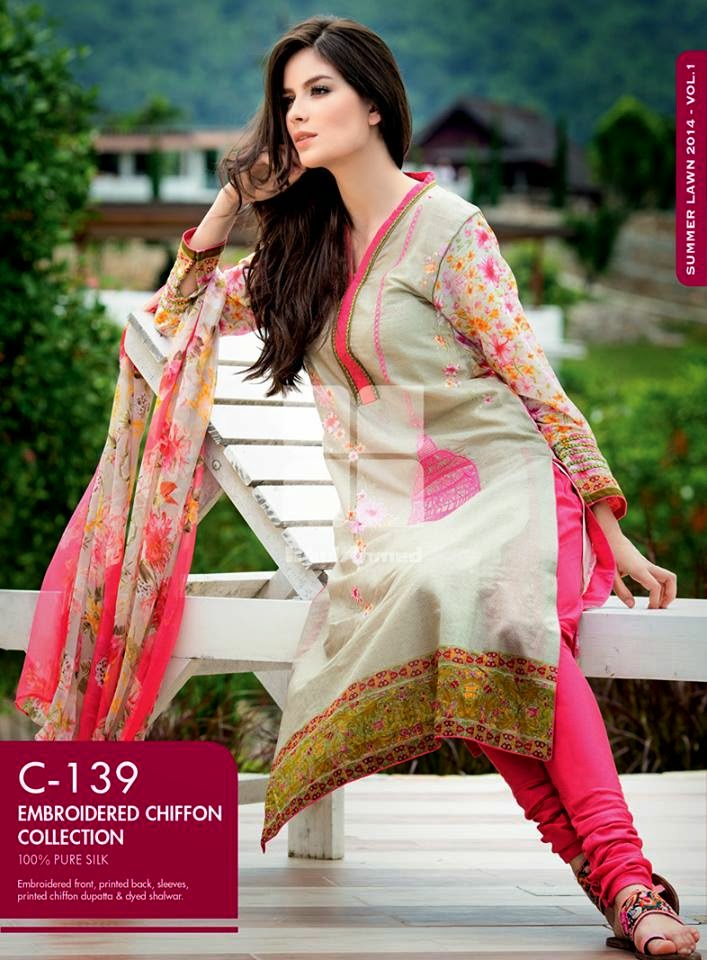 Bonanza Summer Pret Eid Wear Dress Collection 2014
Bonanza has released the Latest Summer Pret Wear Eid-ul-fitr dress collection 2014 for women and girls. Bonanza it is one of the top and largest clothing fashion brand of our country. It is the one of the Old and fast growing brand who has developed its popularity not only nationally but also internationally. Mostly people Like and wait for the clothing ranges of Bonanza in different seasons like summer spring, winter fall with specific dress series. The most beautiful thing about this brand is it always comes with astonishing designs with unique blends and eastern and western traditions. They look so classic and modern to wear. Here you will find Bonanza Eid Dresses Collection 2014. Check out these impressive Satrangi Pret Wear Eid Dresses for Girls that is now available at their leading stores and E-Stores. Pick the preferred one or you may order it online. You will see here the beautiful Pret shirts and dresses printed and nourished with innovative cuts and modern designs. Enjoy the lovely Eid collection by Bonanza. Check the posted images below.
Fancy Eid ul Fitr Dresses Collection 2014 by House of Ittehad
House of Ittehad a prominent fashion brand of Pakistan. After their summer lawn series now its the festive moment where you go, Yes! i am talking about the House of ittehad Eid-ul-Fitr Dress Collection for women 2014. If you're planning for your special day and must be looking for the right and ideal dress, then needs not to worry about it. As today we presenting here the Latest Collections of Eid Wear Dresses 2014-2015 from the leading fashion brands. The House of Ittehad Festive Formal collection consist of semi formal, fancy and conventional attires that are nourished with different type of embroidery works and designs. Sequin work, Dabka work, Jamavar, Stone and gem work, Motifs, Laces and banarsi patti are added to further embellish the outfits. Go for the embroidered fancy lawn dresses, chiffon, silk, Crinkle, Craipe, Digital Silk suits that really make your day more special and adds elegance to your appearance. Express yourself in these graceful charming attires like these turquoise shades suits, embroidered motifs distributed form a contrast shades neckline, borders, front, back and hemline trends. The suits are paired with dubattas and trousers of your own choice and color. Girls Make your Eid day more exceptional and festive by these surprising dresses collections and update your wardrobe with the true colors of life this festive season. Hope you'll like the whole assortments. Give us your feed back and stay tuned with StylesGap for more fashion updates.