Pakistan fashion design council (PFDC) is Business firm that is serving as a big promoter and advertiser for the fashion industry of Pakistan. PFDC facilitates, promoted and represents the business of fashion by arranging the fashion show where different brands get participated and display their latest collections. Sunsilk fashion week was firstly introduced in 2009, it held twice in a year inside various major cities of the country. It aspires to present a big platform highlighting the main Pakistani design prowess, crafts and trends.
In fact, the major aims of this event are not only to exhibit the country's diverse collection of innovative talent but to generate substantial business interactions. It facilitates the interaction between fashion designers, market buyers and the press/ media. The Chairman of this event is Sehyr Saigol who said that It is with immense pleasure that the Pakistan Fashion Design Council brings to Lahore our first ever fashion week. Along with promoting both cutting borders/ edges and vintage fashion. More than 32 designers around Pakistan has participated in this event and showcased their hottest arrivals. This affair will also work towards formalizing the processes needed to help publicize and aware people with the Pakistani fashion. It practice to provide a platform that motivates the business of fashion, awareness of style with innovative and refreshing expertise with full of talent.
Top Pakistani Fashion Designer Collections for Men & Women at PFDC Sunsilk Fashion Week 2015-2016
On the opening day of Sunsilk Fashion Week #psfw 2015; many brilliant designers take part and show their talent on the ramp. Zonia Anwaar, Natasha Kamal, Fahad Hussayn, Nicki n Nina, Misha Lakhani, and Bank Alfalah get participated at the starting time of this great event. Here we will illustrate the latest assortments that are being exhibited there.
FAHAD HUSSAYN:
Starting from Fahad Hussayn, he is one of the leading fashion labels of our fashion industry. He layouts many different versatile collections every year and at every occasion and season. He is popular for designing the special vintage flavor in his dresses having the exquisite set of embroideries. Fahad Hussyan opened the show by showcasing his "Democrats Midsummer Dresses assortment 2015". The gallery was creatively designed with mind-blowing digital prints on fabrics of organza, silk, crinkle, net and chiffon. He has played with a deep darker color scheme with contact of some casual shades. The attires are done with eastern patterns having some western cuts and silhouettes that consisted mostly of spacious skirts with printed pants and trousers.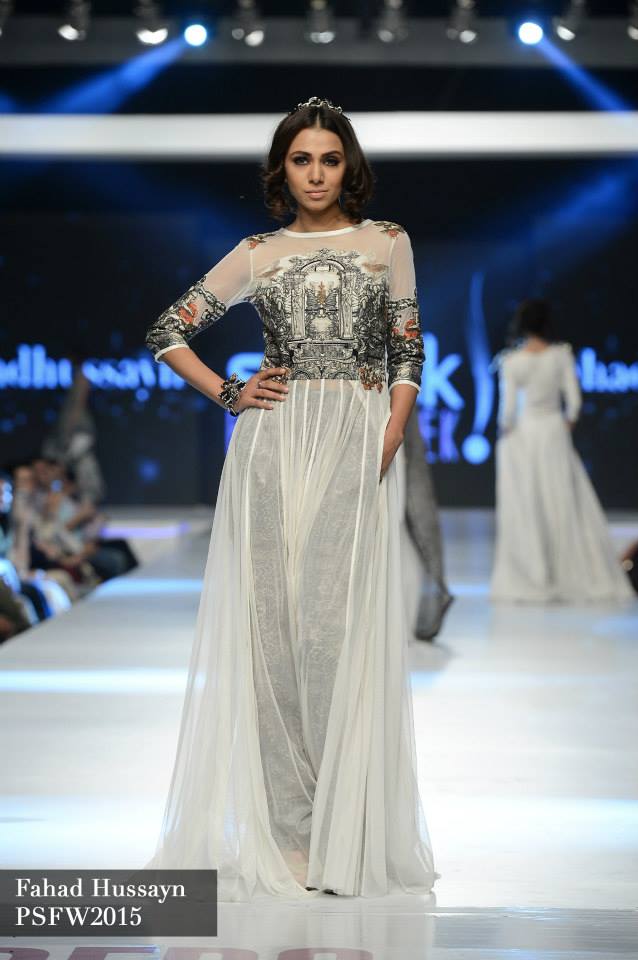 NATASHA KAMAL:
Natasha Kamal makes a statement in the event with an amazing collection entitled "Le Nouvel Espirit". By taking the inspirations coming from the Art Deco movement of the 1920s, she displayed tasteful tops with pencil skirts and pants that create a complementary outline. Geometric designs with electric prints take more attentions and strike the audience. There are too much pattern engagements beautifying every single outfit of this exciting series. Just have a look at these interesting designs posted here!
NICKIE NINA:
The "Chambeli" collection by Nickie Nina capture the heart of people following there. She has depicted western taste of white on white trend with the use of French laces and make adornments with buttons, pearls, organza on different fabrics like chiffon, net, silk, etc. The clothing range in the assortment felt like the mixture of eastern and western cuts amalgamated with bridal factors.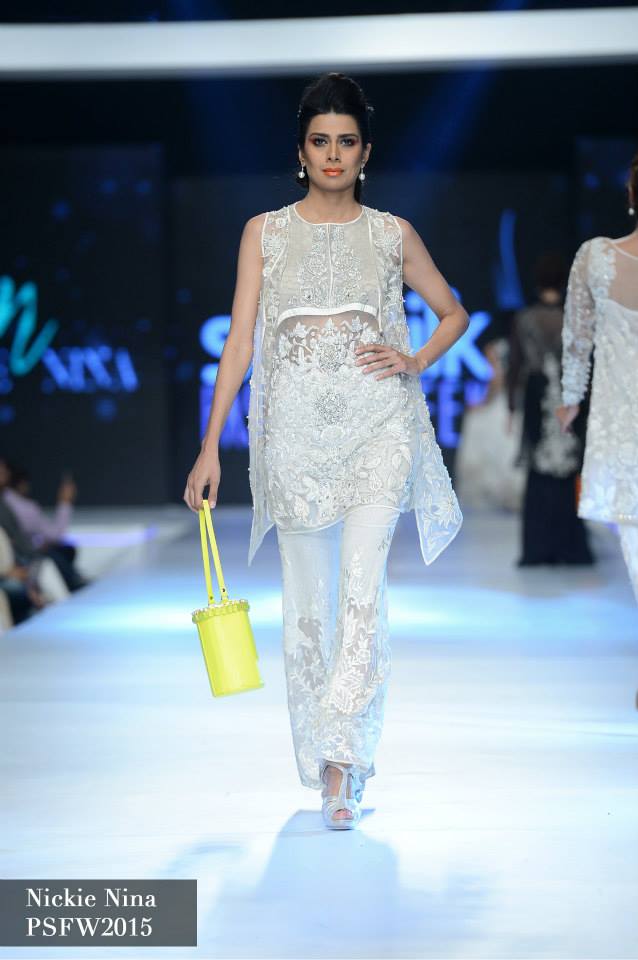 SANIA MASKATIYA:
Sania Maskatiya is popular for designing the dazzling designs of women clothing. She layouts her seasonal as well as occasional collections with different strategies. She has taken part in many bridal couture weeks and gained a lot of appreciation. She released a fantastic assortment named as 'Paristan'. As the name says itself that it is full of fairytale style gowns specifically created from classy fabrics like chiffon, silk, georgette, organza, crepe, raw and charmeuse. Eyecatching coloration patterns are opted with soothing shades blended with modern hues. Use of mustard, yellow, orange, black, peach, beige, olive-green, etc. are made. The outfits include some western inspired cuts and patterns that look so sophisticated. She has done this collection in collaboration with Designer Rema for jewellery and Charles & Keith for shoes to make her assortment worthy.
SAIRA SHAKIRA:
Saira Shakira was founded in 2011. Saira Faisal & Shakira Usman are both work togetherly are the graduates and skilled designers from Pakistan School of Fashion Design. Saira Faisal also works with the top photographers & Fashion Divas of an industry. Similarly, Shakira Usman is recognized for her delicate sketches, prints & Fashion Drawings. They have named their latest collection as "Eclectic Retro" which is the exclusive collection featuring the trendy cuts and texturing. The designers made use of lacework, ribbon work under skirts and shirts. Pastel hues are seen that are compiled with fancy fabrics to present decent designs. This contemporary collection is composed of fringes, Kurtis and Tunics with tilla work, gotta and needlework.
HOUSE OF ARSLAN IQBAL:
House of Arslan Iqbal is a dominant vogue label, menswear brand that also deals with women clothing line. It has launched a stylish collection naming "Devolution Chic" that was inspired by western culture. House of Arslan Iqbal took the ideas from the street art around the world by several artists and Western European high-street fashion trends. The portfolios from different cityscapes of Turkey, London, Tokyo, New York, Barcelona, Cape Town are crafted to give mystical prints. Patterns of block printing done with Pac-man, calligraphies, polka dots, aqua, etc. Based on chiffon, the ensembles were molded into voluminous structured silhouettes including tunics, skirts, fretting tops, edgy jumpsuits and wide palazzo flared pants. The silk jackets are designed with an innovative quilting approach.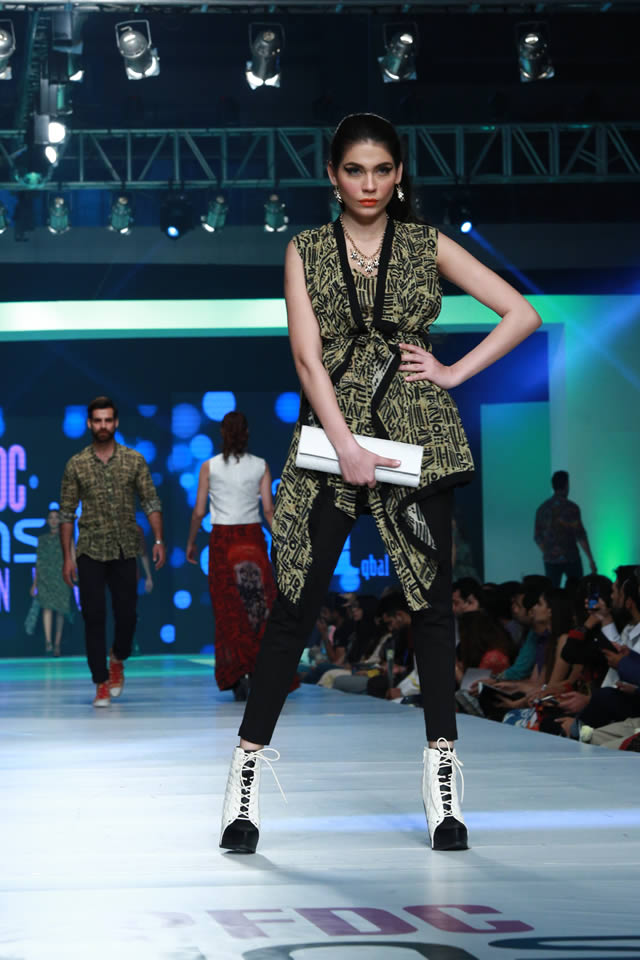 See More As: