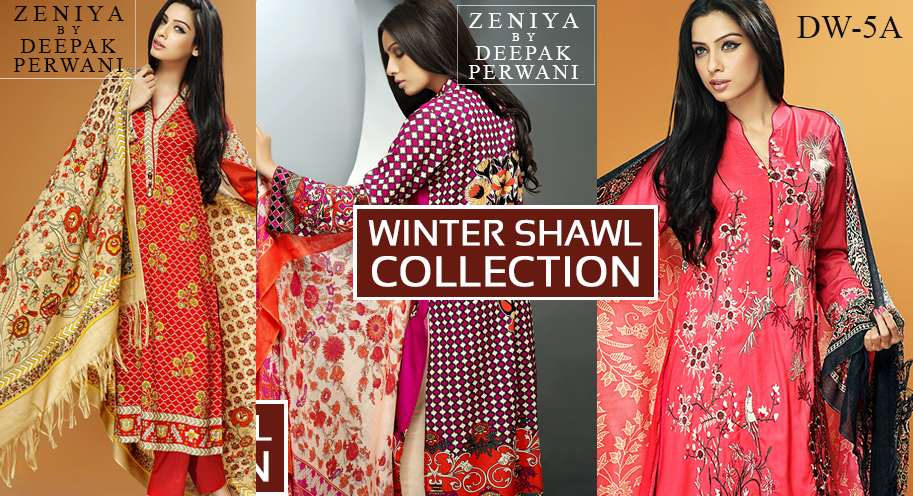 Winter and shawl dresses have an evergreen "in fashion" friendship; nothing can stylize women in winters soberer than shawls and thick fabric dresses. Today, name of such a purist working in the field of fashion market with an expertise and mixed cultural styles launches, is to be brought to you with an amazing winter dresses ensemble of rich fabric, nice embroideries, and exclusive designs. The one who hardly needs and introduction, Deepak Perwani, is the man behind all mentioned fusions. A person belonging Hindu Sindhi community of Karachi Deepak Perwani is well-thought-of as one of the initiators of Islamic fashion week in Malaysia and has Guinness Book of World Records for the largest Kurta in the world. Having a different way of visualizing things and designs of clothing, he makes his label "The house of Deepak Parwani" an Haute Couture & luxury Prêt make with its major stores in Karachi and other in Hyderabad, Lahore, Faisalabad, and Islamabad.
"Zeniya" is the name of women clothing brand by this famous designer as he was initially men's wear designer. Zeniya offering the prints ranging from art on fabric, block prints, cool summer patterns, jazzy, digital to ethnic, with embroidered patterns ensures a promising appeal in an affordable price range each time. Now, as the fresh release of ZENIYA SHAWL DRESSES is here, we've brought it to you to save you effort of visiting shop to shop. Here, begin with a short description of this collection!
Zeniya by Deepak Perwani Winter Shawl Modern Dresses for Women Collection 2015
Bold and captivating are the words found as the descriptive names for this collection, well staying true to these two a variety of vivid digital, ethnic, as well as funky prints, are available on it. Having on the dresses, exquisite embroidery over neckline, sleeves, front and border paired with sober matching printed shawls make them more and more captivating. Bold colors like sky blue, white, yellow, dark blue, pink, orange, grey, red, black, and brown, etc.. pour life to each dress design. Ranging in price from 4000 to 6500 PKR, these attractive pieces are well affordable with the features they possess. Above all is the purely winter element, shawls, having the printed contrasting beauty are so sophisticated that each of the designs won't let you resist from staring at it.
Here, After these descriptive things, its time for the visualizing part. Behold and explore the pictures of high-class Zeniya winter wear shawl dresses by deepak perwani for years 2014-15 down here.
See More As:
Maria B Modern Bridal Dresses Collection 2015 at Telenor Bridal Couture Week
Origins Best Winter Shawl Dresses Collection 2015-16 for Women
Beautiful stylish & Embroidered Neckline Gala Designs & Styles for Asian Women