Summers has just set in, and outfitters have created a blast of colors, in its house of innovations and ultimate creativity. Outfitters have challenged multiple clothing brands in Pakistan with its outstanding quality and ultra-modern styles of western attires. Its collection covers the entire range of tunics, casual and formal shirts, jeans, tights, and bags, accessories for girls and attires for men and young boys. The variant series of designs give you complete of options for any casual or formal occasion. Apparels by outfitter have the unique and distinctive blend of colours that outshine your wardrobe collection for every season. Here we are sharing the Outfitters Western Style Dresses Summer Collection 2018-2019
This season, Outfitters is again going to amaze you with dazzling hues selected from the palette. With their out of the line designs and cuts in most economical prices. From cotton kurtas and tunics to viscose t-shirts there is all you can get, and you won't get enough of it. So hold your breath as we are going to reveal the mystifying collection of OUTFITTERS SUMMER OUTFITS 2018. This collection is a great option to carry style in the blazing heat of summers. It will create a refreshing outlook with phenomenal style. What you about to discover in this article will inspire your idea of latest trends of western attires.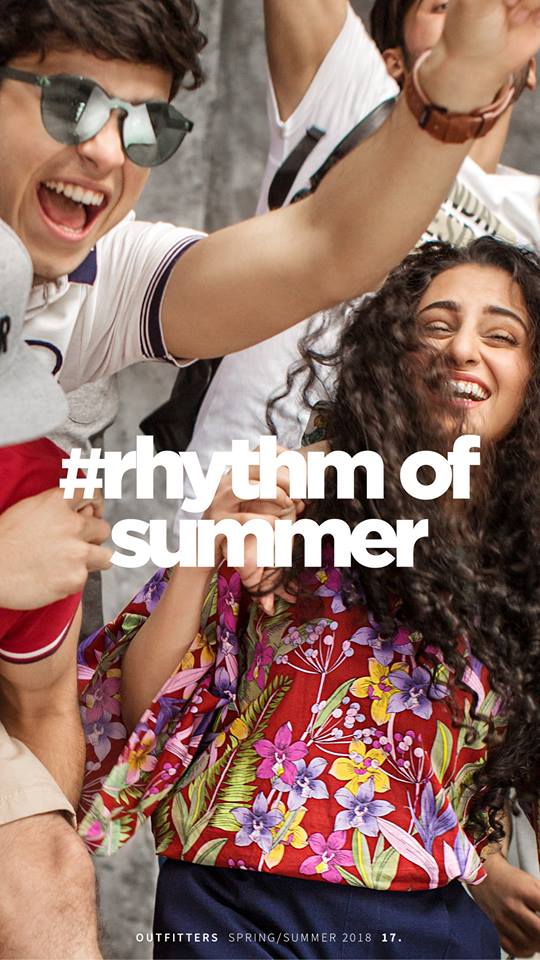 Latest Outfitters Western Style Dresses Summer Collection 2018-2019
The series of tunics are embellished with floral patterns and blooming designs. Mostly highlighting the borders of the shirts or even shattered prints motifs over these tunics. The designs are made to carry them with ease, as they are funky and chic style with loose fitting and dangly sleeves, which is the preferred choice for summer days out and night hangouts. Bright, refreshing colors in white, blues, pink, pastel shades and black. The amalgamation of colors gives this collection a wild array of variety. You can carry these to the bottom of your desired choice.
Prices for each funky and stylish apparel starts from approximately 1090Rs which seem quite reasonable compared its reliability and supreme quality of the fabrics used. The fabrics used have a soft and gentle touch, specially selected to give you relief from the hot summer days. Shirts in georgette and chiffon are also the part of this collection. Urban style prints are the distinctive feature of these apparels. Moreover, the collection is not limited to only the apparels but also comes with the matching accessories, bags, and belts in all possible ranges, designs, and colors.
The latest Outfitters summer collection 2018 is out now in stores and available on the online outfitter's web portals waiting for its huge number of customers to visit and take away the whole bunch of style coupled with modernity packed in elegance. After all who wouldn't want to get herself a fascinating outlook this season? Certainly, everyone needs to embrace colors to make this extra summer cool. So stop wondering and step out to get yourself a nice trendy apparel designed by Outfitters. And don't stop to scroll as there is much more to see, for this collection has more surprising appeal then you can imagine.
See More As:
Comments
comments