It is that time of the year when people are seen busy shopping for a most auspicious event of the year. With all the blessings and bliss, Eid ul-Fitr brings to us; it also comes with worries for the wardrobe we need to carry. Though these are not troublesome for most of the women, as they just love to shop, but for men. It is one big challenge. Sorting through every catalogue and wandering from shop to shop, is not what men are good at. So here we are at the rescue to provide the recent Eid collection for men who will give you some options to try for the day. Khas' exclusive Kurta collection is one of them. It doesn't only have appealing colours and neat style but also certainly have a manly outlook. Here we go, let's discuss the Khas Latest Men Fashion Eid Kurta Shalwar Kameez Collection 2022
Khas Latest Men Fashion Eid Kurta Shalwar Kameez Collection 2022-2023
As Khas' promises to provide the best of every festive collection, it has recently launched this finest Kurta collection carrying vibrant summer colors and high-quality fabric. Those are simple with no prominent heavy embroideries or motif work but slight hints of lacework. For men who are looking for something packed with sheer simplicity, Khas is the place you need to go. What unique features and exquisite designs Khas has brought forth, well see for yourself and discover the world of classic manly apparels.Let's have a look on Khas Latest Men Fashion Eid Kurta Shalwar Kameez Collection 2022
Desi Green:
The green used in this particular kurta has tranquillizing effects on your nerve. It is designed using pure cotton with natural dyes. You can pair this kurta with pure white shalwar or pajama to get yourself an amazing Eid outfit.
Purple lust:
Purple is not the colour men usually carry in eastern wear but here Khas' unique use of creativity has made this color look ravishing for every man. The neckline is highlighted using sober shades of grey in buttons and piping. With white pants, this kurta can create magic.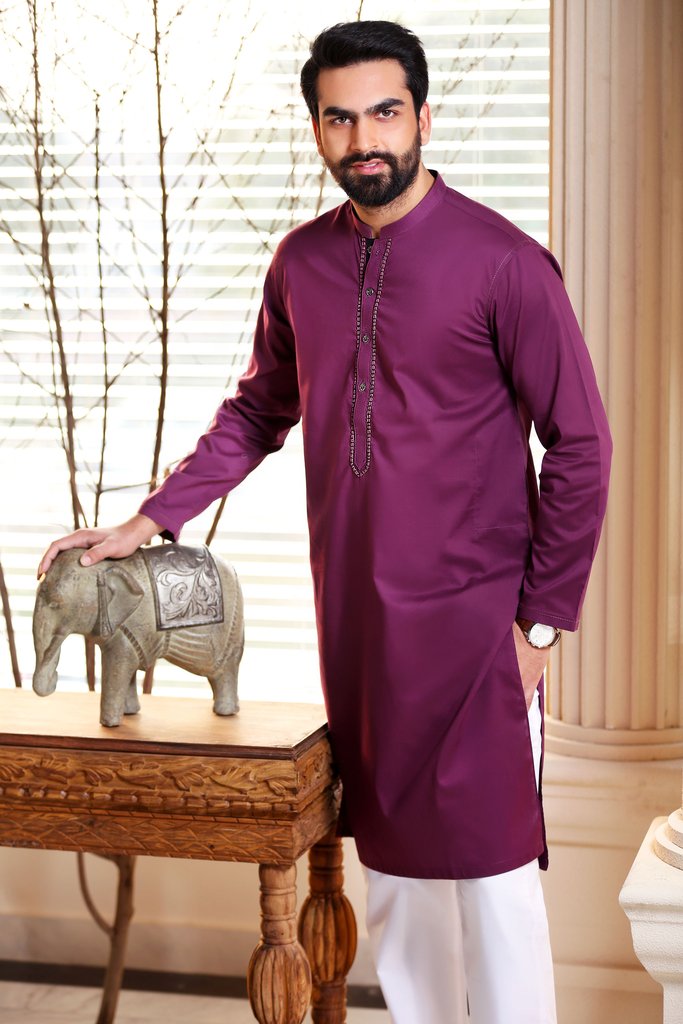 Indigo tale:
As simple as it may look, the pretty indigo is bringing all the life in the dress. All in indigo, the kurta is looking elegant and appealing due to the collar design. Its ban collars are covered with elegant lacework around while the neckline is locked monochromatic buttons.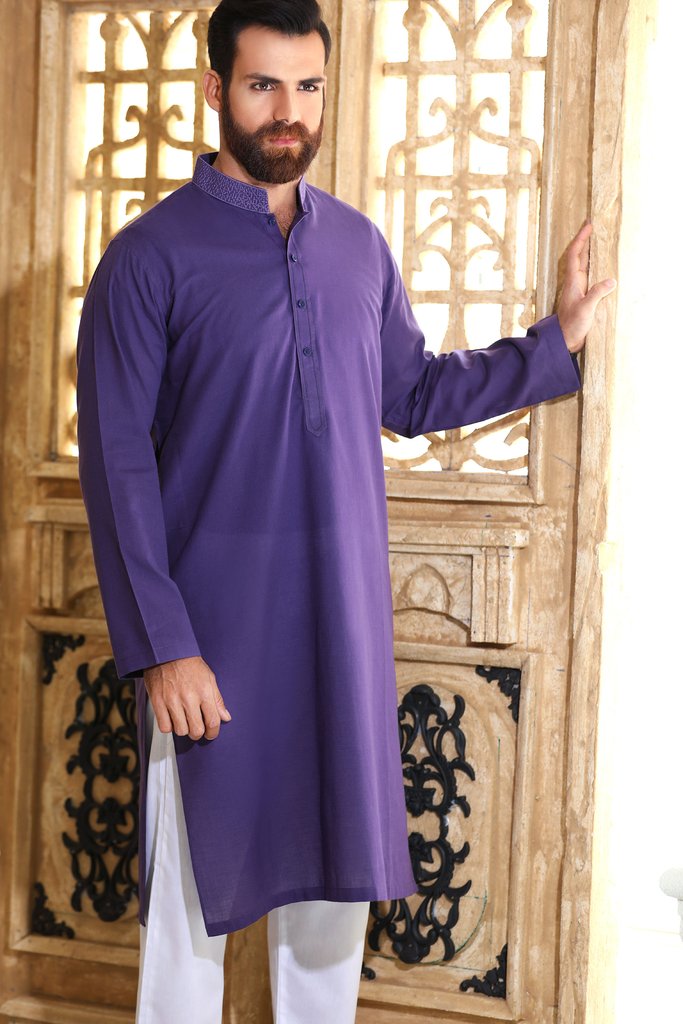 Crimson Rich:
It's not just the appealing red which is making this kurta ravishing, ut the decent self-print, fused into the very fabrics of the dress is making it extremely unique and distinctive. Whereas the sleeves and ban collars are highlighted using the monochromatic lace to give a fine finish.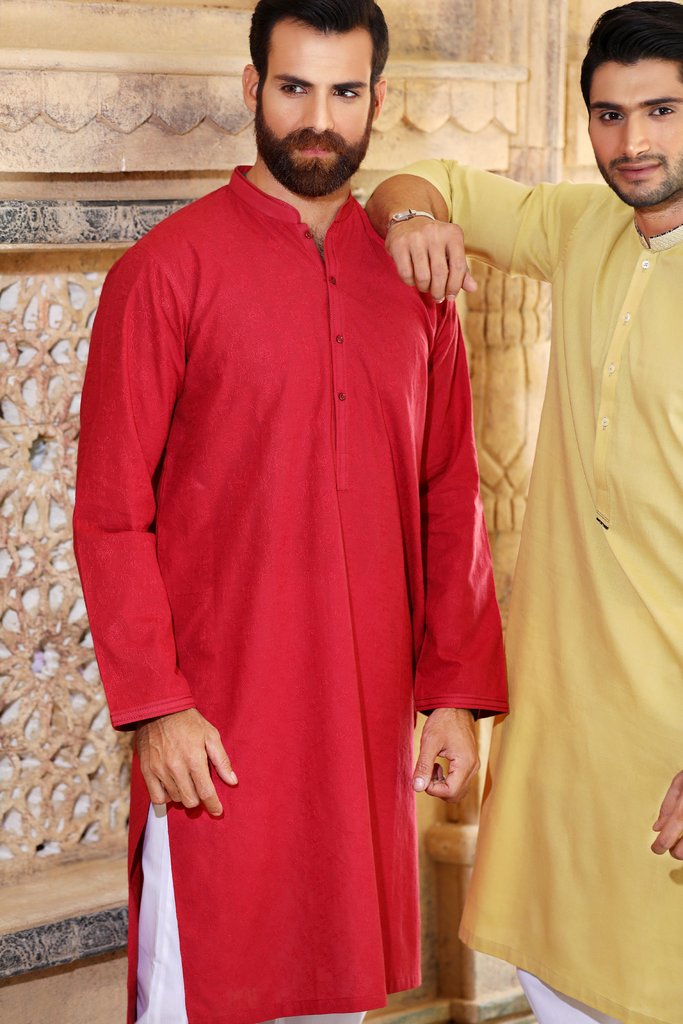 Rusty Husty:
With the boost of traditional block embroideries, this kurta is giving the best look to a lovely rust color. Sleeves and back are kept simple while the front is finely and intricately embellished with thread work.
Ocean deep:
Due to its lovely ocean blue, this kurta has long lasting calming effect to your eyes. The collar and the neckline is infused with monochromatic lacework.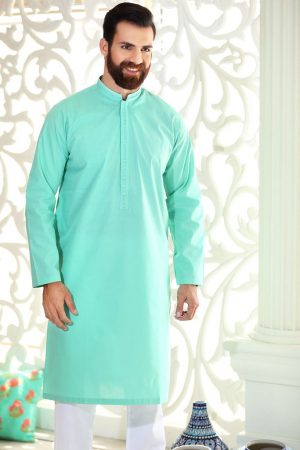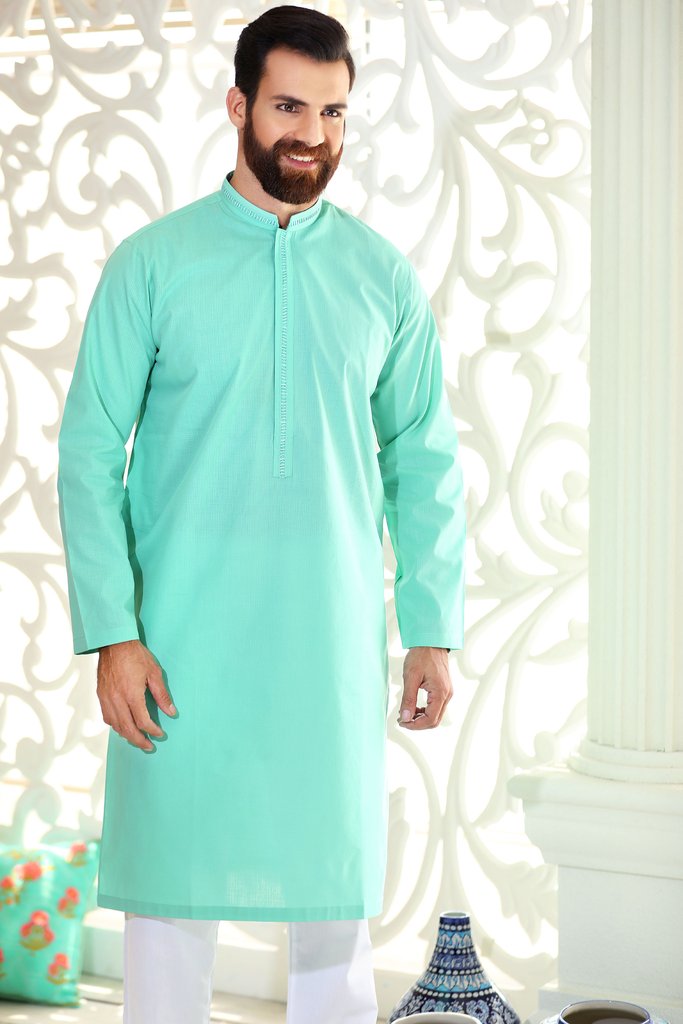 Royal Red:
A rich shade of red is all you need to nail your Eid outlook. It's simple and plain in design with lovely embroidered ban collar and neckline with prominent buttons.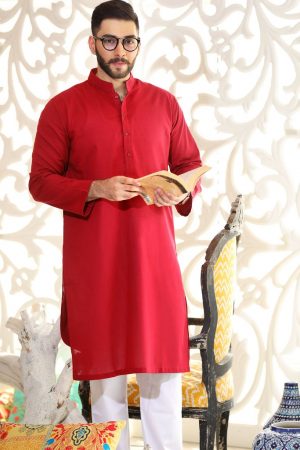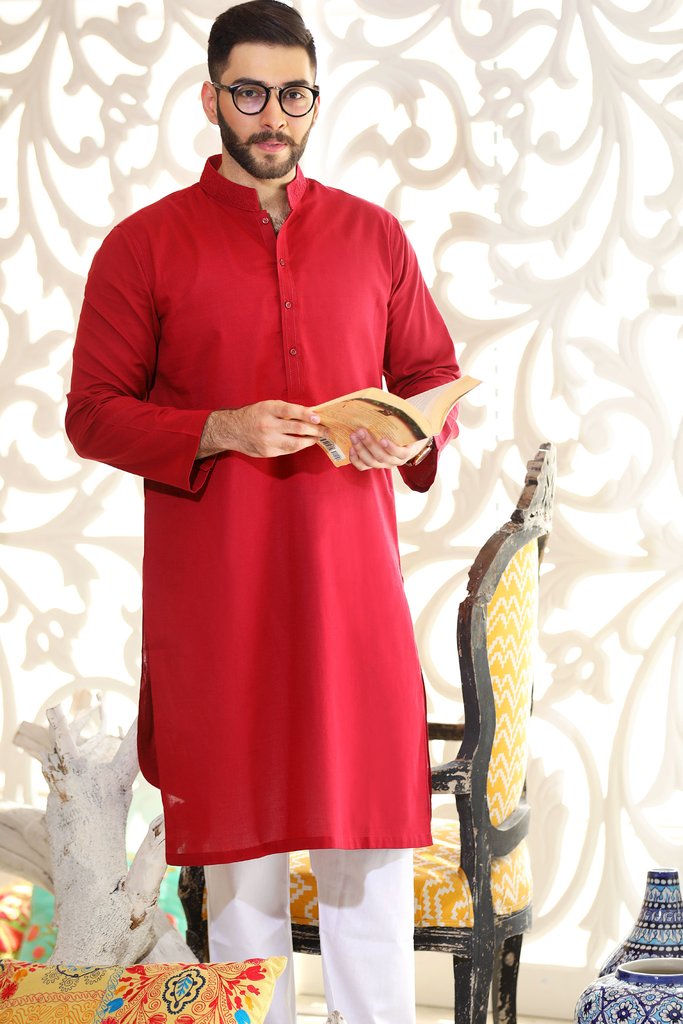 Classic Black:
Black in this light and lined cotton is a unique piece of apparels. It has no embroideries, no laces but just a uniquely designed neckline with classic ban collar.
Charming Blue:
This piece in blue is also embroidered with rich work in the thread. Its blue is complementing our need of refreshing colors to carry in blazing summers.
Imperious brown:
A decent brown is most suitable for the manly outlook you want to carry. The collar and neckline are lined with darker shades of brown to spark an appealing contrast.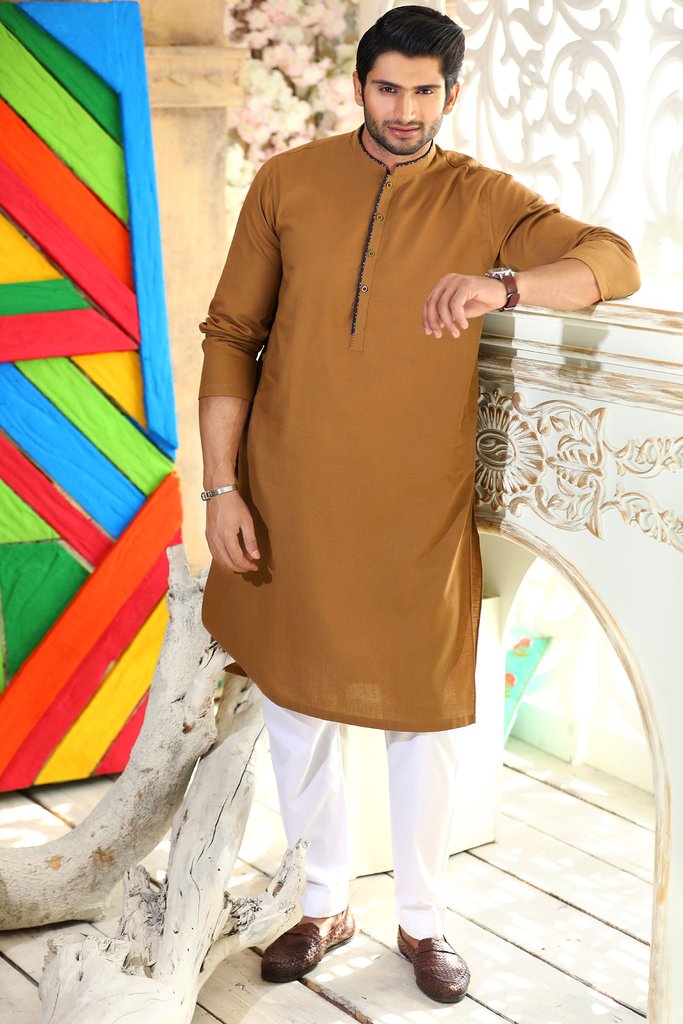 Dotted Blue:
Finely dotted cotton in blue is used to create this spellbinding piece of apparel. The kurta is incredibly simple, yet the intricate pattern printed over it is making it distinctive from the rest.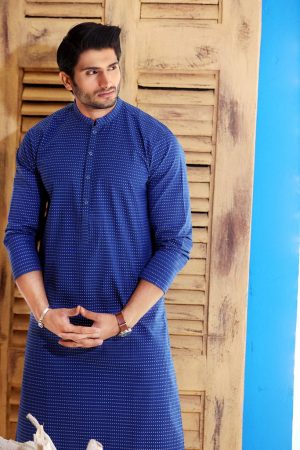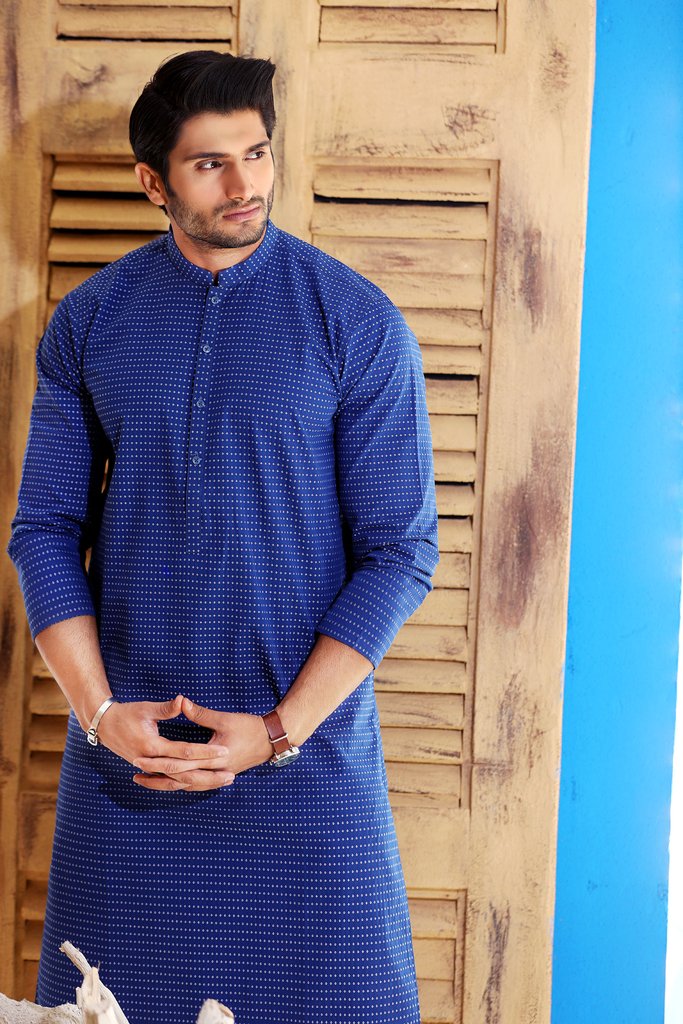 Lime time:
Such a lovely yellow to witness, this kurta will make you go wow. It has appealing work on its collars and neckline while the rest is all an emblem of sophistication.
Nice and Grey:
Another dotted piece of Kurta out of this collection. But this time it is the classic grey which is feasting out sights. A soft shade of grey in cotton is finely printed with prominent black dot print.
Breeze off:
Unlike other kurtas, this one is crafted with a fused pocket in front, line with darker shades of blue. The same streaks of blue is used around the cuffs and the collars.
Teal streak:
It has such a sleek outlook. Teal is a rare colour to find but the way this shade is used to craft this piece is worth admiring here. This is one of the best designs of Khas Latest Men Fashion Eid Kurta Shalwar Kameez Collection.
Khas Shalwar Kameez Designs
Khas Waistcoat Designs
Hope you have loved viewing the Khas Latest Men Fashion Eid Kurta Shalwar Kameez Collection 2022-2023 You can shop these kurtas through their official website at www.khasstores.com
See More As:
Comments
comments